New Jalpaiguri to Darjeeling
New Jalpaiguri or NJP is a major railway junction located about 88kms south of Darjeeling. Many long distance trains terminate or pass through this station. So if you are planning to visit Darjeeling by train, this is where you are likely to get off. 
However, the twin city known as Siliguri is only few kilometers away. There are some trains that pass through that station as well. Once in NJP, there are several options to get to Darjeeling including taxi, shared jeep, bus, Darjeeling Himalayan Railway operated Toy Train etc. The taxis take about 3.5 hours to reach Darjeeling. The buses are a bit slower. But the toy train which is hauled by diesel engine these days, takes over 7 hours and leaves at a fixed time in the morning. 
There are actually several roads to approach Darjeeling from New Jalpaiguri. One of the most scenic is the one via Mirik, but it's a long route. Hill Cart Road is the main road and is generally maintained very well. This is a national highway (NH-55) and most commonly used by the local drivers. The road via Pankhabari is very narrow and winding but quite shorter compared to the others. Check out
Roads To Darjeeling
to know about all the routes, directions, the attractions and villages on the way to Darjeeling. 
Stalls outside NJP Station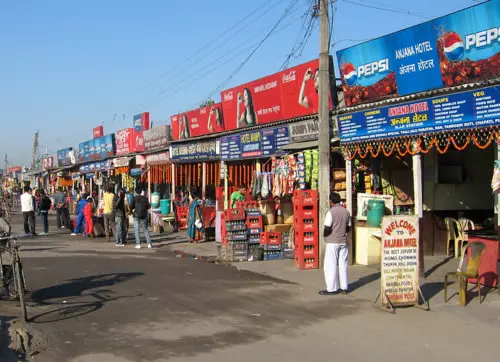 Recently, large number if stalls have come up just outside the NJP railway station. So if you plan to have your breakfast or lunch before heading for Darjeeling, there are ample options right here. Otherwise, you can take a rickshaw or a taxi to Siliguri town some 5-kms away, and ask the driver to take you to a proper restaurant. There are plenty of better and more hygienic eateries aavailable in Siliguri town. 
New Jalpaiguri to Darjeeling by Taxi 
If you plan to take a taxi from the NJP station, there will be hundreds of them just outside the platform. The taxis are usually small cars or vans. Remember that the local drivers always try their opportunistic chances and there is always a scope for bargaining if you are taking a full taxi. The rates usually increase during the high tourist season and the scope of bargaining reduces during such time because of higher demand. 
However for a reserved taxi, I would always recommend that you take a pre-paid taxi. There are pre-paid taxi counters run by the West Bengal and Sikkim Transport Corporations. The pre-paid counters are located just opposite to the station entrance. Here the rates are fixed and the taxis will be far more reliable. You will be given a slip against a full fare advance payment. Once you reach Darjeeling, you only need to hand over the slip to the driver, and that's it. 
Note that the taxis usually drop you only at the Darjeeling town center, i.e. either at the Clubside Taxi Stand (across Gandhi Road Police Point) at the base of Nehru Road or
Chowk Bazaar
Taxi Stand. From here you will either need to take a local cab or a porter to the hotel unless you decide to walk. 
However, on request some taxi drivers do agree to drop you at the hotel and sometimes at a nominal extra charge which you pay directly by cash. Note that in Darjeeling, there are some pedestrian only zones where vehicles are not allowed like the area around
Chowrasta Mall
. 
If your hotel is located in such area, you will then need to either take a porter to carry your luggage or go on your own from the nearest taxi stand. 
New Jalpaiguri to Darjeeling by shared taxi or jeep 
Usually there are plenty of shared taxis available outside the NJP station. The shared taxis are usually jeeps and take two persons in front next to the driver, four in the back seat and four others at the rear seat. So they won't start unless they have a minimum of 8-10 passengers. While the shared jeep is convenient, fast and cheap, one constraint is you can not carry too much of heavy luggage. All the bags and suitcases are carried free of charge on the roof without any additional charge. 
If you want a little more comfort, you can book both the seats in front or a row of seats at the back by paying for those extra seats. Then the driver won't let other passengers occupy the seats you reserved even if they go empty. Sometimes, you may get shared taxis in form of smaller vehicles like Maruti Vans as well. 
If you for some reason don't get a shared jeep or a taxi from NJP station, another option is to take an auto or a cycle rickshaw to the Siliguri main bus stand known as the Tenzing Norgay Central Bus Terminus. It is about 8kms away. From here you will get plenty of shared jeeps leaving for Darjeeling. The jeeps have a small board in front of them with the destination written on it. The system of seat sharing is followed here as well. 
New Jalpaiguri to Darjeeling by bus 
You won't get a bus directly from New Jalpaiguri station. You will need to come to the Tenzing Norgay Central Bus Terminus at Siliguri located on the Hill Cart Road. It's only about 8kms away. You can take a taxi, auto rickshaw or a cycle rickshaw to reach there comfortably. 
From here you will get plenty of state run and private buses for Darjeeling that leave frequently. Check out
Siliguri to Darjeeling
for more details and options of reaching Darjeeling once you come to Siliguri. 
New Jalpaiguri to Darjeeling by Toy Train 
There is a toy train which is run by Darjeeling Himalayan Railway. It starts from the NJP station and goes all the way to Darjeeling. The narrow gauge track climbs uphill and passes via the highest altitude railway station in Asia known as Ghoom. The toy train which is part of UNESCO World Heritage Site, was introduced during the British colonial days in 1800s and is still operational. Until recently, the train was hauled by steam engine and took over 10 hours to reach Darjeeling. Nowadays, it is hauled by a diesel engine and takes about 7 hours. 
Visit
Toy Train Rides & Services
and check out the section under
Regular DHR Toy Train services
to know about the toy train, its timing and how to book the tickets. 
The toy train goes through a scenic route offering breathtaking views of the mountains and valleys. You will also experience the village life. The narrow gauge track has several zigzags and loops on the way to negotiate steep gradients. Check out the
Toy Train Route
to know about the journey and all the stations it passes through. 
Related Articles 
2) Visit
How to reach Darjeeling
for complete information on reaching Darjeeling from various places in India and neighboring countries. 
Visitors' Reviews/Comments 
Shampa Anand (September 2013) 
Hello, First of all thank you for this wonderful informational website which is very helpful. We would be travelling with elderly parents and children in a group of 10 adults and 4 children . Will be travelling by Teesta Torsa train and reaching NJP on 1 Feb 2014 at 2.40 am .Could you please advise if we would be able to get a TATA Sumo pre-paid car or Qualis at this time of the morning to take us to Darjeeling. I hope all of us fit in the same car or might be able to take a mini-bus if available. Also with family and children travelling with us, is it safe to travel from NJP to Darjeeling in the early hours of morning. On the way to Darjeeling vis the Hill Cart Rd, could we stop at Tea Garden etc? Please advise. Many Thanks Regards 
Raj (darjeeling-tourism.com), September 2013 
Hi, The pre-paid taxis are usually available from NJP station from around 7am onwards. So you will need to wait at the station if you reach on time. You can get Sumo or Bolero on pre-paid as well. I won't recommend travelling for Darjeeling while it's dark. It's mainly because of the fog problems. Driving through the fog along winding road is quite risky. So start only after the daylight breaks. If you want to pre-arrange a vehicle, you will need to contact a tour operator or travel agency in Siliguri. There are plenty of them... search in google. 
The Hill Cart road is closed before Kurseong for the past several years due to landslides. So you can't take that road. You can go via Mirik (pre-paid charges are more and takes about 4.5 hours). You can see lots of beautiful tea gardens along the way. The best tea gardens (on the mountain slopes) are on the stretch between Mirik and Darjeeling. There is a view point on that stretch for viewing the tea gardens. It'll be on your left. Unless its foggy or cloudy, you will get sweeping view of the tea estates from there. Ask the driver to stop. They generally do. The extra fare is worth this trip. Also, this is a route with gradual slope (unlike the usual Pankhabari route which is quite steep). Children & old persons will find it easier. Regards, 
Jill Roehr (June 2013) 
I'm travelling to India, Darjeeling, in less than 2 weeks and I am very happy to have found a website like yours which is very useful for my preparation. I've read your information very well but I still have a question concerning the pre-paid taxis which I want to use to get from New Jalpaiguri to Darjeeling. I'll probably arrive very early on a Monday morning (6.15am, according to train schedule) in New Jalpaiguri and my question now is: are the pre-paid taxi counters inside the station already open so that I can get a pre-paid taxi? If not, how else could I then get to Darjeeling so early? I would be very pleased if you had an answer to my question! Thanks in advance, Best Regards, 
Raj (darjeeling-tourism.com), June 2013 
Hi Jill, The pre-paid taxi counter at NJP station opens around 7am and operates until 10pm. It's actually located just opposite to the station entrance. So if your train reaches on time, you may need to wait for a while to get a pre-paid taxi (which I think is worth doing). Otherwise, there should be taxis outside the station around that time. You should be able to get one for Darjeeling. The drivers are likely to jack up the prices at that hour and you may need to get into some bargaining act to get a fair deal :) 
Ghufran Ahmed Khan (April 2013) 
Hi Raj, Your website is really informative. I need help. I am reaching NJP @ 2:00 AM in the night. I will be with my wife, so where could I stay/wait near NJP railway station. When do we start getting Taxi/Shared Jeep early in the morning. Thank you 
Raj (darjeeling-tourism.com), April 2013 
Hi, There are waiting rooms as well as retiring rooms (both AC and Non-AC, although limited) and also dormitories at the NJP station. There are 3 nos. of 2-bedded AC rooms and 1 no. of 3-bedded non-AC room, and ample dormitory beds. At that hour you will be better off staying back at the station rather than trying to check into a hotel. Taxis & shared jeeps start operating by 7am. You may get private taxis even earlier. 
Capt. S. A. Modak (February 2013) 
Dear Mr. Raj, Really appreciate your thoughtful, practical and informative guidance provided in these web pages. We are a family of 3 adults (myself, spouse and mother) and 2 kids (ages4yrs & 7yrs) intending to take a 5 days Gangtok-Darjeeling trip this May. I request you to provide me information on eating options, particularly breakfast and dinner at or near NJP railway station. I will be arriving NJP around 9am by Padatik express and leaving NJP after 5 days thence by Darjeeling Mail around 8pm. 
Ideally we would like to finish breakfast around 8am in the Padatik express train itself and so also for dinner around 9pm in Darjeeling Mail. But I do not know if catering is available in these trains. Also please advise me about standards at NJP as regards cleanliness and family safety. How are the waiting hall conditions at NJP railway station? I am holding 1A tickets either way. Once again, I congratulate you on maintaining this wonderful site and wish you success in all your ventures. Warm Regards 
Raj (darjeeling-tourism.com),  February 2013 
Hello, There are lots of stalls that have come up just outside the NJP station and by the side of the road selling all kinds of food. They all thrive on train passengers and serve breakfast, lunch and dinner. But I doubt the hygiene factor. See the photo above. 
If you want proper restaurants, then take a rickshaw/auto or a taxi and go down to Siliguri town (5kms). There are many nice restaurants there. One of them (although not upscale) is the restaurant below Binayak Hotel (it belongs to the hotel). It's a multi-cuisine restaurant. Bengalis prefer Kalpataru - a simple restaurant serving good Bengali food. Regards,