eBook: Darjeeling & Sikkim Travel Guide
This eBook is an extensive work done by travel writer
Raj Bhattacharya
, Founder & Editor of this website Darjeeling-Tourism.com. This eBook is the first of its kind where tourism information of Darjeeling district and the state of Sikkim has been captured with elaborate details and deep insights along with numerous pictures and lots of useful information. 
Release 2023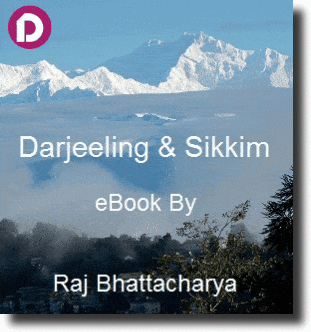 This is a perfect travel guide to plan your trip to Darjeeling and Sikkim, and ensure that you make best use of your time and money while visiting the hills. The eBook also serves as a great asset for personal collection and is a 'Must Have' for all who love the Himalayas. 
You can read the eBook on your PC, Laptop, Tab, smart phone or eBook reader, and you do not need to be connected to the internet.  
What does the eBook cover?
The eBook has over 240 pages of rich content along with many colorful pictures. 
Destinations covered in the eBook includes Darjeeling and several nearby places including Kalimpong, Kurseong, Sandakphu & Phalut, and day trips to places like Mirik, Mongpu, Tinchuley, Takdah, Lamahatta, etc. 
In Sikkim, almost all important places are covered including Gangtok, Tsomgo lake, Baba Mandir, Nathula Pass, Pelling, Namchi, day trips from Namchi to places like Temi Tea Garden, Ravangla etc, Zuluk & The Historic Silk Route, as well as several great places of north Sikkim including Lachung, Yumthang Valley & Zero Point, Lachen & Gurudongmar Lake, Dzongu Valley etc. 
And for each major place, the eBook offers great details including how to reach, transports, weather, great attractions and tourist spots, many guided and self guided local sightseeing tours, the best restaurants & eateries, nightlife (bars, pubs, casinos), shopping, etc (as applicable) and more. 
Additionally the eBook covers Toy Train rides and regular toy train services in Darjeeling, a self guided heritage walking tour, information on where to get the best Darjeeling tea at reasonable rates etc. The eBook also offers guidance on permits required to visit Sikkim and how to get them. 
The eBook serves as a great vacation guide to visit Darjeeling and Sikkim. 
Comments by readers
I have gone through the e-book by Raj ji, so I can definitely say I virtually traveled through all the places before actually visiting Gangtok and around. The book is so essential that it gives you a perfect pen picture not only of sights but essential requirement and things you should know. I found it useful even after the visit. I found the description exactly the same as reality. If I have not gone through this ebook I would have missed midway points such as Temi Tea garden, Lamhatta and Mirik. Even the driver had to say 'sir - are you visiting second time'. My sincere thanks to your remarkable endeavor and passion.... Vinod Kumar Yadav 
We, 6 Sr. Citizens from Bengaluru visited SIKKIM-PELLING-DARJEELING. At the outset I on behalf of all my team mates would like to thank you for the "yeoman's service" you are doing for the visitors. Your e-book covers each and every thing in details, if one goes through the entire book he does not need any one's help in deciding which place to visit and when to visit and also the "do's & don'ts". I could draw an itinerary suitable to (we) Sr. Citizens with the help of your e-book and also the itinerary shared by other travelers published in your website. I once again heartily thank you for all the assistance provided, may God bless you.... HS Shastry 
Dear Raj... the information in your ebook and website is priceless! ... Mike Ogier 
Thanks a lot for penning such a wonderful ebook which itself is a guide for a tourist... Jaffna Ray 
Hi Raj, I just invested in your e-book, it is fabulous, Great work... Hemant Krishnani 
I got the ebook and it's really fantastic... has all the details I was looking for... Neha Mathur 
This Travel Guide e-Book on Darjeeling & Sikkim is absolutely wonderful to read. It is like a "VIRTUAL REALITY", as such, if you go through this book, then you need not go to these places anymore and if you have earlier been to Darjeeling & Sikkim, then it refreshes your memory and straight away transfers you from your home/office to the above mentioned beautiful places !!!! Written in a very lucid and comprehensive manner, this ebook is also equally supported by good number of beautiful pictures of Darjeeling & Sikkim. It is an amazing and an unputdownable read and should be an essential part of the Library of any Travel Freak !!!!... Rohit Sharma 
Recently bought the etravel book, it is so great and covers all the areas in detailed manner with very nice pictures! Thanks all for your efforts... S K Ghosh 
eBook Type & Size
'Darjeeling & Sikkim' ebook is a PDF file. You can read it virtually in all devices supporting PDF readers like in PC, Laptop, Tab, smart phone, ebook reader etc. It has a file size of about 6.5MB. 
Price of eBook
The price of the eBook is Rs. 375/- for Indians (US$12 for foreign nationals). 
Delivery of eBook
The eBook will be sent by email as an attachment. Delivery usually takes 2 to 3 business days from the date of receiving the payment. The eBook is protected by copyright law as well as Digital Rights Management (DRM), it can not be printed or distributed or used for any commercial purpose. Purchasing the eBook confirms your acceptance to
These Terms & Conditions
. 
How to purchase the Ebook
Indians 
Indian nationals need to fill up the billing form below. Once the form is filled up, you will be taken to the online payment page. You can then pay using credit card, debit card, net banking, UPI, etc. We use secured and India's no.1 online payment gateway (CCAvenue) to receive payments. 
Foreign Nationals 
The Billing Form below will not work for purchases with cards issued outside India. For foreign transaction, the eBook costs US$ 12.00. You can pay the amount using this secured Paypal link
Pay US$12 for eBook
(NOTE: While making the payment, please mention '
Darjeeling & Sikkim eBook
' as well as your
email address
on the order description. You can pay using credit/debit card or Paypal balance). 
Billing Form 
eBook: Darjeeling & Sikkim 
Payment Amount: 
Currency: 
Full Name:  * 
Billing Address: * 
City: * 
State: * 
Pin Code:  * 
Country:  * 
Mobile Number (10 digit):  * 
Email Address:  *