Ebook: Darjeeling & Sikkim
This eBook is an extensive work done by Mr. Raj Bhattacharya, Founder and Editor of the website Darjeeling-Tourism.com. You can read the eBook on your PC, Laptop, Tab, iPad or eBook reader, and you don't need to be connected to the internet. This eBook is the first of its kind where tourism information of Darjeeling district and the state of Sikkim have been captured in such details along with pictures and lots of useful information. 
This is a perfect travel guide to plan your trip to Darjeeling and Sikkim, and ensure that you make best use of your time and money while visiting the hills. The eBook also serves as a great asset for personal collection and is a 'Must Have' for all who appreciate the Himalayan beauty. 
Ebook, Release 2018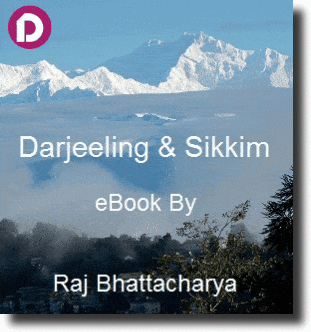 Places covered in the eBook includes Darjeeling, Kalimpong, Mirik, Gangtok, Pelling, Namchi, Tsomgo lake, Nathula Pass etc. And for each major place the ebook offers great details including how to reach, transports, weather, great attractions and tourist spots, many guided and self guided local sightseeing tours, day trips, great restaurants & dining options, and lot more. 
Additionally the eBook covers Toy Train rides, where to get the best Darjeeling tea at reasonable prices etc. This eBook will serve as a great vacation guide for visiting Darjeeling and Sikkim areas. 
Comments by readers 
I have completely gone through your e-book, it has plethora of important informations. Hats off to you for such a wonderful book. May god bless you with sound health and long life so that you may serve more and more tourists to these regions... HS Shastry 
Thanks a lot for penning such a wonderful ebook which itself is a guide for a tourist... Jaffna Ray 
Ebook Type & Size 
'Darjeeling & Sikkim' ebook is a PDF file with over 150 pages. It can be read virtually in all devices like PC, Laptop, Tab, iPad, ebook reader etc. We deliver the ebook by email as attachment. It has a size of about 2.5mb. 
Price of Ebook 
The price of the eBook is Rs. 375/- 
Delivery of Ebook 
The eBook will be sent by email. It usually takes 2 to 3 working days from the date of payment. The eBook is protected by copyright law, it can not be printed or distributed. Read the
Terms & Conditions of using the eBook
Buying the Ebook 
Indians: Once you fill up the form below, you will be taken to the online payment page. You can then pay using credit card, debit card, cash card or net banking. We use secured and India's no.1 payment gateway to receive payments. 
Foreign Nationals: The form below will not work for purchases with cards issued outside India. Foreign nationals can write to us using the email given in the black box below. We will then send a separate online payment request through Paypal. The payment can be made using credit/debit card or Paypal account balance. For foreign transaction, the eBook costs US$ 12.00 or equivalent in your currency. 
Email (for Foreigners):

Ebook: Darjeeling & Sikkim 
Billing Form 
Payment Amount: 
Currency: 
Full Name:  * 
Billing Address: * 
City: * 
State: * 
Pin Code:  * 
Country:  * 
Mobile Number (10 digit):  * 
Email Address:  *