Bagdogra to Darjeeling
Here I'll let you know the different ways you can reach Darjeeling from Bagdogra Airport, also give you an idea about the fares, and then a detailed description of the road journey from Bagdogra all the way up to Darjeeling. Once you reach Bagdogra by a flight, there is a pre-paid taxi counter inside the airport arrival building itself. Note that there are no buses from the airport, neither there are any shared/pool cars or jeeps. 
If you want to minimize your transportation cost to Darjeeling, one way is to take a taxi and go up to Bagdogra market which is only few minutes from the airport. From here you will get a bus or an auto rickshaw for the Siliguri main bus terminal known as Tenzing Norgay Central Bus Terminus located on Hill Cart Road. 
The main bus terminus is about 16kms from Bagdogra Airport and takes about 35-mins to reach. From the main bus terminus area, you will get buses, shared jeeps and private taxis for Darjeeling.  
However, from the airport the easiest and the best option is to take a pre-paid reserved taxi for Darjeeling. There is usually no shared taxi available at Bagdogra airport. However if you can form a group with the fellow passengers (you will often find inquisitive eyes looking for company), it is possible to go out, negotiate with one of the many drivers waiting outside and then share a car to a common destination. However you may need to go through a lot of haggling with the drivers for the rate. You can also otherwise go out and negotiate rate for a reserved taxi. Often you may get much better rate than the pre-paid rate, particularly in off season.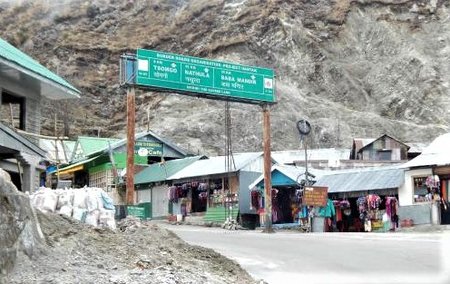 However in case of pre-paid taxis, you just pay up the amount at the counter and you will be given a slip. As you go out, there will be volunteers to show you who is your driver and which car you are allotted. You can choose between a small car and a large car (different rates), but can not usually specify a make. A small car will be like a WagonR, Santro etc and a large car like a Scorpio, Innova, Tavera etc.  
The taxi will drop you at the Darjeeling town (i.e. either at Clubside stand next to Gandhi Road or at Chowk Bazaar stand). Usually the taxi driver won't charge extra if your hotel is located close to the town center. Otherwise pay some extra to the driver to drop you at the hotel if it is some distance away from the main stand. Alternatively you will need to take a porter or a local cab from the stand up to your hotel. 
Many hotels in Darjeeling are in pedestrian only zone and vehicles can not reach up to the entrance of the hotel. In such a case, you will need to walk from the nearest stand. Porters are usually available, the hotel can also help you to take care of your luggage. 
Fares from Bagdogra to Darjeeling and other places 
Bagdogra to Darjeeling - The Journey 
The car park is about 50 yards away as you come out of the Bagdogra airport arrival building. This is where all the taxis are parked. Norbhu is my favorite driver, a charming person with a smile who never loses his calm. He is a Nepali living in Darjeeling. 
Norbhu at Bagdogra Airport Car Park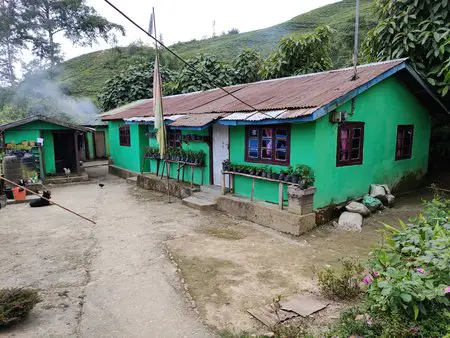 There are several
Roads to reach Darjeeling
. From Bagdogra, the road distance to Darjeeling hill town is 94kms (if you take Hill Cart Road, which is the main road and a national highway NH-55). It takes about 3.5 hours to reach Darjeeling by car on that route. However the drivers from Bagdogra airport take a shorter route via Rohini or sometimes via Pankhabari if Rohini road is closed for some reason. You save time and distance of 12kms. These roads are however quite narrow, steep and winding. But this is the stipulated route for pre-paid taxis from the airport. 
You will first reach the National Highway NH-31. You will soon pass by the Bagdogra township and market area, and then the North Bengal University Campus on the left. Soon there will be another township known as Shibmandir (5kms from airport). 
You will then cross the Balasun river over a bridge. As you drive along, you will reach Matigara, a small township which is some 8kms from the airport. Here you will need to leave NH-31 and take a left turn at the main crossing towards Simulbari. To take Hill Cart Road (NH-55) for Darjeeling, one has to carry on along NH-31 for few more kilometers for the entry point. But from the airport, drivers will take this diversion at Matigara towards Simulbari for the shorter route. 
Matigara Crossing at NH-31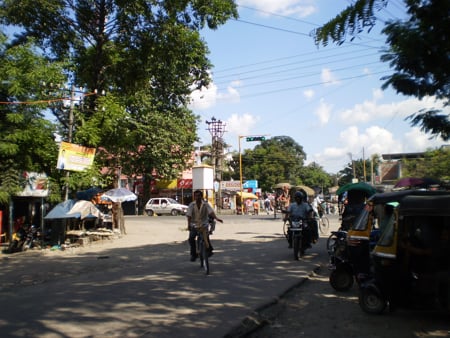 I took the picture after taking the left turn 
from NH-31 towards Simulbari. 
As you drive along this road, initially it's a little dusty and there are small stalls on both sides. Soon the scenery turns green. Through the vast stretches of green fields, you can see the top of a few shrines and cottages at a distance, and far away, the outline of the gorgeous mountains. And you will be heading towards those mountains. 
After about 15-20 minutes of drive, you will pass through the Khaprail Military camp area. By now the nature has turned to full green and the dusts all gone. The mountains have come closer. Don't be surprised if you find your car in the middle of a herd of cattle left on their own on the road. 
Soon you will pass through the Khaprail village area. And then as you look to your right, there is a vast green stretch of tea gardens running parallel to the road for miles on both sides. And next to the garden are the gorgeous mountains. This is the Simulbari Tea Garden which is laid out below the hills in a picturesque settings. 
Simulbari Tea Gardens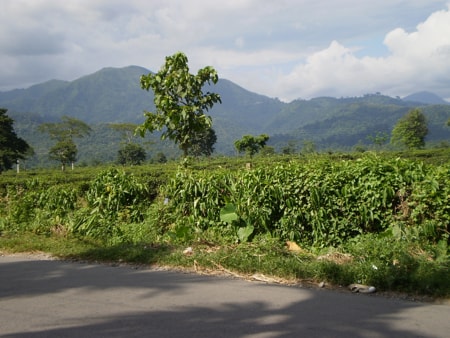 You will then reach the crossing known as the Rohini More in Simulbari area. There is a check post here with police guards. The road turning right is called Rohini Road. This is a two-way toll road that all taxis are supposed to take for Kurseong and Darjeeling. If the road is closed, vehicles are allowed to take the other road. 
Rohini More, driver Norbhu with the guards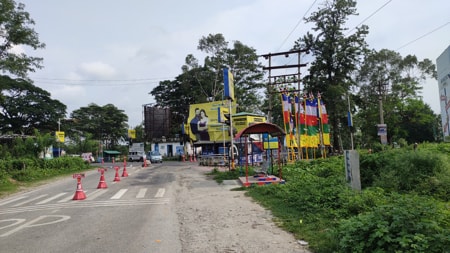 If you have a private car (which is not a commercial vehicle), you can take the other road that goes straight via a village called Pankhabari and known as the Pankhabari Road. This road is actually a one-way road to come downhill from Kurseong and Darjeeling. This road is narrow, steep and winding and not suitable for both way traffic. 
The taxi drivers often convince the guards saying that the car is going only up to a short distance to a nearby village and take the Pankhabari road, but actually go all the way up to Darjeeling on that route. Strangely, there is no further check along the way. 
Rohini road towards Kurseong & Darjeeling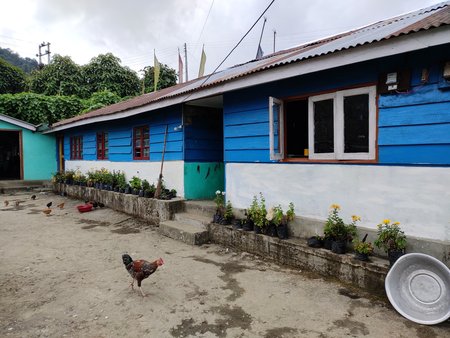 At the Rohini crossing there is a small temporary stall run my a Nepali lady called Sonu. She sells tea and snacks including boiled eggs and samosas (fried veg patties). When I asked her why there is no name to the stall, she told me that wild elephants from the adjacent forests come and break her stall 4 to 5 times in a year, and she has to rebuild it every time. Actually there is a name - Sonu's stall. It's hard to believe the way of life here. But what amazes me is her charming smile despite such ongoing hardships. 
Stall at Rohini crossing run by Sonu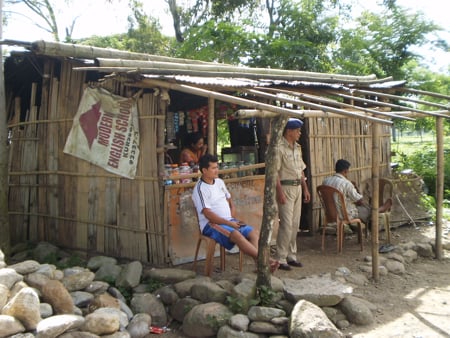 Update March 2014: The Rohini Road has been recently repaired and is in excellent condition now. It's a toll road (small cars Rs. 10/-, Innova, Tavera etc Rs. 30/-). It's a picturesque road and you will find several tea stalls along the way to take a break. It takes about 1 hour 20 minutes to reach Kurseong once you take Rohini road and another 1 hour 30 minutes from Kurseong to reach Darjeeling. 
View of the valley from Rohini Road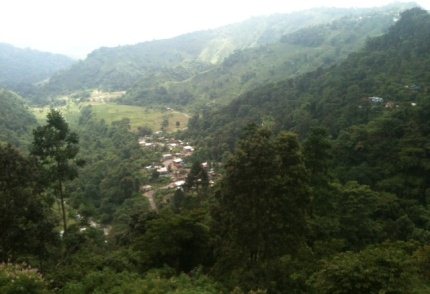 Sometimes I take the Pankhabari road. I have a privilege that I can show my card as a travel writer and the guards let me go. You can also take this road if you take a private car or ask the driver to manage on your behalf. 
As you take the road for Pankhabari, you soon reach a village market area called Garidhura. There are small shops, stalls and eateries on both sides of the road. My favorite here is Nipun's Hotel, a small hut like restaurant serving nice tea, momos, thukpa and other snack items and even meals. Although small, it's a clean place and the tea here is really nice. It's run by a smiling young girl and her elder brother. 
Nipun's Hotel, Garidhura 
Shortly after the Garidhura Market, there is a road that branches out towards left and that road goes to Mirik. That route towards Mirik is one of the most scenic routes I have ever seen in Darjeeling district. In fact one can also reach Darjeeling along that route although it takes about an hour more. Garidhura to Mirik takes about 1 hour 15 minutes. From Mirik the road continues via Pasupati Nath Market at the Nepal border, followed by Sukhiapokhri, then to Ghoom and then Darjeeling. 
From Mirik it takes another 2 hours for Darjeeling along that route. And on the way you will see lovely tea gardens on open hill slopes. The road winds around the tea gardens on mountain slopes. Between Pasupatinath and Sukhiapokhri, there is a viewing area call Simana from where you can see a winding road on another mountain that leads to Sandakhphu. Along the way you will see Goodricke tea gardens as well. 
However the road that continues from Garidhura towards Pankhabari, is known as Pankhabari Road. You will pass by Longview Tea Estate on both sides of the road. This is the first tea estate on the route that produces Darjeeling brand of tea. This long stretch of tea garden on both sides of the road is laid just below the hills. Soon after some 10 minutes (about 6kms) from Garidhura, the uphill climb will start. The first village as you drive along is Pankhabari and hence the name of this road. 
You will pass by the Pankhabari village. There are vegetable and small stationery stalls on both sides of the road. The sight of lovely wooden huts on the cliffs and the charm of little kids on the roadside waving at you just sets the day right. 
After you have driven uphill for a while, there is a point on the right from where you get a breathtaking view of the Siliguri plains below. You can see two rivers, Teesta and Balasun flowing side by side at a distance. Teesta on the left and Balasun on its right. 
View of Teesta & Balasun rivers  
from Pankhabari Road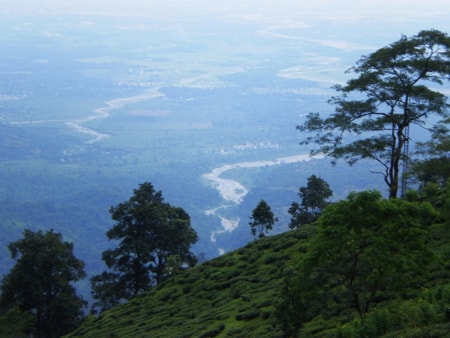 It is this Balasun river that you had crossed along NH-31 over a bridge while coming from the Bagdogra airport. Within two minutes from this point you will reach Makaibari village. This is another neat village with huts on both sides of the road. You will then pass by the
Makaibari Tea Estate
, owned by Rajah Banerjee, a Bengali in his third generation of family business. This is the oldest tea garden of Darjeeling that has gone on to win many international awards. The villagers here offer unique home stay packages that combine visit to the tea gardens and village tours. 
From Makaibari, Kurseong is another 3 kilometers. It is here at Kurseong (altitude 4,864 ft) where the Pankhabari road as well as the Rohini Road finally meet the Hill Cart Road (NH-55) for Darjeeling. From here onwards, it is only one road (i.e. the Hill Cart Road) that goes all the way up to Darjeeling. 
Pankhabari road meets the Hill Cart Road right next to the Kurseong Railway Station. You can easily identify the Hill Cart Road when you see the toy train track running alongside the road. It's much wider too. In fact, the railway track for most part runs parallel and next to the Hill Cart Road all the way up to Darjeeling. 
Kurseong to Darjeeling 
Since the toy train track runs alongside the Hill Cart Road, both road and train routes are similar for most part, and so is the journey and view. visit
Toy Train Route & Journey
and read from
Kurseong
onwards to know about the rest of the journey up to Darjeeling. 
Related Articles 
3) Visit
How to reach Darjeeling
for complete information about reaching Darjeeling from various places in India and neighboring countries. 
Visitors' Reviews/Comments 
Karan (April 2014) 
Hi Raj, I've booked a hotel in Darjeeling for April month. I'm coming by flight so my query is how to reach my hotel. I've few queries:  
1. Should I go for pre-paid taxi counter or talk directly to the taxi drivers. I'd talked to hotel manager for providing a cab facility so he told me that they have Innova and Qualis for that and the charges are 2600 and 2400.Although i've small family and easily adjust in a small car. 
2. Which road route is better for Darjeeling in your opinion. 
3. If I take taxi from airport will it drop me directly to the hotel or i've to pay them some extra money and if i have to then how much. Thank You 
Raj (darjeeling-tourism.com) April 2014 
If you take taxi, then should go for pre-paid. Rohini route via Kurseong is the best and shortest route to Darjeeling now from Bagdogra. Pre-paid taxis will take this route. There is a toll (Rs. 10/- for small car and Rs. 30/- for larger vehicles) on the way. Taxi will reach you to the hotel provided its near the taxi stand/town center and accessible by car. Usually they do without any extra charge unless it's quite some distance away from the town center. Extra charge depends on the distance and can be Rs. 50-100/- within 1-2kms. Regards, 
Deb Banerjee (March 2014) 
Raj, We are reaching Bagdogra around 12 noon from Kolkata . On the way to Darjeeling by car, please advise eating places for lunch around 1.30 pm. Any clean place serving Dhaba style food food will be preferred. Many thanks. 
Raj (darjeeling-tourism.com) March 2014 
You can take an early lunch at Bagdogra airport. There is a stairway next to the arrival hall that leads to the restaurant in the first floor. It's a nice multi-cuisine restaurant with a bar. Alternatively you can take lunch at Kurseong West Bengal Tourist Lodge. It takes about 1.5 hours to reach Kurseong from Bagdogra. They too run a multi-cuisine restaurant & bar with nice views. Food is okay. There is no other good place to eat in between. If you take a pre-paid taxi, the driver may not agree to stop for lunch in between unless you pay some extra. Talk to the driver and sort this out before you board.