Manebhanjan
Gateway to Singalila
Manebhanjan is a small village located about 26kms from Darjeeling, 92kms from Siliguri, and on the border of India and Nepal at an altitude of 7,054 ft (2,150 m). This is the place from where the popular
Sandakphu & Singalila Trek
begins. 
The main economy here is based on tourism. Regular jeep safaris take place from here to the nearby areas including Sandakphu and the Singalila National Park. Manebhanjan is one place where you will still find the old 4-wheel drive Land Rovers that were once used during the British days. These vehicles are ideally suited to climb the steep gravel road that leads up to Sandakphu. Only handful of such Land Rovers are still remaining in this area and are maintained by their owners like their own siblings. 
The main market area of Manebhanjan gets quite congested during the day time. There is also a jeep and a bus stand here. A playground is located a short distance away where soccer tournaments are held on special occasions. Up on the hills, there is a nice colorful monastery amongst pine trees. 
How to reach Manebhanjan from Darjeeling? 
From Darjeeling the distance to Manebhanjan is 26kms. The route goes via Ghoom and Sukhiapokhri. You can take a shared jeep from Darjeeling Chowk bazaar or Gandhi road (club side) stand and reach in about 1 hour 15 minutes via Sukhiapokhri. There are also regular shared jeeps and buses up to Sukhiapokhri. So alternatively you can come up to Sukhiapokhri (takes about one hour from Darjeeling) and then take an onward jeep or bus up to Manebhanjan.  
Check out
Darjeeling Transport & Fares
to know about all the modes of transport available from Darjeeling for Manebhanjan and the fares. From Sukhiapokhri, there is also a 4km trekking route up to Manbhanjan. So if you want to warm up, you can even take this short trek.  
Manebhanjan Market Area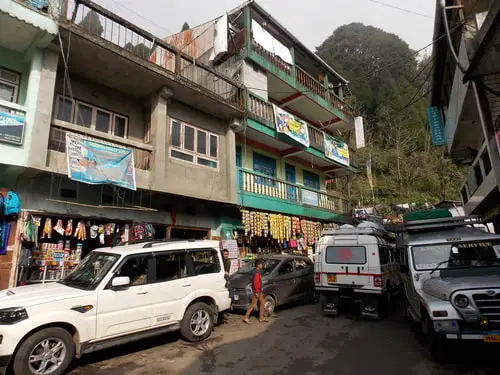 How to reach Manebhanjan NJP/Siliguri? 
From Siliguri, it takes over 4 hours to reach Manebhanjan by road. You will need to come up to Ghoom along Hill Cart Road, take a left turn and then take the same route via Sukhiapokhri. While coming from the Bagdogra airport, there is another route that goes via Mirik, Pashupati Nath Market and Sukhiapokhri (takes about 5 hours by car). 
You can take a small private car from NJP/Siliguri for Manebhanjan (via Mirik and Sukhiapokhri). The current rate is Rs. 2500/- (approx.) for a small reserved car like Santro. A cheaper way of reaching Manebhanjan from NJP/Siliguri is to take a shared jeep up to Sukhiapokhri (Rs. 150 per person), and then a bus or another shared jeep over a short distance to Manebhanjan. It takes roughly five hours from NJP/Siliguri to reach Manebhanjan (via Mirik). The other shorter route via Hill Cart Road is not accessible at present. 
Manebhanjan Playground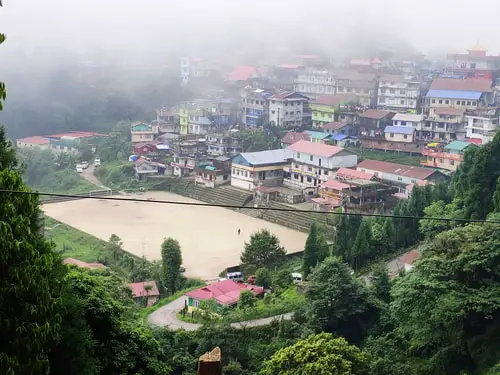 Accommodations in Manebhanjan 
Some residents offer home stays in their private houses. One of the best home stays here is offered by Keshav Gurung, a courteous and friendly man. His 2-storied house is one of the best in the locality and is very conveniently located next to the jeep stand. The hospitality, cleanliness, basic amenities and the great food prepared by his wife are really special. Check out
Home Stay in Manebhanjan
to know about this home stay. 
Another option is to contact Masterji (Jeevan Chetri) of Hotel Exotica, a knowledgeable and helpful man. Contact Nos.: +91-9733044512 / +91-9733044512 / +91-3542-264387. There are also a few other small hotels in Manebhanjan like the Hotel Kanchendzonga (Phone: +91-9475078833/ 9932397449), Hotel Chimal, etc. 
Related Articles 
Visitors' Reviews/Comments 
Share your experience.