Step Aside
Deshbandhu Museum Darjeeling
Barely 5 minutes downhill walk from the Chowrasta Mall along the CR Das road, you will find this impressive two storied building on the left. A white marble board next to the gate says "Deshbandhu Museum". This building was constructed around 1900. 
Step Aside is the house where the great patriot and freedom fighter from Bengal Chittaranjan Das lived the last one month of his life. He passed away in this house on June 16, 1925. The board outside mentions the date. The first floor where he lived has been converted into a museum preserving his personal belongings. 
He was known as "Deshbandhu" meaning friend of the nation. The ground floor is being used as a maternity clinic and child welfare center which is also named after him and dedicated to his ideology of serving the poor. The museum was inaugurated on November 5, 2007 by the former justice Smt. Manjula Bose. The adjacent C.R Das road is also named after Deshbandhu Chitta Ranjan Das. 
This house originally belonged to Mr. Warnsei, which was later bought over by Sir N.N. Sircar who used to be a close friend of Deshbandhu. Deshbandhu was not keeping well for a while when he and his family decided to come to Darjeeling for a change and to take some rest from hectic political life. They arrived at Step Aside on May 16, 1925. Soon he began to recover and thought his health was actually improving. In fact there was a time when he decided to buy a house in Darjeeling and went ahead to even finalize a property. 
Between June 4 - 9, 1925 Mahatma Gandhi visited Darjeeling and stayed with him at Step Aside. The two leaders had long conversations in this house during that period while making future plans for Congress and Swaraj Parties. On June 14, Deshbandhu suddenly fell ill again and passed away two days later. 
In August 1953, Deshbandhu Memorial Society was formed. In the following year and with the help of the erstwhile Governor of Bengal Haren Mookerjee, the house was taken over by the society as a national property. That time the owner of the property was the son of late Sir N N Sircar, who handed over the house to the society in form of a gift. 
Step Aside - Deshbandhu Museum Darjeeling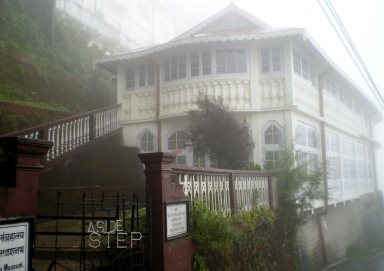 As you climb the stairs that go up to the first floor from outside, you will reach the museum. The room where Deshbandhu had taken his last breadth, is being maintained as a museum that stores some of his personal articles and furniture that he had used during his last days of life.  
The clinic below is well staffed and caters to the poor community in the locality. It gets its supplies and equipment from the Health Department. 
Step Aside's story doesn't end here. This is the house where Kumar Ramendra Narayan Roy, the Prince of Bhawal was found dead on May 8, 1909. Bhawal was then the largest estate in East Bengal. On a stormy night, the locals took the body of the prince to a Hindu Burning Ghat for cremation. But his dead body mysteriously disappeared from the crematorium on that night. 
After some 12 years, a Sanyasi (a sage) appeared in Dhaka who looked exactly like the Prince who passed away in Step Aside. So who died on that night in Step Aside and who was the sage? This led to the historic judicial case known as the Bhawal Sanyasi Case. The case was finally settled in 1937 with the court giving verdict that both men were the same. It is being proposed that one room in the ground floor be used as a museum where the artifacts and photos of the Prince of Bhawal be displayed for the public. 
Open Hours
10am to 4pm. Sunday closed. Don't think this is followed strictly. I once found it closed even on a weekday at 12:20pm in the afternoon. It was of course during a low tourist season. I went back again later to visit the museum. There is no admission fee. 
Location
Take the C R Das road that starts from the Mall and next to the CCD. Walk downhill for about 4-5 minutes and you will see Step Aside on your left. If you walk further downhill for about 1.5 kms, you will reach the
Bhutia Busti Monastery
. Check out
Darjeeling Map
to see the location. 
Related Articles
Visitors' Reviews/Comments
Ashok Kumar (March 2016) 
It is very disappointing to find out that great legendary man CR Das museum had only one staff and having very low salary of Rs. 1,250 in 21st century. And this isn't a private property. In front of the gate there was board with Tourism Dept written on it. However it is not taken care of by government.