Darjeeling Map
How Darjeeling is laid out
It's very difficult to get a great map of Darjeeling showing all the details you need. Even the Google map of Darjeeling will not show you many attractions and places of interest, and sometimes be way off while indicating distances. I realized that it's actually very difficult to draw up a road map of a hilly terrain like Darjeeling. That's because the roads and places are at different altitudes in the mountains.  
For example if you take a top-down view of two roads laid at different altitude levels where one road runs below the other, they will likely merge on a 2-dimensional map and show as a single road. But that's incorrect as the two roads are in two different places altogether. 
So how to draw up a map and show the two roads separately that actually may lead to different destinations altogether? After a lot of thoughts, I was able to come out with a few maps of Darjeeling that I believe are the best that you can get. They are still not 100% perfect though.  
I had to divide the below maps into several sections in order to capture the right level of details. 
Map of Central Darjeeling (town center and market area)  
Map of North Darjeeling (northern part of Darjeeling Town) 
Map of South Darjeeling (southern part of the hill town) 
Map of Ghoom area 
Map of Darjeeling Town Center
Let me start with the road map of central Darjeeling. This map centers around the town center like the
Mall at Chowrasta
and
Chowk Bazaar
. This should be the one you will mostly need if you are looking for the attractions and landmarks around the center of the own and the main market areas. 
Darjeeling Map (Central) 
Roads and landmarks around town center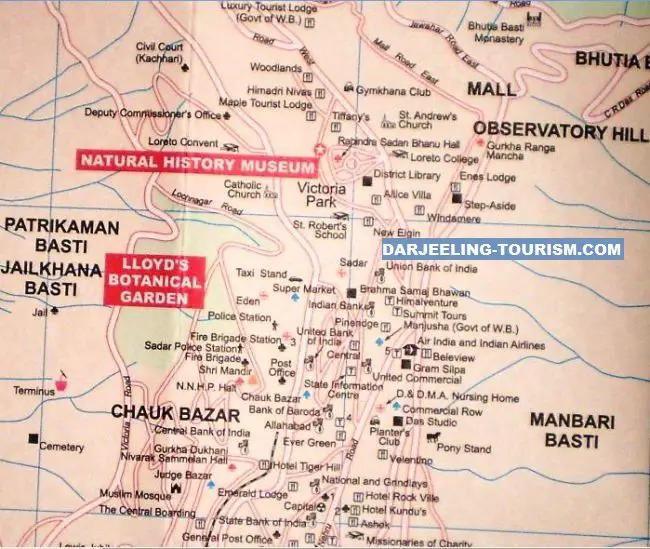 On top right you will see the CR Das Road originating that leads all the way down to the
Bhutia Busti Monastery
and on the way passes through places like
Step Aside
. 
You can also clearly see in bold the
Observatory Hill
which is encircled by the lovely
Mall Road
. Other major landmarks shown on the Mall road are Gorkha Rang Manch Bhawan (which is mostly used as a public auditorium), the
Darjeeling Tourist Lodge
which is a government run 2-star hotel, the well known
St. Andrew's Church
, Darjeeling Gymkhana Club, Loreto College and the heritage colonial hotel Windamere. 
Further down you can see the Nehru Road that runs though rows of shops, restaurants, hotels and other commercial establishments. Some of the prominent landmark shown on the Nehru Road includes the old photo store
Das Studio
and the
Planters Club
that was established for the British planters during the colonial days. Often the Nehru Road is mistaken as the Mall road since it leads to the Chowrasta Mall. 
From the base of Nehru Road and on its left (west) runs another important road knows as the Laden-La road (which is named after a prominent ancestor of the present owner of hotel Windamere). This road also runs through many shops, restaurants and establishments including the State Bank of India, ICICI Bank, General Post Office and Big Bazaar. 
Roads both from Mall area and Laden-La road lead down to the busy
Chowk Bazaar
area which is located at a lower height. This is a busy market are full of dealers and traders selling various items. You can also see the taxi stand where you get cabs and shared jeeps to various destinations 
On top left of the map, you will find
Bengal Natural History Museum
which is located on Robertson Road and can be easily accessed from the Mall area (about 10 minutes walk). 
Here is an expandable & interactive map of Darjeeling. Use the navigation buttons to move the map and use the +/- buttons to zoom in & out and see more details. 
Map of Darjeeling Town 
Map of North Darjeeling
This part of the map shows the roads and places that are in north and north-western side of Darjeeling and not covered in the central map. Check out the
Map of North Darjeeling
for the following major landmarks and attractions: 
Jawahar Road that traces Raj Bhavan (Governors House), Shrubbery Nightingale Park, Himalayan Mountaineering Institute and the Zoo. 
Lebong cart road that traces Old Cemetery, Ropeway station at Singamari, North Point St. Joseph's Colleger. Tenzing & Gombu Rocks and Tibetan Refugee Center 
Happy Valley Tea Estate 
Map of South Darjeeling
This section of the map shows roads and places in the southern part of Darjeeling town that are not covered in the central map. Check out
Map of South Darjeeling
for the following roads and main areas of interests: 
Gandhi Road that originates from the base of Nehru Road, and runs by hotel Sinclairs, Swiss hotel, PWD Dak Bunglow, approach to Circuit House, PWD Inspection Bunglow etc. 
Dr. Zakir Hussain Road that leads to St. Paul's School, St. Paul's Church etc 
Tenzing Norgay road that leads to Aloobari Monastery etc. 
Hill Cart Road (the national highway) that goes via the Darjeeling Railway Station towards Siliguri 
Map of Ghoom Area
This map covers the important places in Ghoom and Jorebunglow area. These areas are 8-10 kilometers away from the main town. Check out the
Ghoom & Its Map
for the following roads and places: 
A section of Hill Cart Road passing though Samten Choling Monastery, Ghoom & Jorebunglow railway stations etc. 
Old Monastery Road leading to Ghoom Monastery 
Senchal Road leading to Tiger Hill 
Old Military road for Senchal Lake etc. 
Visitors' Reviews/Comments
Share your experience or stories.