Local Transports in Darjeeling & Fares
Having reached Darjeeling, how do you commute and get around the area? Unlike in major cities, you won't find taxis operating on meters or auto-rickshaws which you can stop on the streets and hop in to go from one place to the other. If you are visiting the hills for the first time, you may find this strange. 
In fact in the whole of Darjeeling district, in order to commute for short distances within a town area, the best option is to walk. In some areas like the area around Chowrasta (Mall) in Darjeeling town, vehicles are not allowed at all as they are pedestrian-only zones. 
And roads in some such areas may require a bit of uphill walk. So before you think about any local transportation in the hills here, you should be prepared to walk within the main town limits. That's the easiest way and sometimes the only way. 
But there are other transport options as well like private or reserved taxis, shared taxis (operating on per person fare), public buses etc. Even the toy trains of Darjeeling Himalayan Railway serve as local transportation on specific routes. 
Taxis are available in plenty and there are several taxi stands around the main town area. These taxis are commercially operated private vehicles of different makes and models. They are commonly used for transfers and sightseeing tours. 
Taxis lined up on a stand at Darjeeling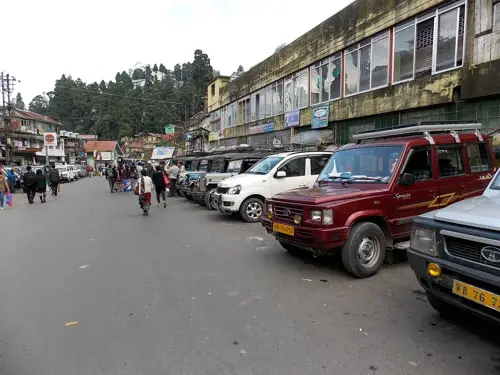 Types of taxi services 
There are essentially two types of taxi operations in the hills here.  
Private or Reserved Taxis 
You can get private taxis which you can reserve for transfers to other places or for sightseeing tours. The most common use of such taxis is to take a drop to NJP Railway Station, Bagdogra airport, drop to other destination in the hills, or do a local 7-point sightseeing tour, or even make a day trip to a nearby tourist destination. Private taxis can be small cars (like Maruti Vans, Alto, WagonR, Santro etc) accommodating up to four passengers, or larger vehicles like Swift Desire, Artica, Sumo etc. And of course there are luxury vehicles like Innova, Scorpio, Xylo etc which are costlier. 
If you use reserved taxis from the stands for short distances because you don't want to walk, then be prepared to pay a hefty amount. And even that is possible provided vehicles are allowed where you want to go. Note that many hotels are located in pedestrian-only zones, and vehicles can not reach all the way up to the hotel. You will need to walk to your hotel from the nearest taxi point (and with luggage when you arrive). If you want to avoid walking to your hotel, choose a hotel in an area where vehicles are allowed. For all the hotels I have reviewed in this website, I have mentioned vehicle accessibility including how much of walk is required to reach the hotel, if at all. 
Shared Taxis 
These taxis are shared by many passengers and operate on a per person rate, and are obviously much cheaper. There are designated routes connecting various places in the hills. Not only these shared taxis operate within Darjeeling, they also connect Darjeeling with many other places like Gangtok, Kalimpong, Kurseong, Mirik, NJP, Siliguri, Gangtok, etc. 
Shared taxis are usually jeeps and accommodate about 10 persons (which is often lot more that the comfortable limit for many). Most locals and villagers avail shared jeeps. Depending on routes, there are timings for these shared taxis. However usually they wait until full. You can get off anywhere along the way. And if seats are free, they can stop to pick one up along the way. But how do you recognize one while it's passing so that you can stop it? And how do you know if it has free seats? Well, if you see a noisy jeep with loads of people passing by, it's likely a shared taxi. Just wave at it, if there is a free seat, it'll stop. Shared taxis usually operate from stands between 7am to 3pm. Luggage is kept on roof. 
Shared taxis also operate for few select local sightseeing tours like 3-point tour in Darjeeling (for Tiger Hill sunrise view) and few other set local tours, but mostly during the high tourist season only. 
Taxi Stands & Availability 
There are several taxi stands through out the hills. The most popular in Darjeeling town are: 
<!lisnum>1. <!/lisnum>The Upper Club-Side taxi stand just below Planter's Club on Gandhi Road. Here you will find a Kiosk run by the taxi association who offer private taxis at reasonable rates. 
<!lisnum>2. <!/lisnum>The Lower Club-Side taxi stand on Laden-La road and next to Gandhi Road traffic police point. 
<!lisnum>3. <!/lisnum>Motor Stand at lower town on Lebong Cart Road near Chowk Bazaar. 
The taxis at Club-Side stands are mostly private reserved taxis, while at lower town motor stand are both private and shared taxis. Lower town stand is from where most shared taxis leave for various destinations including Gangtok. 
All tour operators can also arrange for private cars, and so do the hotels. Although their rates will be higher, condition of the cars and the quality of drivers are usually better. Note that although the taxi drivers in the hills know the location of all the places around, almost none have any knowledge about the places and their backgrounds, and are poor guides. So if you are looking for a proper guided tour,
go through a local tour operator
. 
NOTE: If your hotel is in upper town area (for example near Chowrasta, Mall) and you want to go down to lower town to avail a shared taxi or bus, you can walk down to the stand in about 15-20 minutes. But while coming up, it could be a tedious 30-minute uphill walk. You can otherwise take a private taxi for a drop and pay a handsome amount. So keep this in mind if you plan to use shared taxi (Jeep) for transfers to other places. 
The bus stand in Darjeeling is located at lower town area on Lebong Cart Road near Chowk Bazaar. Buses to different destinations operate from this stand. 
There are daily four round trip bus services between Siliguri and Darjeeling, two operate in the first half while the other two in the second half. Siliguri bus stand is on Hill Cart Road and known as Tenzing Norgay bus terminal. Siliguri to Darjeeling bus route covers places including Sukna, Kurseong, Sonada, Ghum etc. So you can plan to visit any of these places on this route by bus. There is also a bus service between Darjeeling and Mirik. 
Bus services and timings change. You should go down to the stand to note the timings.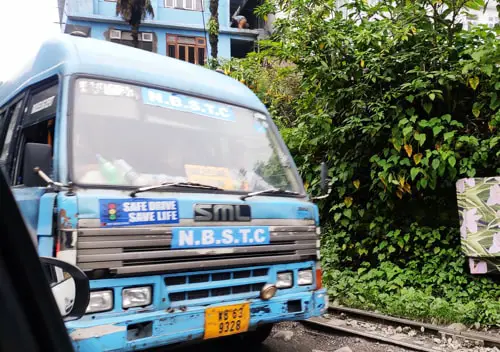 Darjeeling Himalayan Railway (which is part of Indian Railway) operates the heritage Toy Trains which originated during the British era and are now accorded the world heritage site by UNESCO. These mini trains and the winding narrow gauge tracks around the mountains of Darjeeling were created by the British to enable transportation in the hills. And they are still used as effective human transports by the locals as well as tourists. 
Note that there is only one long toy train track which has been laid in Darjeeling hills. The route starts from NJP, connects Siliguri, then goes up the hills connecting places like Sukna, Tindharia, Kurseong, Sonada, Ghum and finally Darjeeling. In order to negotiate steep gradients, the track goes through a number of zig-zags and loops along the way. It is considered world's one of the most scenic railway routes offering wonderful views of Kanchenjunga along the way. The entire stretch takes about 7 hours by diesel engine, and about 10 hours by steam engine.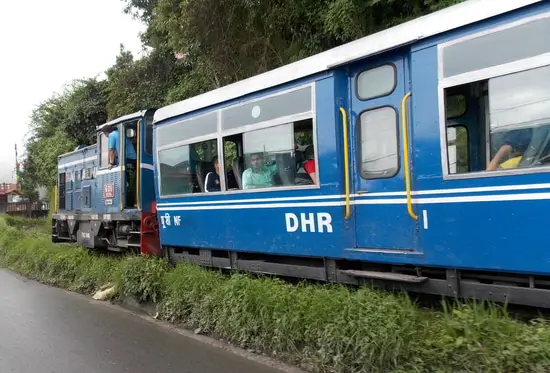 All toy rains in Darjeeling hills operate only on this route, some for the entire stretch, while others for specific sections meant for local commuting. Depending on the service, a toy train can be pulled by either a steam engine or a diesel engine, and can have first class and/or second class coaches. You can either avail a joy ride which is a round trip from Darjeeling to Ghum via Batasia loop and back, or transfer to a destination along its route. 
I have created this section to give you idea about available transport modes & fares between Darjeeling and other destinations. This will be helpful if you are planning to visit places near Darjeeling like Gangtok, Kalimpong, Mirik, Kurseong, Takdah, Tinchuley, Manebhanjan, Sandakphu, Srikhola, Chota & Bara Mangwa, NJP/Siliguri/Bagdogra etc. 
Fares updated: January 2016 (Fares are subject to change and should be taken as indicative) 
Note: The reserved taxi/car fares vary depending on the tourist season & demand. Reserved fare for larger vehicles like Sumo costs Rs. 300/- more than small cars. Although the taxi association has notional rate chart for private taxis indicating fares for different sightseeing tours and transfers, they can be completely misleading. During high season, the fares can shoot through the ceilings, and during low season you can negotiate the fares below the standard rates. However for shared taxis, the rates are fixed between places and are non-negotiable. You can also book more than one seats to make your journey comfortable (some book the two front seats next to the driver although traveling single). 
Darjeeling to Kalimpong 
Distance: 70kms (takes approximately 2.5 hours by road) via Teesta Bazaar 
Shared jeeps are available from Chowk Bazaar (Lower Bazaar area) of Darjeeling from 8am to 2pm. Rate: Rs. 110/- per person, up to 10 persons in a Jeep. You can also reserve more than one seats or a full row if you want comfort. 
Reserved taxis are also available. Rate: Rs. 2200/- for a small car. If it is a return trip (a day trip with sightseeing in Kalimpong), the rate is Rs. 3,200/- in a small car. 
Buses have been discontinued. 
Darjeeling to Gangtok drop 
Takes about 4 hours by road from Darjeeling via Teesta Bazaar 
Shared jeeps available from Chowk Bazaar (Lower Bazaar area) of Darjeeling from 8am to 2pm. Rate: Rs. 200/- per person, up to 10 persons. 
Reserved taxis are also available. Rate: Rs. 3,300/- for a small car. 
No bus service between Darjeeling and Gangtok 
Darjeeling to Pelling drop 
Pelling is in western Sikkim and takes about 4.5 hours to reach by car from Darjeeling. Small reserved cab fare is about Rs. 3,800/-. There is no bus service on this route. You can get limited shared jeeps from chowk bazaar. 
Darjeeling to Mirik 
49kms from Darjeeling town. Takes about 2.5 hours by road via Sukhiapokhri 
Shared jeeps are available from Darjeeling (Chowk Bazaar area) between 8am and 11am. In case you are visiting Mirik for day trip, you will get return shared jeeps from Mirik Bazaar area between 11am to 2pm. One way shared jeep fare: Rs. 80-100/- per person. 
There is a mini bus service between Darjeeling and Mirik. The bus leaves Chowk Bazaar area at 8am and starts from Mirik at 2pm for Darjeeling. Fare: Rs. 60/- per person (one way). 
One way fare to Mirik by a small reserved car is Rs. 2,000/-. 
Reserved car/taxi fare for a day round trip to Mirik from Darjeeling is Rs. 2600/- for a small car. Usual day trip time is 9am to 4pm. The trip also covers Jorpokhri (a nice forested place with a lake), a stop at Simana (a border village & view point) and Pasupathi Nath Market at the India Nepal Border where you can buy foreign goods & clothes.  
Darjeeling to Kurseong drop 
31kms from Darjeeling and takes about 1.5 hours by road. 
Shared jeeps available from Chowk Bazaar (Lower Bazaar area) of Darjeeling from 8am to 2pm. Rate: Rs. 75/- per person, up to 10 persons. 
Toy Train Service is available between Darjeeling Station and Kurseong. The train (no. 52544) departs Darjeeling at 10:15am reaching Kurseong at 13:10pm. The train from Kurseong (no. 52545) leaves at 3pm reaching Darjeeling at 5:50pm. It is hauled by a Steam Engine having 2 or 3 coaches (number & combination of first and second class coaches vary). Note that the timings are subject to change. One way First Class fare is Rs. 210/- and Second Class Rs. 60/- (indicative). You can book through the site irctc.co.in or at any DHR station including in Darjeeling. 
Reserved car/taxi fare: Rs. 1500/- (small car) 
Bus service currently not available. 
Darjeeling to Siliguri/NJP/Bagdogra drop 
Takes about 3 hours by Hill Cart Road. Note that the Hill Cart few kilometers beyond Kurseong remains closed due land slides. So a detour from Kurseong via Rohini is taken these days. 
Shared jeeps are available from Chowk Bazaar & Gandhi Road stand through out the day time. Rate: Rs. 130/- per person up to Siliguri via Pankhabari or Rohini, Rs. 160/- per person up to New Jalpaiguri (NJP) via Rohini, and Rs. 200/- per person to NJP via Mirik. 
Private small car fare from Darjeeling to NJP/Bagdogra: Rs. 2,300/- (note that this is more than the pre-paid fare for small reserved car that you pay at the station or airport for reaching Darjeeling). The return fare is charged higher as the taxi may need to return without a passenger (if you know Hindi, the driver will say with a smile ... 'khali aana parega na').  
NJP/Bagdogra drop via Mirik in small reserved car: Rs. 3,000/- 
Darjeeling to Siliguri drop by small reserved car is: Rs. 2,000/- 
Bus service is available from Darjeeling to Siliguri main bus stand (currently via Mongpo since a section of the Hill Cart Road is closed). Fare: Rs. 80/- per person. 
Darjeeling to Teesta Bazaar drop 
Takes about 1.5 hours by road. 
Shared jeeps are available for Kalimpong which can be availed to get off at Teesta Bazaar. However, you may need to pay the fare up to Kalimpong. Fare: Rs. 100/- per person. 
Reserved car/taxi fare: Rs. 1800/- for a small private car. 
Darjeeling to Takdah / Tinchuley drop 
Takes about 1.5 hours by car 
Reserved small car costs Rs. 1,500/- 
Darjeeling to Lamahatta drop 
A half day round trip to this eco tourism village having a lovely manicured road side garden is about Rs. 1,500/- in a small taxi. It takes about 1 hour to reach Lamahatta from Darjeeling. 
Darjeeling to Lava (104kms)/Lolegaon (126kms) 
From Darjeeling, Lava takes about 4 hours and Loleygaon about 5 hours, both via Kalimpong. 
Shared jeeps are available up to Kalimpong, from there you can get another shared jeep for Lava/Lolegaon (total fare is Rs. 200/- per person for Lava and Rs. 250/- per person for Loleygaon). 
If you take a private car from Kalimpong for Lava, the fare is about Rs. 1500/- 
From Darjeeling a private small car (one way) fare is about Rs. 3,000/-. 
Darjeeling to Bijanbari 
Takes about 2.5 hours to reach by road 
There is no shared jeep available for Bijanbari 
A bus leaves Darjeeling Chowk Bazaar area twice daily (8am and 10am). The bus starts from Bijanbari for return journey at 12noon and 2pm. 
A return day trip by a small private car will cost around Rs. 2000/- 
Darjeeling to Manebhanjan and Sandakphu 
Manebhanjan is 26kms from Darjeeling and Sandakphu further 32kms up along a gravel (boulder) road. 
Manebhanjan takes about 1 hour 15 minutes from Darjeeling and Sandakphu another about 4.5 hours (with tea breaks in between). 
Shared Jeep fare from Darjeeling to Manebhanjan is Rs. 50/- per person. 
Small private car from Darjeeling to Manebhanjan will take about Rs. 1200. 
From Manebhanjan you will need a Land Rover or a Jeep for Sandakphu. A reserved Jeep fare is Rs. 4800/- plus Rs. 1000/- for each night stay. 
Darjeeling to Bara/Chota Mangwa 
47kms from Darjeeling. 
No shared jeeps all the way to the Mangwas from Darjeeling. You can get one up to 6th mile (Rs. 50/- per person). 
Reserved private car will take about Rs. 1700/- to Chota or Bara Mangwa. 
Darjeeling to Namchi 
Takes about 2 and half hours one way. 
A day-trip to Namchi from Darjeeling including local sightseeing at Namchi and back to Darjeeling would cost around Rs. 4,000/- in a Sumo. Scorpio or Innova would cost more. 
Update April 2015: Now you don't need to walk 2kms taking some 30-35 minutes to reach Darjeeling Zoo & HMI from Mall (Chowrasta) area. Neither you need to walk up the steep road to reach Mahakal Temple on top of Observatory Hill. Three battery operated carts have been introduced by GTA (Gorkha Territorial Administration). The carts start from Bhanu Bhawan (i.e. the large building of Gorkha Ranga Manch on Mall road) and make several round trips to both HMI/Zoo and Mahakal Temple. 
The carts operate between 10am to 4pm for the Zoo/HMI and between 7am to 10am for Mahakal temple. Each cart can accommodate up to 8 persons and the per person rate for a round trip to the Zoo or Mahakal Temple is Rs. 20/-. You can also reserve a cart for Rs. 500/- for making a round trip to one of these places. Since they are battery powered, the carts are environment friendly. Once fully charged, a cart can go for about 60 kms. 
Hello Raj, 
This is a terrific website!! Can you please help with the fares between Darjeeling and Manebhanjan, and then onward to Sandakphu. Thank you.. 
Deepak Sen (September 2012) 
Hi Dipak, The rates should be taken as indicative as they can change anytime. 
Between Darjeeling and Manebhanjan, there are several transport options. You can take a shared jeep for a fare of Rs. 50/- per person. But remember, they stuff in at least 10 persons in a jeep. You can however book two seats per person for more comforts.  
You will get shared jeeps back from Manebhanjan to Darjeeling at similar rates. The jeeps start as soon as they get filled up. 
Alternatively you can take a small private car (like Santro, Maruti Van etc). The fare between Darjeeling and Manebhanjan is currently Rs. 800-1000/- for a small reserved car. However, if you go though a travel agent, you are likely to pay more. Some agents of course ensure cars in good condition with experienced drivers. 
From Manebhanjan, you will need to take a four-wheel drive Jeep or Land Rover for Sandakphu. It's a gravel road full of stones and normal cars can't go. The current fare from Manebhanjan to Sandakphu & back is Rs. 4800/- plus Rs. 500/- for every night stay. 
You can however take only a drop to Sandakphu (in case you are planning an onward trek from there). In that case the fare would be a little cheaper and will not include the night charge. 
Raj/darjeeling-tourism.com (September 2012) 
Raj ... I will be staying in Darjeeling on New Year's Eve and New Year's Day... I'm relieved that it won't be a problem to pre-arrange a private taxi for NJP. Any idea how much that will cost? 
Bryan Fleck (October 2012) 
Bryan, 
The present pre-paid taxi fare from NJP station to Darjeeling is Rs. 1480/- for a small car. However on your way back down to NJP/Bagdogra, it can easily shoot to Rs. 2000/-. It's an opportunists' world out there. Reason? The taxi might have to return empty without a passenger although  I haven't seen one returning empty in the last 20 years though. 
So check out with 2-3 taxi drivers at the stand on the previous day before settling with one. It's a high time of the year and I doubt you can bargain though. There is a small taxi booking kiosk on Gandhi Road right next to the Police Point. You should check with them the rate and it can serve as a good reference point. If you find the rates similar to what the drivers are quoting, book through the kiosk for more reliability. 
Raj/darjeeling-tourism.com (October 2012) 
Darjeeling to Makaibari: Transport & Fares 
Hi, What would be the cab fare from Darjeeling to Makaibari via Kurseong? We plan to go down to Makaibari from Darjeeling for a homestay for a night and then going down to NJP. What would be the onward fare from Makaibari to NJP? 
Arup (Jnanuary 2013) 
Hi, Makaibari is only 3-kms from Kurseong town and therefore the fare would be more or less the same. The driver nay ask for Rs. 50 more for Makaibari. A small cab fare from Darjeeling to Kurseong is Rs. 1200/- (depending on the season/demand). It takes about 1.5 hours to reach. From Kurseong onward to NJP or Bagdogra, the fare would be about Rs. 1200 (takes about 1.5 hours). 
Raj 
darjeeling-tourism.com (January 2013) 
Hi, I want to go to Darjeeling in March end,2013. Can you please tell me whether any private taxi or share jeep available from Darjeeling to Teesta Bazaar. My destination will be Bara Mangwa actually. Do I need to break the journey at Teesta bazar or there is any direct jeep to Bara Mangwa from Darjeeling?? please tell me share jeep fare and private vehicle (small car) fare.. Thanks in advance..  
Manoj Debnath (January 2013) 
Hi, You can take a shared jeep for Kalimpong or Gangtok and get off at Teesta Bazaar. The shared jeep drivers do not usually like to take passengers for Teesta Bazaar if they get passengers directly for Kalimpong or Gangtok. One way to get around this problem is to pay the fare for Kalimpong/Gangtok although you get down at Teesta Bazaar. Current shared jeep fare for Kalimpong is Rs. 75/- and Gangtok Rs. 150/-. These jeeps are available between 8am to 2pm from Chowk Bazaar (Lower Bazaar) area. 
Once you reach Teesta Bazar you will need to find a transport (a car or another jeep) for Bara Mangwa. 
From Darjeeling, you can also take a reserved taxi directly for Bara Mangwa. Private taxi fare directly from Darjeeling to Bara Mangwa/Chota Mangwa would vary depending on the season ... should be around Rs. 1200 - 1400. 
Raj 
darjeeling-tourism.com (January 2013) 
Hi, Amazingly detailed article. Thanks a ton. Just a few queries -  
1) I can get pre-paid taxis only from Bagodra Airport or NJP correct? If I'm travelling from Darjeeling/Gangtok, that won't be possible?  
2) What's the most cost effective private car from Darjeeling to Gangtok and then Gangtok to Bagdodra again?  
ADKW (February 2013) 
Hi, There is no official pre-paid taxi counter in Darjeeling run by the state government. However there is a small kiosk across the Gandhi Road police point (at the club side taxi stand) which is run by the drivers association. You can book or pre arrange a taxi from there. That would be more reliable than going through an individual driver and rates would also be similar. The rate would be cheapest for a small car like Santro, Wagon R, Alto etc. Regards, 
Raj 
darjeeling-tourism.com (February 2013) 
I will be traveling in Darjeeling for about 3weeks, mainly into remote villages and tea gardens. Since I will be doing it alone I have decided to do it on a Motorbike. I have already contacted a co. who are renting me a bike with all the travel gears including GPS etc. Just wanted to seek your advise and would like to know in your opinion what are the advantages and disadvantages of traveling on motorbikes in the outskirts of Darjeeling. 
Priya Ranjan Singh (March 2013) 
Hi Priya, I hope you have experience riding a bike on hilly terrain, you won't see many of them in Darjeeling area. There is no disadvantage as such. Ensure that you get a well maintained and relatively new bike. You won't get any breakdown services in remote areas. Carry enough (and spare) fuel, a raincoat, a sun glass amongst other gears. There are hardly any signs on the roads giving directions. So you will need to rely on locals & villagers to find places. Good Luck!! 
Raj 
darjeeling-tourism.com (March 2013) 
Thank you Raj, 
I am much relived now, I am aware that hardly any one plans trip on a Motorbike in Darjeeling hilly area so I was slightly apprehensive :). The Co. I am hiring the bike is called Adventures Unlimited, they have some great reviews about their Enfield Motorbikes by many reviewer who rent bike from them for mostly to go to Nepal or Bhutan. 
If you remember I was in touch with you on many occasion in past, I have benefited great deal from your website. I will be travelling most likely end of April and wish if it's possible to meet you in Darjeeling on a cup of tea to get your input on my project on "Darjeeling offbeat stay" that I am working on. 
Priya Ranjan Singh (March 2013) 
Darjeeling to Bhutan (Paro) 
Hi Raj, I intend to come 2-3 days early and explore Darjeeling and then make my onward journey to Bhutan. I will be reaching Bagdogra around 15th June and have my flight to Bhutan on 17th. I need your help in deciding whether it is a good option to plan these 3 days in Darjeeling during this time of the year (mid June). Besides, please also let me know whether it'll be good to travel to Bhutan by road from Bagdogra or by air (to Paro). Thanks a lot in anticipation. 
Sunny B (April 2013) 
Hi Sunny, 
Mid June would be monsoon time and it rains or drizzles almost all the time in Darjeeling, unless you get a lucky dry spell. But monsoon has its own advantages and disadvantages in the hills. Go through
Darjeeling Weather
to know what you may expect here in monsoon. 
I suggest you take a flight from Bagdogra for Paro. By road it'll be a long tiring journey for the whole day. You will need to clear your documents at Phuentsholing which is over 4 hours drive from Bagdogra/Siliguri. And from there another 6/7 hours all the way up to Paro. During monsoon, there are also chances of landslides .... so avoid road journey. 
Regards, 
Raj (darjeeling-tourism.com) April 2013 
I want to know whether I can hire a car from Darjeeling and take it to Pelling to Yuksom & again back to Darjeeling. Are WB cars allowed to Yuksom? Do I need to check whether the car or driver has a registration of Sikkim or not? 
Somendra Nath De (March 2014) 
There are some vehicle restrictions in Gangtok, not in Pelling or Yuksom. You can take a car from Darjeeling to Pelling and then to Yuksom. Yuksom is close to Pelling. Makes little sense though as you will end up paying driver's night stay charges at all the places. Better take a separate car from Pelling for the west Sikkim tour. Why do yo want to come back to Darjeeling? Are you planning a day trip from Darjeeling to Pelling and Yuksom? That's not practical. 
Raj (darjeeling-tourism.com) March 2014 
Will be in Darjeeling early April (Cedar Inn). I would like to plan a visit to my old school - Geothals Memorial school Kurseong. I recall (some 40 yrs. ago) the toy train used to stop at the base of the school. Is this still a stop? I am trying to determine if it is best to take the train or a taxi. Cost versus time, your input would be valuable. Very good information on your site. Thank you 
Ian Wickins (March 2014) 
There is no scheduled stoppage of toy train at the base of Goethals. The closest is Kurseong station which will require quite some walk to the school. So take a taxi (Indicative rate: Rs. 1500 one way). Takes 1.5 hours. This will also give you time flexibility. The train runs only twice daily between Darjeeling and Kurseong, takes 3.5 hours. A round trip taxi fare (small taxi) including time required to visit the school can cost about Rs. 1800. 
Alternatively you can take a shared Jeep from the club side stand or the Chowk Bazaar stand (Rs. 75 per person). They ply frequently between Darjeeling to Kurseong (and back) from 7am to 3pm. Takes about 2 hours one way. They stop frequently to drop and pick up daily commuters on the way. Shared Jeeps take at least 10 persons. So it can be quite uncomfortable. You can however pay for and reserve two seats (preferably next to the driver) and have a comfortable space to sit :) 
Raj (darjeeling-tourism.com) March 2014 
Myself along with my son( 5 yrs old) and spouse are planning to visit north Bengal hills in Dec 14. Please find below the tentative itinerary. 
Reach NJP and proceed to Lamahatta. Next day proceed to Darjeeling and stay for a couple of days. Travel to Jorpokhri Tourist Lodge and stay for 1 night. Proceed to NJP via Mirik. 
Now I have few questions on which I need your expertise. I want to cut down my travel costs on car bookings. So would prefer to have shared taxis if otherwise it's too difficult. I plan to book all the 4 middle row seats if available to have some comfort. 
1) Will it be advisable to travel in shared taxi moving towards Kalimpong from NJP and get down at Teesta Bazar. From Teesta bazaar will taxis be available for Darjeeling which I believe will pass over Lamahatta. Please suggest. 
2). Lamahatta to Darjeeling -- Will seat in shared jeeps be available. Otherwise what can be the dropping charges from Lamahatta to Darjeeling. 
3) Is there any shared taxi route starting from Sukhiapokhri to Mirik or I have to catch the ones starting from Darjeeling. 
Looking forward towards your suggestions. 
Sugata Ghosh (August 2014) 
You can get shared jeeps from Teesta Bazaar area moving towards Lamahatta and then to Jorebanglow/Ghoom. But most would be coming from Kalimpong and may not have adequate seats. You may not get jeeps starting from Teesta Bazaar when you want. A better idea is to come up to Jorebunglow from NJP and then take a jeep for Lamahatta. Although this might be a bit longer route, you will likely get seats. 
From Lamahatta to Darjeeling ... you will need to catch a passing jeep and seats may not be always available. Take a reserved car to Darjeeling ... should take about Rs. 1200. From Sukhiapokhri, you will get shared jeeps starting for Mirik. 
Raj (darjeeling-tourism.com) August 2014 
Upto what time is the travel means (bus / shared taxis - jeeps) available from Darjeeling to Gangtok. Can I book these online? 
Sachin Gupta (September 2014) 
There is no bus now from Darjeeling to Gangtok. Shared taxis are usually available till 3pm. Private taxis on the stand are available till 6pm, however if you book one in advance, they can come any time to pick you up. You can't book these online. You need to go down to the stands and book. 
Raj (darjeeling-tourism.com) September 2014 
Dear Raj 
I am not sure if our previous request reached you as the internet connection was lost! Firstly thanks for your very informative website. We are travelling to Darjeeling shortly and have been trying to find information on the journey time and cost of a small private car from Darjeeling to Pelling (and possibly on to Yuksom). We would be grateful for any information you can provide. 
With many thanks. 
Janice Bolton (September 2014) 
Hi, 
No I didn't receive your earlier note. Small cab from Darjeeling to Pelling would cost around Rs. 3,000/- (takes about 4.5 hours). Pelling to Yuksom would be another Rs. 800/- or so (takes about an hour). But note that once you reach Sikkim (i.e. Pelling or Yuksom, you will need to take a local car for sightseeing. Cars from Darjeeling can only drop you to a place in Sikkim). 
Raj (darjeeling-tourism.com) September 2014 
K M Shah (March 2015) 
We are two sr.citizens. Want to visit Darjeeling, Pelling and Gangtok. Is it advisable to go to Pelling from Darjeeling or to go to Gangtok? I will reach Darjeeling on 17th May and stay for two nights and proceed to Sikkim ( Gangtok 3 nights and Pelling 2 nights ). We would like to make our journey by shared vehicle. I will be grateful if you can guide me. I will take Darjeeling tourism card as soon as my programme is finalised. 
Pelling road is quite bad these days. So choosing Pelling first would have helped you come down faster on your last day of return from Gangtok. However for availing shared jeeps, visit Gangtok first (no direct shared vehicles between Darjeeling and Pelling). 
Raj (darjeeling-tourism.com) March 2015 
Dear Mr. Raj, First of all, a big thank you for providing so useful information through the website regarding Darjeeling. We have a plan to go Ghum by Toy train and so I reserved the train tickets already. Are the shared taxis available at Ghum for returning back to Darjeeling and if yes where should we go to catch the taxis? 
Sujoy (November 2015) 
Shared taxis are available outside Ghum station to get back to Darjeeling (lower town). The steep uphill walk from there up to Mall can easily take 20 minutes. So a local private taxi would be an alternative to come up to Bhanu Bhavan on Mall road or Club Side stand near Keventers (both are almost equidistant but from Clubside stand it's an uphill walk along Nehru road to get to the Mall). Beware, the local drivers can fleece you. They can ask for Rs. 150 - 200 for 2-minute drive. 
Raj (darjeeling-tourism.com) November 2015 
Hi Raj, 
We (Couple) have a train to catch from NJP at 9PM on Feb 14th, should I pre-book a cab online from DJ to NJP now or will have enough options (car, bus etc) in DJ on 14th Feb at around 5 PM? Do we need to pre-book bus tickets also? Kindly suggest. 
Ravikant (January 2016) 
Hi, private taxis will be available in plenty, so you need not pre-book one. You can buy bus tickets in Darjeeling from the counters at the bus stand (in advance or on spot, subject to availability). While in Darjeeling, check the bus timings. Likely the last bus would have gone by 5pm. Shared jeeps too won't be available after 3pm. Your only option would be reserved taxi. 
Raj (darjeeling-tourism.com) January 2016 
Hi Raj, 
Thank you for this forum. It is helping us a lot. I have a question. Do we have shared cabs/any other budget transport from Darjeeling to Sikkim during night times? 
Lakshmi (December 2016) 
Shared taxis do not usually operate after 3pm. The last long distance shared transport would leave by 2pm. 
Raj (darjeeling-tourism.com) December 2016 
Related Articles