About the Author of
Darjeeling-Tourism.Com
Hello I am Raj, the founder & editor of this website. You may be wondering who is this person writing hundreds of pages about Darjeeling, and what actually keeps him going? What does he get out of all these? I'll come to that shortly. 
I remember when I was in school, it took me several years to save up some money from my bus fares and lunch allowances. It was finally enough to catch a train to New Jalpaiguri and then a bus to Darjeeling with couple of my friends. I lived in Calcutta then. It was my first ever savings and I used that for making a trip to Darjeeling, a place with which I now have an integral connection. 
When I look back and wonder why such passion for the place, here is what pops up in my mind: 
It was my first ever experience in the hills, that too independently and out of the clutches of my parents. And it was of course the first opportunity to get lost in a wonderland which I leveraged to my heart's content. Three of us stayed in a large room in Jubilee Sanatorium below Darjeeling station. 
The first toy train ride, the first independent stay in a hotel, the first ever unabated opportunity to blend with the mountains & the nature, the beautiful tea gardens on the slope of rolling hills, the walk along scenic mall road on a misty morning... they were all very special to me. 
We met with a few locals who became friends for life. Who knew that one day those memories would finally go on to change my life altogether. 
Soon after my schooling I was into the serious grilling of life to fight out my career. After all, I was a son of a very successful father. He was an engineer by profession and made it large in his career. Such giant example and expectation left me with no choice. 
I followed my father's footsteps, did my engineering from IIT Kharagpur in Computer Science, received Professional Certification in eSCM from Carnegie Mellon University (USA) and started my life's rigor striving to become another boss of corporate world. Gradually life was all about extensive travel, both within country and all over the world. The corporate spree and the ladder climb continued in global giant companies, but through huge stressful conditions. 
But whenever such stress threatened to overpower me, I took breaks and often came back to Darjeeling. This place continued to give me the solace I was looking for. And every time I came here, I found it harder and harder to get back to the corporate world. There was something from inside telling me to slow down. 
Sure I finally made it to the top-end of the corporate ladder and performed senior management roles in large global companies at a relatively young age (I worked in IBM for my last 10+ years and as a Vice President), but the question that kept coming back to me was... at what cost? My wife often asked me ... "Do you ever notice how is your son growing up?" That question kept haunting me. I was losing the balance between work and life. 
In 2005 I decided to start spending some time in writing about something I knew and loved. That was actually the genesis of this web site and few others. I was travelling to Darjeeling and all over the world anyway. And I always loved to travel. Those days I could get time to scribble down my travel findings only on some of the week-ends perhaps with a subconscious desire to stitch them all together one day. But with time, the passion continued to grow and finally started to dominate my mind. 
And soon, I was serious to quit my job and be a full time travel writer. It was a scary decision of choosing between an established corporate career and an unknown. But despite all odds, I was finally able to pull the plug out of that sticky corporate socket. I'm glad that I followed my passion. I never had to look back since then. All along in this difficult journey of change, my family stood by me firmly. 
Well as far as Darjeeling & North-East India is concerned, I have been striving to build an information warehouse so that if you are wanting to plan an over-the-top vacation in the hills, you can actually do so. Or if you want to know about the place, its people, history, culture, flora & fauna, weather, or just anything about this gem of a place and its surrounding areas, you don't have to look any further. 
I have made a full circle in life and came back to start living in Kolkata once again. This helps me to be in a major city that is close to Darjeeling, the place that I had always loved so dearly. I now have countless friends in the hill town. 
I have written an
eBook on Darjeeling & Sikkim
which is available through this website. I believe it is a tremendous resource for tourists to get deep insights into different tourism aspects in the hills and plan a well thought-out vacation. I am sincerely thankful to thousands of readers who have purchased the eBook, and helped supporting this website and enabled me to continue on my work. 
Now getting back to the original question... what actually keeps me going? 
As you can understand by now, passion for travel writing is of course a major driving force. But there is another big force that helps me immensely to carry on with my work. And that comes from the readers of this website. Everyday I keep receiving numerous messages from the readers telling me how they benefited from this website. Nothing can be more fulfilling to a travel writer than this. Here are some messages from my readers that give me the conviction that I must be on the right track:
Viewers Reviews and Comments
Below is my interview excerpt published in 2017 by a joint initiative of 'Incredible India' (Ministry of Tourism, Government of India) and a prominent Australian Research & Advocacy firm promoting Darjeeling in Australia.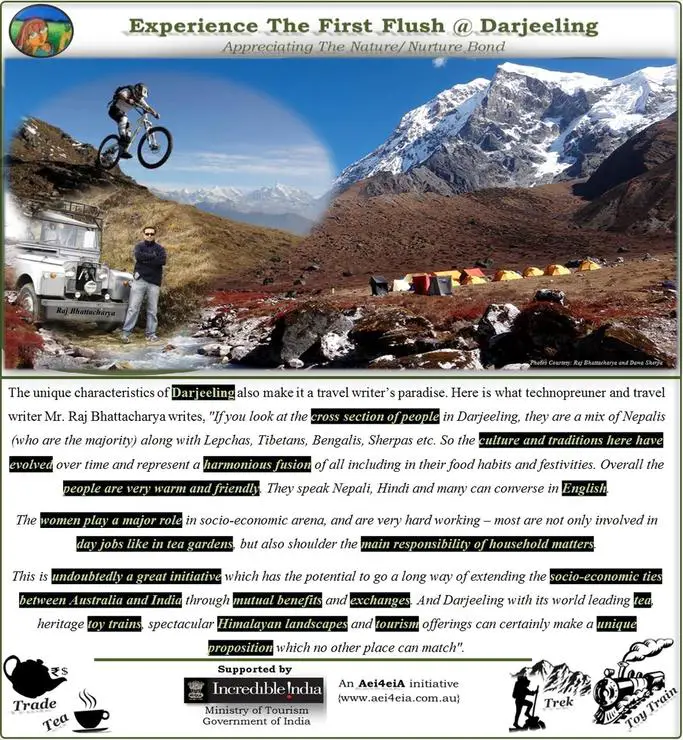 You can click on the above image to see the published interview (it will open in a new browser window, scroll down to see the interview as well as many other great information about Darjeeling). 
I continuously update this website (Darjeeling-Tourism.com) with new findings & experiences. If you have visited Darjeeling and have a story or experience to share, then click
Your Story
and do so. I can lock it in forever for millions of viewers to cherish. 
Cheers! 
Raj Bhattacharya