Dooars Tourism
So where is Dooars? What can you experience there as a tourist? Well the answer is more complex than what may be apparent to most. Because unlike Darjeeling or Gangtok, it is not a town or even a district. In fact Dooars is like a region or a vast area comprising of several townships, sprawling tea gardens, several national parks & wildlife sanctuaries, lush vegetation, numerous mountain streams, dense forests of Sal and wonderful views of the Himalayas forming the backdrop. 
The boundary of Dooars is not quite well defined. It's an expansive 880 square kms of land area located at the foothills of the Himalayas and can be approached through either north Bengal (i.e. northern part of West Bengal) or Assam.  
This entire area of Dooars was once controlled by Kingdom of Bhutan. But after the Bhutan war of 1865, the British took over the control and split the area into two parts ... Western Dooars (which eventually became part of West Bengal) and Eastern Dooars which is now part of Assam. 
In Dooars. On the way from Murti to Jhalong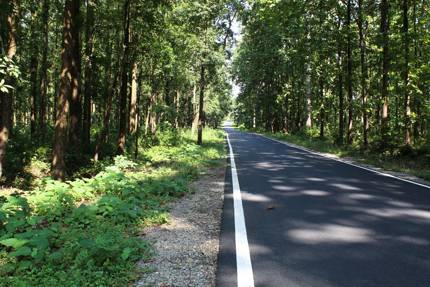 The name Dooars has been derived from 'Doors' ... because there are some 18 doorways or corridors between this place and Bhutan. The entire area has been a base for trade with Bhutan. A popular gateway is in Western Dooars between Indian border town Jaigaon and Pheuntsholing of Bhutan. 
And it is the Western Dooars (the part that belongs to the state of West Bengal) which has become popular for tourism. It offers great wildlife sanctuaries & parks, endless stretch of tea gardens, wonderful view points and all that combined with well organized tourism infrastructure like road transports, tours, accommodations and dining options. The part in Assam is not well developed. 
So going forward when I refer to 'Dooars', it would mean the western Dooars of West Bengal. 
Dooars (i.e. Western Dooars) too is a vast area and is in north Bengal. Although the area is not square, you can imagine the area as roughly 130kms by 40kms. On its western boundary flows the Teesta river and on its eastern boundary with Assam flows the Sankosh river. And in between there are many other rivers and their tributaries including Jaldhaka, Murti, Diana, Torsha, Kaljani, Karatoya and many more flowing through forests and tea gardens. 
When you look at the span of Dooars, it comprises of Jalpaiguri district, Alipurduar district and parts of Cooch Behar district. It's mostly a plain-land full of forest and tea gardens. However some places within Dooars are in higher altitude (for example Bindu is at an altitude of 2,000ft). 
There are several important townships in Dooars like Jalpaiguri, Birpara, Malbazar, Chalsa, Mainaguri, Binaguri, Alipurduar etc. 
In short... miles of national parks full of dense forests, Jeep & elephant safaris to spot exotic wildlife in their natural habitats, vast stretch of sprawling tea gardens, wonderful mountain streams with rocky beds flowing through the forests and tea estates, lovely view points, and great views of the Himalayan range outlining the Dooars region on one side are what most tourists want to see and do. 
There are however some specific must see places in Dooars which most tourists have in their itinerary. And that is to take safaris in one or more of the national parks to see wildlife. 
One of them is the famous Gorumara National Park. You can take Jeep safaris in the buffer zone of the forest here, or visit some of the watchtowers by Jeep that are placed in the core area offering great vantage points to watch wild animals at places which they frequent. 
Gorumara National Park - Jeep Safari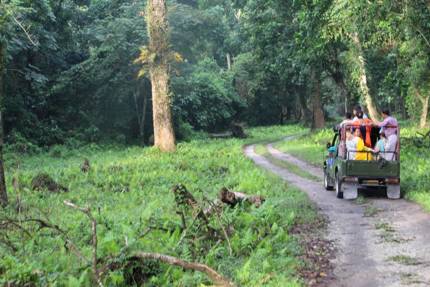 An extension of Gorumara on the north-eastern side of river Murti is Chapramari forest which too is popular among tourists for taking safaris and spotting wildlife. 
Jaldapara National Park is famous for its elephant safaris to spot one-horned rhinos and other wildlife. Jeep safaris are also popular at Jaldapara. 
Getting ready for elephant safari at Jaldapara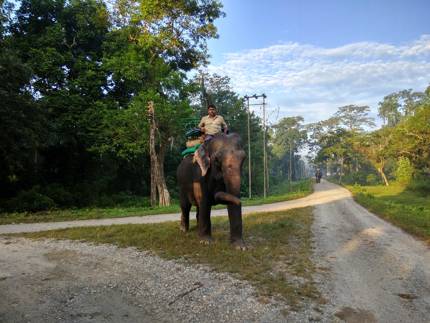 And Buxa Tiger Reserve has the second highest number of tigers in the state after Sunderbans, although spotting a tiger here may not be easy. 
Wildlife such as elephants, one-horned rhinos, leopards, bison, deer, snakes and many species of birds including peacocks can be spotted in all these forests. 
One-horned Rhino in Jaldapara National Park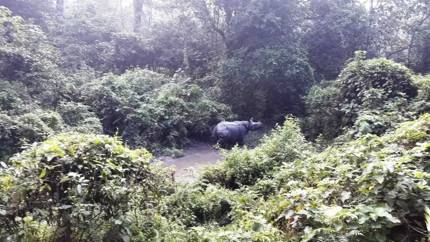 Apart from national parks & sanctuaries, a popular place is Bindu Valley - a spot famous for its scenic beauty with Jaldhaka river flowing through it and wonderful views of Bhutan hills. The Jaldhaka dam or Bindu Dam is also located here and you can see water gushing out of it. 
Bindu (Dooars) - Jaldhaka Dam & River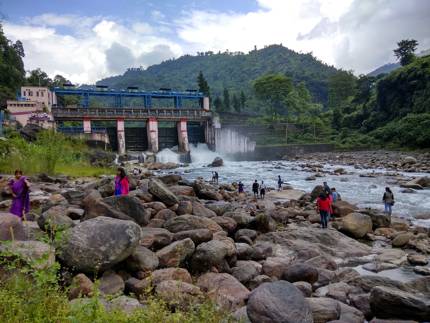 A visit to Dooars wont be complete unless you take a Tea garden tour ... there are numerous sprawling tea estates in Dooars many of which you can see from the road. 
Dharanipur Tea Estate, Dooars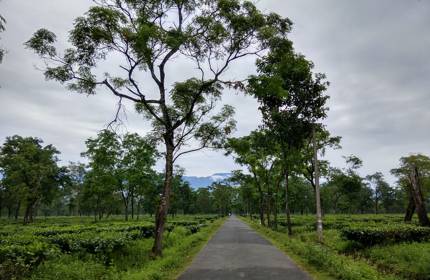 And there are many more great attractions in Dooars including several other sanctuaries, river side spots, quaint villages offering homestays, rare spectacle of fireflies on tea gardens, hamlets nestled in nature, leopard rescue center, easy access to Phuentsholing of Bhutan and more... 
If you are coming by flight, then you need to first get to the nearest airport at Bagdogra. From there Gorumara National Park where Murti being one of the popular tourist hubs is about 2 hours 20 minutes drive by taxi. There is a pre-paid taxi counter at the airport arrival hall which allocates reserved taxis and that is the only mode of transport presently available at Bagdogra airport. 
If you are coming by train, then New Mal Junction at Malbazar is a prefered station as it's located right in Dooars and close to Gorumara (20 minutes drive). However very few trains (like Kanchankanya from Kolkata) are available for New Mal Junction and then the next best choice is New Jailpaigui (NJP) station. From here you will get pre-paid taxis to Dooars (both Murti or Lataguri near Gorumara and even Jaldapara). It takes about 1 hour 35 minutes to reach Murti from NJP by car. 
A bus service is also available from NJP station in the morning which goes via Siliguri Town and then to Malbazar, Gorumara, Jaldapara and all the way to Coochbehar. The return bus reaches NJP station early in the evening. 
The main places to stay in Dooars are around Gorumara National Park area (particularly at Murti and Lataguri), Jaldapara National Park area (near Madarihat) and Buxa Tiger Reserve area (at or near Rajabhatkhawa). This is because these places offer easy access to entry points of the national parks where safaris can be availed. And therefore these places have highest tourist population. 
While there are number of resorts, hotels, jungle lodges and even organized homestays scattered all around dooars, the most popular ones are that of West Bengal Forest Development Corporation (WBFDC) and West Bengal Tourism Development Corporation (WBTDCL). All such lodges are state run but by two different departments and strangely they seem to have no connection between themselves. Since WBFDC lodges are run by the forest department who are in charge of the national parks, an advantage of staying here is you can get all safaris organized right from the lodges. WBTDCL on the other hand can organize limited safaris based on quota given to them by forest department because the guests at WBFDC usually get priority for the safaris.  
The Banani Lodge of West Bengal Forest Development Corporation (WBFDC) is on of the first and most popular resorts in Murti and located right next to the Murti river. Murti Tourist Lodge of West Bengal Tourism Development Corporation (WBTDCL) is also located in Murti and within easy walk from Banani (only about 100 yards between their gates). It is a relatively new and sprawling resort with cottages, and some may say quite better than Banani in terms of accommodations and amenities offered. 
Jaldapara Tourist Lodge of WBTDCL is a popular one in Jaldapara and located in Madarihat. The Hollong Tourist Lodge of WBFDC is located right inside Jaldapara National Park and it takes months and some luck to book a room here due to high demand. Buxa Jungle Lodge lodge of WBFDC located at Rajabhatkhawa is the most popular accommodation for visiting Buxa Tiger Reserve and Jayanti. 
However several tourists prefer to stay in the outskirts or little away from the main locations to avoid touristy crowd and enjoy the nature on their own. For example Samsing or Sunlakhola is one such place where the WBFDC cottages (Suntalekhola Resort) surrounded by dense forest is a favorite to those who love to stay in a quiet place amidst nature and jungles. Many also want to enjoy the wonderful tea gardens of Dooars and prefer to stay at one of the several Tea Estate Retreats. 
Visit
Best Hotels in Dooars
to known about the mostt popular budget, mid-range and luxury hotels in Dooars including in Gorumara (Murti and Lataguri), Jaldapara, and Buxa. 
You ideally need several visits to experience the whole of Dooars and do justice to its complete offerings. And your tour plan will also depend on how many days you have for your trip, whether you have a dedicated car to get around or planning on a point-to-point transfers between the various places, and what you want to do & see in Dooars. 
Most tourists combine jungle safaris (that includes both Jeep and Elephant safaris) and some sightseeing. The tour plan will also depend on which national parks or sanctuaries you want to visit out of so many available in Dooars, or you want to do several in one go. 
Remember one thing, unless you are staying in a WBFDC or WBTDCL tourist lodge and getting your safaris organized through the lodge, you need to factor in a lot of time for queuing up at the ticket counter for the popular national parks like Gorumara and Jaldapara to get safari tickets. They issue limited tickets (i.e. allow limited safaris) in the morning and afternoon, and therefore there are usually long queues at the counter ... you may easily spend hours or even half a day for this. 
If you have 4 full days in Dooars and have a dedicated car, you can take safaris to 2 or 3 watch towers of Gorumara National Park or alternatively take a Jeep safari in Gorumara buffer zone or Chapramari forest, do sightseeing to places like Jhalong, Jaldhakaa, Bindu etc, and also visit Jaldapara for an elephant safari or a Jeep safari. The elephant safari at Jaldapara leaves from Hollong Lodge but can also be availed by general tourists staying in other accommodations but through prior arrangements. 
With more number of days you can also plan to visit Buxa Tiger Reserve, Jayanti, Chunia forest, Chilapata forest, Samsing & Rocky Island and even Phuentsholling in Bhutan. 
You can visit Dooars anytime during the year. However if your main objective is to take jungle safaris, then you should avoid the monsoon time (July to September). Note that other than rains often playing a spoilsport for local tours & sightseeing, the sanctuaries remain closed between June 15 to September 15 because this is the animal breeding season. However for nature lovers who love to enjoy the lush greenery of Dooars in tranquility when there are hardly any tourists around and hotels offering attractive rates, monsoon too can be a great time to visit. 
All other months draw large number of tourists in Dooars. However the best time to visit Dooars is during the winter (November to February) when there is usually no rains, the temperature remains cool & pleasant, the freshly grown plants during the monsoon would start shedding their leaves during this time allowing better visibility through the dense forests and making it easier to spot the wildlife. 
Summers (March to May) can be warm and sometimes quite hot, but still draws a lot of tourists. 
Visitors' Reviews/Comments