Darjeeling Shopping & The Top Stores
So where do you go for shopping in Darjeeling and what should you buy? Well, having come all the way to this vibrant hill town, I am sure you won't like to get into a typical city type mall. By the way that too is available here including a Big Bazaar and a Rink Mall at Laden La Road. You are probably looking for some original and authentic items of Darjeeling. There are actually plenty on offer from the hills here that has many skilled craftsmen and artisans making exquisite handmade articles. 
What to buy in Darjeeling? 
Some popular handmade items include the Tibetan masks, paintings of Bhutia facial expressions on cloth pieces, local jewelry items including brooches and pendants with carved-in gems, many types of curios, traditional boots, Khukri (curved Gorkha knives with decorative handles), woolen items including shawls & pashminas, jumpers, scarves, caps, leather items, and lot more. 
Another unique artwork is the scroll paintings locally known as Thankas that are typically created by local Bhutia artists depicting Buddhist religious stories. 
Darjeeling is where the Toy Train was first introduced in the country by Darjeeling Himalayan Railway (DHR) in 1881 which later went on to get the UNESCO World Heritage status. One of my favorite souvenirs from Darjeeling hills is a small memento that reflects this rich heritage. There are several outlets at Darjeeling station area that sells miniature toy train models, T-shirts with DHR logo, or even beer mugs and wine glasses with DHR tags, caps, pens and more ... great buys. 
Where are the best stores located? 
For tourists, the main stores are mostly lined up on both sides of Nehru road that leads up to the Mall (Chowrasta) and also around the mall itself. As you walk along, you will see many stores selling fashion wears, Darjeeling tea, curios, all kinds of woolens, books, handicraft items, studios offering original pictures of Himalayas and lot more. 
The Chowk Bazaar area located at the lower level also has all kinds of stores including clothing & dress materials, household products, food & bakery products etc. Items are cheaper and this is where the locals mostly come for marketing. 
If you take keen interest in Art and Handicraft, then there are some places including craft centers, emporiums and stores that are special and stand out from the rest in terms of craftsmanship and authenticity. Check out
Darjeeling Art & Craft
to know about them and what kind of stuff can you get there. 
Store Hours 
Typically the stores in Darjeeling would start opening around 10am and stay open until 7:30pm and virtually all stores will close by 8pm when the Clock Tower bell dings for 8 times. However in high season, some stores stay open until about 9pm. 
Shops along Nehru Road, Darjeeling 
Let's now take a walk along Nehru Road that leads up to the Mall and see what kind of stores you get there. The road essentially starts from where
Keventer's
restaurant is located which has an address of 1 Nehru Road and goes uphill towards the Mall. 
Nehru Road Darjeeling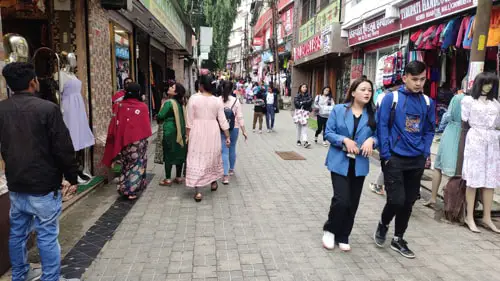 Update 2013: Earlier there used to be a long line of temporary stalls on both sides of Nehru Road and set up by the local Bhutias. They sold all types of woolens including shawls & sweaters, gloves, caps, bags etc at low prices. Some also sold small souvenir and curio items. The Bhutia Market has been shifted to a narrow lane that originates from chowrasta mall and next to Hotel Sunflower. You will find its pictures and descriptions under
Shops in & around Chowrasta Mall
. 
On the left and after Keventers is a store called Photo Services & Sales that offers books and photos including children's books and novels. This is a good place to pick up picture postcards of Darjeeling including that of Toy Train and Himalayan Ranges. It also sells gift items, cameras & films, toys and music as well. 
The next one is the
Bata Shop
having well stocked shoes and slippers for both men & women. Next to that is
House of Tea
which is an exclusive outlet of Goodricke Tea Estate. This is a great place if you want to buy Darjeeling Tea of various qualities that are sold in packets and plucked and processed at the Goodricke gardens. You can also have a cup of hot tea here. 
Next is Radhaswamy Store selling usual clothing items. But upstairs is the interesting Khukri House, a nice compact store selling different kinds of Khukris or curved Gorkha knives. If you are looking for one, then this is the place to come. They also keep other curio items and models of Buddha. The next store is Rajesh Enterprise selling shawls, jackets and other clothing items. Then you will find the Tirupati Handloom Emporium selling all kinds of shawls, jackets and sweaters. 
Next is Darjeeling Pharmacy. Other than medicines, it also sells many types of toiletries, hair colors, conditioners etc. 
Followed by this is the popular vegetarian restaurant
Hasty Tasty
. After this you will see a small shop
R N Agarwal Tea
selling Darjeeling Tea both loose and in packets. It proudly displays "Fresh Pure Darjeeling Tea" and "Flavory Darjeeling Tea". An young Sardarji was once at the counter. Being quite impressed with his selling style, on one occasion I had bought a packet of tea from here. I was quite disappointed though and found hardly any flavor. 
Then you will find Darjeeling Photo Stores that has diversified over time to sell several items other than photos and pictures of various Darjeeling scenes. Other than large laminated pictures of Tea Gardens, Kanchenjunga and other attractive landscapes of Darjeeling, there are sections on books and leather bags as well. You will also get camera films here.  
Update September 2014: Darjeeling Photo Store has closed down and a new outlet of the very popular store
Black & White
has come up here. Owned by Dawa Bhutia, Black & White is a well known brand in Darjeeling selling women's fashion wears, jeans, tops, leather bags, shoes etc. They have several outlets in Darjeeling. This new outlet is quite large and has two floors. It was opened on 8th September, 2014. 
Stores Black & White and Weekender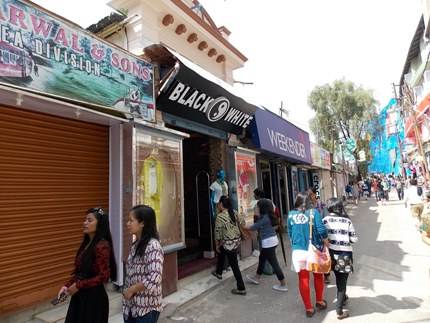 Next is
Weekender
, a fashion clothing store selling modern clothing items mostly for young boys and girls. Then there is
Lilliput Bazar
, a store for the kids. They have plenty of collections including dolls, soft toys, kids dresses, shoes etc. Then you will see
Frank Ross Chemist Shop
which is a large pharmacy and adjacent to it is the
Frank Ross Cafe
run by the same family. 
The next store
P. C. Banerjee
established in 1900 offers a range of spectacles, sunglasses, contact lenses, hearing aids etc. Next store
Montecarlo Canterbury
sells different kinds of shawls, sweaters and other woolen products. This is followed by the well known bakery
Glenary's
and it's multi-cuisine restaurant owned by the Edwards. 
Opposite to Glenary's is Chandulal's, a typical clothing shop selling mostly woolens like shawls, jumpers, scarfs, mufflers etc. They are also trader of Pashmina shawls. 
Next to Glenary's is
Das Studio
, a well known family run business since 1927 that has grown far beyond just a photo studio. They have wonderful and some rare collections of pictures of Darjeeling scenes and surrounding areas. Many pictures come in poster size prints. Once framed or laminated, they can serve as a great personal asset. 
Next is the Elite Studio which is also quite large and sells diversified products. You can get picture post cards, soft dolls, posters, cameras, films and many other souvenir and gift items. You will then come across the Manjusha Emporium showcasing West Bengal handcraft and handloom products including wood craft, needle work and silk products. 
Inside Erstwhile Manjusha Emporium, Darjeeling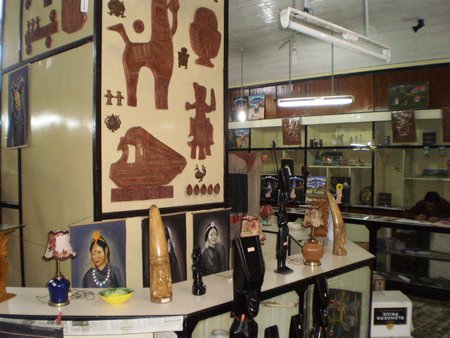 Update October 2015: A new Biswa Bangla store has come up on Nehru Road by renovating and converting Manjusha Emporium. This is a chain of such showrooms opened as part of State Government initiative to showcase the art & craft work of West Bengal and its heritage including handmade products from rural artisans and weavers. The store which is now a prominent landmark on Nehru Road was inaugurated remotely from Kolkata by the Chief Minister on 9th October 2015. The large store has fully wooden floor and many wooden display cabinets showcasing the state products. 
Biswa Bangla, Darjeeling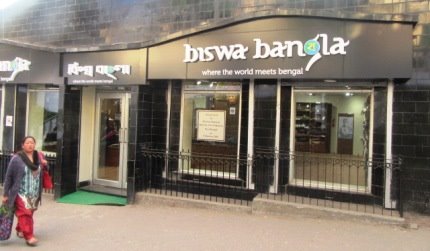 So what will you get here at Biswa Bangla store? Other than local art & handicraft of Darjeeling, you will get hand crafted products from all over the state of West Bengal. In Handicraft, items include dokra (metal craft) like statues, book holders, jewelry etc, leather products like bags, handbags etc, conch shell products, masks, dolls, clay work, wood carvings, jute products, paintings etc. This is a great place to buy Darjeeling tea including 1st flush, 2nd flush, organic green tea etc. 
Several different food items are also available including sweets and rice. The store also has collections of men's wear like pyajama Kurta, women's wear like sarees of different types (katha stitch, , footwear and accessories - all these products of the state and in wide variations. But one thing though, they are all quite expensive. 
Biswa Bangla, Darjeeling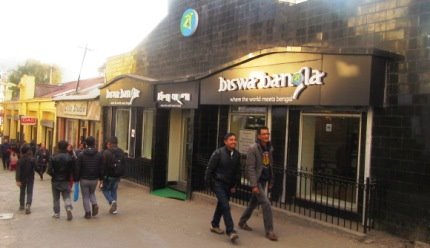 Next is the Nepal Curio House selling all kinds of Nepalese curio items and souvenirs. You will then see Asian Art Palace, a store packed with curio items. They have different kinds of necklaces, earrings, chains, gems & other semi precious stones, brooches and many other items. Then there are couple of small shops selling dolls, cloth bags etc and one selling pure organic honey, followed by Kalimpong Art Gallery that has all kinds of artwork including paintings on cloths that can be rolled, brass models of Buddha. Then there is a tailoring shop. 
If you look at the right side, the line of temporary Bhutia stalls that started right from the beginning of the Nehru Road, finally ends here. Here you will see the
Hotel Shangri-La & Restaurant
, a boutique hotel cum restaurant located close to the Mall. After that on the right side of the road are a bunch of clothing stores including Manipur Handloom, Himalayan Hosiery and Handloom, Dayal Handloom and few others. All of these sell items like jackets, sarees, shawls and other woolen items, and some like Manipur Handloom almost always offer items on sale (up to 30 - 40% discounts).  
Manipur Handloom, Nehru Rd., Darjeeling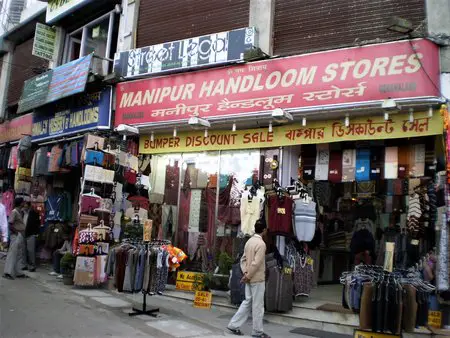 You will soon see the huge
Pine Ridge Hotel
on the left. There is a shopping arcade below the hotel and facing the road.
Players Sports
store sells all kinds of sports items,
Kodak Photo Shop
which is a studio selling cameras and accessories,
Pine Ridge Travels
which is a travel agent offering flight, train and tour bookings and
Eastern Art
which sells Tibetan arts, carpets, cloth paintings and other curios. 
Shops in Chowrasta Mall 
As you walk past the Pine Ridge hotel, you will be on the Chowrasta Mall. There are many stores located along the boundary of the Mall selling all kinds of items including curios, books, jewelry and other items. Here you will find some of the oldest and famous shops of Darjeeling. Check out
Shops in Darjeeling Mall
to know about them. 
Chowk Bazar 
Another popular area with the locals is the
Chowk Bazaar
, a hyper busy market in a flat area located a lower level and selling all kinds of household items. 
Visitors' Reviews/Comments 
Sanjeev Mohan (February 2016) 
Planning to visit Darjeeling and want know the alcohol policy, is it a dry place ? 
Raj (darjeeling-tourism.com) February 2016 
Alcohol is freely available... there is a store at Chowrasta (Mall). There is another one accessible from Gandhi road through a narrow steep stairway and located in a building full of shops. A third store is located at the bottom of Laden La road. Some stores remain closed on certain days of the week, but not all of them. 
Abir Dey (December 2014) 
I will be visiting Darjeeling on this 24th. I would like to know where can I click photos of my daughter wearing the traditional dress. From where can we buy one such. 
Raj (darjeeling-tourism.com) December 2014 
A popular place for taking pictures wearing traditional Nepali dress is at Batasia loop. There are stalls outside selling clothes and dress materials. If you want to buy the traditional dresses, check with them. You can otherwise get them at Chowk Bazaar market. 
Prasenjit Mondal (September 2014) 
Hi, I want to know the approximate price of winter wears at Darjeeling local markets, specially gloves, caps and jackets . actually I will buy this things for my trek to Sandakphu in early December. If you recommend me some clothes with there approximate price from Darjeeling local market then it will a great help. 
Raj (darjeeling-tourism.com, September 2013) 
The price can vary widely depending on what you buy. For the cheapest woolens, go to the Bhutia Market located on the narrow road which originates from the Mall and meets Robertson Road. 
Karthi (February 2014) 
Hi Raj, I have planned to visit Gangtok, Kalimpong, Darjeeling for 5 days on 15th March 2014 with my wife and 1 year old son. I am unable to get proper clothing in my place, I would like to know that will I be able to find shops near Bagdogra airport to buy winter clothes for my 1 year old son? Suggest me the best place to buy. 
Raj (darjeeling-tourism.com, February 2013) 
Hi, Bagdogra market is a at a short distance from the airport and is on your way. You will get a few shops there and also further down at Matigara (this is where you will leave the highway and take a left turn if you are heading for Darjeeling). But both Bagdogra and Matigara are local bazaar areas and you will only get some local low scale clothing shops there. If you want proper clothing stores, ask the driver to go further down on the highway and there is a huge City Centre shopping mall on the left. You will get all kinds of stores there including Shopper Stop etc. If you are heading for Gangtok or Kalimpong first, then City Centre will anyway come on the way. Otherwise you will need to pay a bit extra to the driver for this (may be around Rs. 50-75). 
Santosh Kumar (Feb 2013) 
Actually I am staying in Chennai. Here its always hot and we never require warm clothes. But to visit Darjeeling we ought to wear warm clothes to avoid cold. so I wanted to know whether there are any shops which rents warm clothes for few days. I know it sounds cheapish but can't help asking this query. 
Raj (darjeeling-tourism.com, Feb 2013) 
Hi, No, I don't think there is one. But there will be lots of small temporary Bhutia stalls along Nehru Road that leads to the Mall selling warm clothes at cheap prices. You can ask them if they would offer clothes on rent which I doubt. You can also check if they would buy them back on your return (which they might if they see good profits). At least you will not have to carry them back home.