Hayden Hall Darjeeling
Hayden Hall is a private non-profit making organization in Darjeeling that works towards development of underprivileged women in the area and help them become self reliant. The building is located on Laden La road with an outlet called Hayden Hall Shop on the ground floor facing the road. The shop sells items which are all handcrafted by the poor women from the local community. 
So to a visitor, Hayden Hall offers both a shop with plenty of hand made items at reasonable prices and a charitable society to explore. 
Hayden Hall Shop has a stand outside with small metal boards which very nicely summarize the stock it keeps. The main items here include carpets, shawls, sweaters, scarves, socks, bed covers, table mats, cloth bags, purses, caps etc. 
There is an entrance adjacent to the shop that leads to the main building inside. Upstairs in the same building are rooms for instructors, staff, administrators etc. Here is a little background about Hayden Hall and why it does. 
Hayden Hall was originally established in 1969 when the first building was purchased from the Pattons family. The house was then known as Albert Lodge. That wood and glass building housed the library and a night college, while the office was located at the top floor. It was named Hayden Hall after the Irish Jesuit Father Edward Hayden who supported the work. 
Hayden Hall Darjeeling - The Shop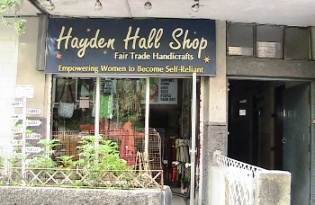 A second adjacent building was acquired in 1972 which accommodated the kitchen for feeding, weaving, medical and a pre-school Montessori. A third building was opened in 1996 which housed the training facilities for paramedics and adult education teachers including their boarding & lodging. Since the early 1970s, Hayden Hall has been actively engaged in many social programs. 
When  I met up with Radha, the administrator of Hayden Hall, there was an after-school class taking place downstairs in the huge library room. She mentioned that there are some 300 underprivileged children, mostly girls, who are taught here after their regular school hours. 
Inside Hayden Hall Shop 
There are some 22 teachers who provide voluntary services to teach the children. I met with one of such teachers Vivek who teaches Maths and Physics. In the same large hall children of different class standards are clustered in small groups as they are coached. 
Radha also mentioned that the Darjeeling Himalayan Railway group in England sponsored 60 students of Hayden Hall to take a joy ride on the toy train that year. Out of the 60, only 7 had a chance earlier to ride the toy train. Such is the condition of the poor community here that it still remains a dream for many to ride the train. 
Out of the many focussed programs run by the organization, some of the key ones are: 
Health Programs
Women selected by their communities undergo training to become village level health workers or paramedics so that they can provide the basic medical services in the villages. Mother and Child Care programs aim at giving assistance to poor and needy mothers. Poor mothers get medicines from Hayden Hall Dispensary, food and other facilities. There is a Crèche or a day care center for small children so that their poor mothers can be freed to work and earn. 
Education Program
The organization runs an Adult Literacy program both in the hills and in the plains. The Strive program prepares the children to get admission in the schools while offering them place, food and bed at the same time. There is a Girl Child Scholarship program where the selected child girls are given monetary help to cover their school fees, uniforms and books. 
The Study Group Program helps the students between 5 and 18 a place to study after school. It was one these classes that I had entered and saw Vivek taking classes. The teachers provide remedial classes to the students, assist with their home work and go through the lessons taught in the school. At the end of the year, awards are given away for highest marks, attendance, behaviors and hygiene. 
Vivek teaching students after school hours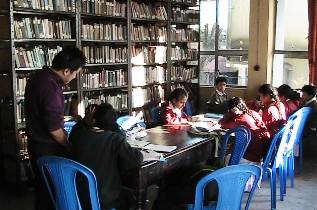 Income Generation Programs
There is a Skill Training program that imparts skills to the women so that they can earn by weaving carpets, knitting, sewing and producing cotton goods. After completion of their courses, the trainees are offered work at Hayden Hall itself or they have a choice of taking up jobs elsewhere. What they make here are all sold through the Hayden Hall Shop. Since 1972, well over 20,000 women have been trained here some of who are still working at Hayden Hall. 
There is a Savings Program that helps generate awareness to the poor women on the necessity of saving money. A Loan Program helps providing loans to families below the poverty line. 
Food Program
In this program the organization provides food like bulgur and cooking oil to needy women with infants, pregnant women, senior citizens etc. They not only get to eat but also learn to cook. This activity takes place in the kitchen area located at the ground floor. For the poorest of the poor, they also provide additional food like rice and vegetables. The day care babies get nutritious food as well. 
Housing Program
This program was initially started to rehabilitate the victims of fire and landslides. Initially Hayden Hall built 139 homes on Government provided land. Today it also provides homes to homeless poor and also assists with home loans. 
Program for the aged
Needy old people identified by the village health workers are provided dry rations and medicines. Alternatively they can also get cash in lieu of the rations. 
Location
Barely a minute walk from the Police Stand where the Gandhi Road meets Laden La Road. As you walk down Laden la road, Hayden Hall will be on your right just after ICICI Bank. 
Address: 42, Laden La Road, Darjeeling 734 001. 
Phone: (0354) 2253166 
Related Articles
Visitors' Reviews/Comments
Share your experience.