Botanical Garden Darjeeling
The Botanical Garden in Darjeeling is named after William Lloyd who was the owner of the Lloyd's Bank during the British India days. He gave as a gift this sprawling 40 acres of area on an open hill slope for making one of the best gardens in Asia. The land was handed over to Sir Ashley Eden and the garden was established in 1878. Eden was then the secretary to the Government of Bengal. 
There is a hospital Eden Sanatorium located just above the garden which is named after him. The Botanical Garden was laid out under the supervision of Sir Gorge King who was then the superintendent of the garden. It has been designed over three sections. 
Botanical Garden Darjeeling, Conservatory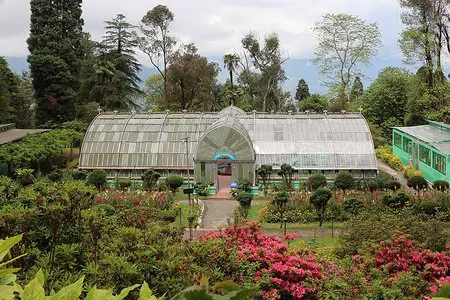 Photo: Bernard Gagnon/ Wikimedia Commons, cc by sa 4.0 
The upper section is where you will see the various indigenous Himalayan plantation. The garden actually started from here to study the flora of Darjeeling Himalayan region. Subsequently plants from nearby Sikkim area like rhododendrons have also been added in this section. 
The Middle section is where there is a large collection of fern and conifer trees along with Alpine collections. There is also a separate greenhouse or a conservatory here that houses sections like the Cactus displaying some 150 species. 
Another great attraction here is the Orchiderium that has some 2,500 orchids on display and showcasing some 50 varieties. Most of the orchids have been brought in from the
Singalila National Park
which is located on the way to Sandakphu and at a short distance from Tumling. 
The lower section is full of colorful exotic plants that have been brought from various countries across the world. You will see some great plantations here like Hawthorn, Blackberry, Birch, Chestnut etc that have been imported from Europe, then Plums, Cherries, Weeping Willows etc from China and Japan, Magnolia Grandiflora, Jurrriferus Bermudiana from the U.S, Wattle and Silver Oak from Australia and New Zealand and lot more. 
Darjeeling Botanical Garden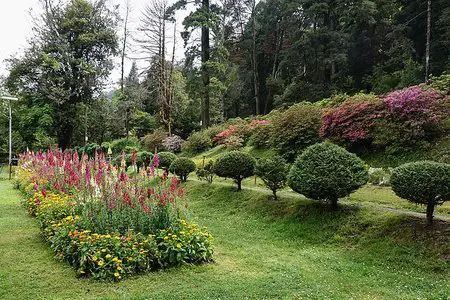 Photo: Bernard Gagnon/ Wikimedia Commons, cc by sa 4.0 
One of the most striking of all is the Weeping Willow. It is so named because of its drooping branches and leaves that give a "falling" or a weeping impression. You can just keep gazing at this one for long. Another unique thing here are the two living fossil trees that have been brought from China. You will see a tree Ginko Biloba of pre-historical time. There is a sanctuary created with old Himalayan Cherries. It's a place where you can relax and have a great peaceful time. 
There is a Student's Section where you will find lots of Sikkim Himalayan plantation, and also a Medicinal Garden where you can see many different types of medicinal plants collected from the Eastern Himalayan Region.  
There is also a Rock Garden in the Lloyd's Botanical Garden of Darjeeling. 
Well As I said earlier that the entire garden area is laid out in three sections and on an open hill slope covering a large area. It's not easy to walk along the slopes that are sometimes quite steep. So wear comfortable shoes and do not carry bags or heavy stuff as you take the walk around the garden. 
Timing
The Botanical Garden of Darjeeling is open from 6am to 5pm daily. It's open to all and there is no admission fee. 
Admission Fee
Entry has been traditionally free for the past 140 years since the time Botanical Gardens was first opened. However effective mid-March 2018, the authorities have decided to introduce an entry fee of Rs. 20 per person (Rs. 5 per student with ID card). The fund collected would be used towards maintenance, development and research. There are also plans for drinking water facility and cafeteria. 
There are four gates of entry to the Botanical Garden - Lochnagar, Chandmari, Pound Road and Stenthal. Tickets counters will be there at each of these gates. 
Location
The Botanical Gardens of Darjeeling is located just below the Eden Sanatorium (or the Saheed Durga Mall District Hospital). It is a walking distance from the taxi stand of Chowk Bazaar which is the main market center of Darjeeling at the lower level. You can approach it through the Victoria Road as well. Check out
Darjeeling Map
to see the location. 
Related Articles
Visitors' Reviews/Comments
Mrs. Rustom Dalal (April 2019) 
I have recently returned from a very enjoyable holiday to Darjeeling.  My husband and I are senior citizens and were upset that the toilets at most of the sites weren't clean, especially at the Lloyd's Botanical Garden. Why do the toilets have to be in such a bad condition?  I'm sure that most tourists wouldn't mind paying a nominal fee to use the facilities if it meant they were kept clean. Whilst at the conservatory I observed a young boy hanging on the branch of the old wisteria to have his photo taken. I scolded him and told him that their were signs 'do not touch the plants'. 
Raymond Lloyd (William Lloyd's family), November 2013 
I am so glad that my great grand father William Lloyd who donated land for botanical garden in Darjeeling. I hope India will keep it as Lloyd botanical garden and not change the name like they tried to make it Nehru botanical garden. You cannot erase history and lie it to future generation then it will be not true history. My great grand father died in Darjeeling and some of my family still live in Mirik. So don't forget we are still alive.