Senchal Lake & Wildlife Sanctuary
If you like to go for a day's picnic in a wonderful nature's surrounding that has a lake with mountains in all sides, then choose Senchal Lake and the sanctuary as the place. It's about 11kms (7 miles) from Darjeeling town and can be reached via Ghoom and Jorebunglow. 
Senchal is at an elevation of about 8,160ft (i.e. 2,490 meters). However the sanctuary spreads across elevations of 1500 to 2600 meters. 
Senchal Lake, Darjeeling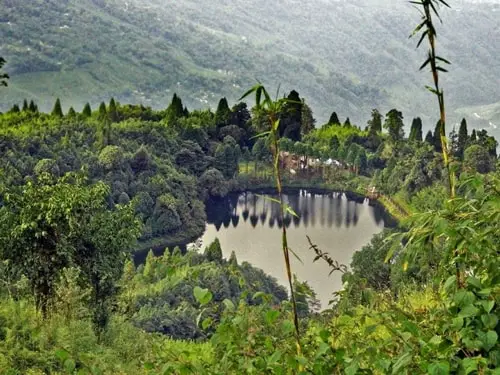 Senchal Lake is part of the Senchal Sanctuary which is one of the oldest wildlife sanctuaries of Darjeeling hills. The lake is fed by a mountain spring and is the main reservoir for water supply to the town. The narrow longish Senchal Lake is surrounded by trees and forests in all sides. 
However the main forest area is a bit bar from the lake. 40% of the forest is natural and the balance is man made. But the blend is so nice that you won't be able to make the difference. 
The entire Senchal sanctuary covers an area of about 39 sq. km. including the lake. It is actually the south east extension of the
Singalila National Park
. This sanctuary is considered one of the oldest in India and was opened in 1915. 
Although access to the sanctuary is restricted, you can take special permission from the ranger's office at Jorebunglow and take a guide to go around the area. A road (although not in a very good condition) goes through the Sanctuary and you can ask the driver to keep driving along as you watch the flora and the fauna. 
Entry to Senchal Wildlife Sanctuary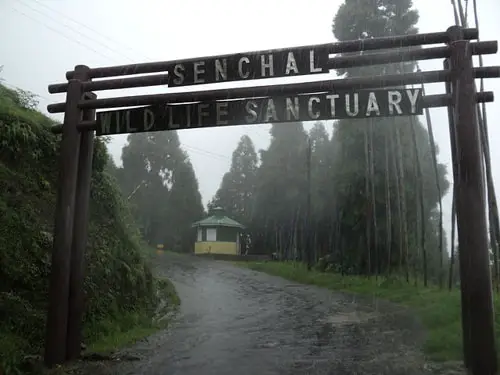 Photo: PP Yoonus, cc by-sa 3.0 
Plantations in the sanctuary
The forest has different kinds of trees and plantation including oak forest, pines and Birch. Oak forests can be seen at the highest elevations of the sanctuary between 2,000m to 2,400m. There are over 350 types of flowering plants in this area including Rhodendrons and Orchids. 
Other plantations include Dhupi, Kapasi, Katus, Kawla, Champ, Hemlock, different kinds of fern, mating bamboo etc. Rhododendrons are usually seen above 2400m elevation. You can see sub-tropical flora such as Meliosma wallichii, Machilus edulis, Pipli etc in the elevation range of 1,500m to 2,000m. 
Wildlife
There are different types of wildlife that can be seen in the dense forest here. Animals include Himalayan black bears, barking deers, leopards, Himalayan jackal, Indian civets, goral, monkeys, Himalayan flying squirrels, wild dogs, scaly ant eaters and many more. 
The sanctuary is also great for bird watching. You can commonly see golden back woodpecker, emerald cuckoos, black-backed pheasant, red jungle fowl, hornbills, babblers, sunbirds etc. 
Nearby Attractions
If you are planning to see the sunrise from
Tiger Hill
early in the morning, it can be a great idea to combine that visit with a day-picnic at the Senchal Lake. Both the places are close to each other. From Tiger Hill you will need to come down to Jorebungalow and then take an uphill narrow road towards Senchal Lake. 
Kanchenjunga as the sun rises, Tiger Hill Darjeeling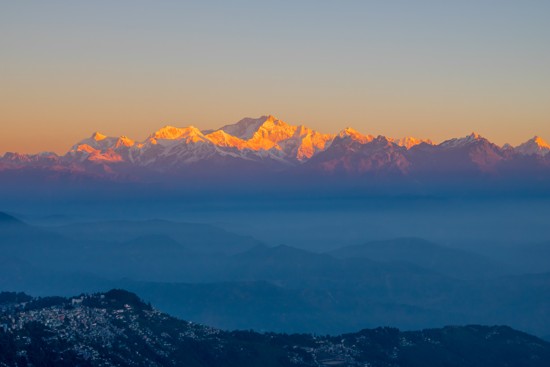 Photo: Meenakshi Jha 
Admission and Timing
You will need to collect admission ticket (permit to enter the wildlife sanctuary) from the Ranger's office at Jorebunglow to access the Senchal area. Here is the Jorebungalow Forest Office address: 
Office of the Ranger Officer (Jorebungalow) 
Senchal West Range 
Wildlife Division-I, Darjeeling, West Bengal 
The sanctuary and access to the lake is closed during the monsoon time starting from June 15 every year until September 15th. 
Accommodation inside the Sanctuary
A nice forest lodge known as Rambi Forest Rest House is located right inside the forest. It is managed under the Divisional Forest Officer Wildlife Division -I in Darjeeling. It has two rooms. Although it is mainly meant for official use, if free the rooms are also offered to public. If you want to stay here overnight, you will need to carry your groceries. There is a care taker at the rest house who can help with the cooking. 
How to book Rambi Rest House 
Call the Wildlife Division-I of Darjeeling. Phone: (0354) 2257314 
You can also inquire at 
Office of the Ranger Officer (Jorebungalow) 
Senchal West Range 
Wildlife Division-I, Darjeeling, West Bengal 
Location & Contacts
The Senchal area in Darjeeling is located towards the South-Eastern side of the town. There is a narrow road from Jorebunglow known as the old Military Road that leads towards the Senchal Lake. It's about 3km from Ghoom. So the total distance from Darjeeling town is about 11kms and takes about 40 minutes by car to reach. It's best to book a private cab/vehicle for visiting the place. 
Alternatively, you can come up to Jorebungalow by a shared taxi from Darjeeling Chauk Bazaar taxi stand and
hike 3kms from Jorenunglow along the Old Military Road
to get to Senchal Lake. You need to walk back to Jorebungalow Motor Stand to take a shared taxi back to Darjeeling. 
Divisional Forest Office (Darjeeling) 
Phone: (0354) 2252159 
Related Articles
Visitors' Reviews/Comments
Share your experience.