Love or Lovers Road Darjeeling
This one is meant for couples or a sheer nature lover. This 3km stretch of a narrow beautiful walkway with wonderful views of the mountains will surely rekindle the memories of your romantic love days. And if you are going there with your partner, the Love Road in Darjeeling will instantly reinforce your romantic senses :) 
Just walk through the intimate surroundings of the nature, immerse yourself in the views and you won't know when the road has ended. Not well known to the tourists and often frequented by the local couples in their teens, Love Road or the Lovers Road is a narrow winding walkway which is carved out alongside a steep hill. 
It's a forested walking trail that encircles the Birch Hill (which is known as the Jawahar Parvat now). There is no other place in Darjeeling from where you can see the Lebong Spur and the Kunchenjunga range so clearly. This stretch is also a great treat for the bird watchers. 
The flora along the way will keep you mesmerized as well. There are lots of pine, rhododendron and other trees that shade many parts of the road. You won't see many houses on this stretch. So in essence, this is a walk through the serene nature. 
Love Road, Darjeeling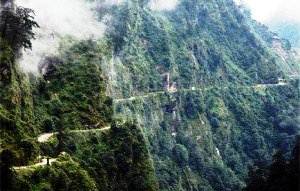 This road is not motorable and hence not being concretized. It's a mud road (or a kachha road as they call it locally) and so may not be conducive to walk during the monsoon. It starts from a place near the
Ropeway Station
at Singamari and ends close to the
Tibetan Refugee Center
. 
Love Road, Darjeeling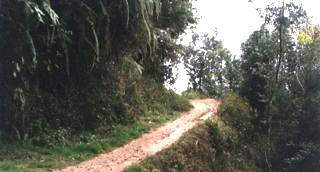 Location
While you can approach the Love Road from Lebong Cart Road that goes towards the Ropeway, you can also reach the Singamari location where the Love Road begins as you walk down from the Mall Road. However, that would be some walk though. Why should you care if your partner is with you? The time will fly anyway and it's mostly a downhill walk. We do it every time we are in Darjeeling. 
Related Articles
Visitors' Reviews/Comments
Anindya Chatterjee (July 2013) 
I am planning to visit Darjeeling during October this year. You have written that Ropeway station can be approached through love road from mall. How much time will it take and is it safe to walk through it with family and children? 
Raj (darjeeling-tourism.com) July 2013 
Hi, Love Road starts near the Singamari area where the ropeway station is located, but the ropeway itself is not accessible from Love Road. You should ask the taxi driver to drop you close to the Love Road. It's not advisable to walk up to it from the Mall with families & kids. There is no safety issue during the day time. Don't let your child go loose.