Ava Art Gallery Darjeeling
You can't miss this bright purple and yellow colored two storied building on the left as you drive along the main highway or the Hill Cart Road towards Darjeeling town center. At the outskirts of the town and 4km (i.e. some 2.5 miles) away, Ava Art Gallery was jointly established in 1965 by Late Ava Devi who was known as a genius of embroidery art, and Bhopal Rao Sett. 
Ava Art Gallery, Darjeeling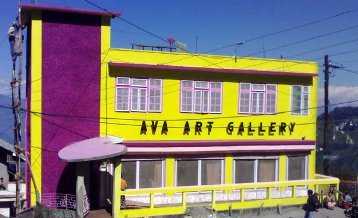 This is the only art gallery of its kind in Darjeeling. Inside, there is a permanent collection of sixty pieces of exquisite artwork of Ava Devi including water, oil and thread paintings. 
There are two special paintings in the gallery that you must not miss. One is called "Still Strong" and the other "Torture" that reflect Ava Devi's outstanding talent and skills in the field of artwork. There are also many other traditional paintings in the gallery. You can see some delicate hand made embroidery and Silk appliqué as well. The silk work has been done by splitting the silk thread some 20 times. 
Earlier the exterior painting of the building was done with a combination of bottle green and light green. Now it has been repainted with a combination of bright maroon and yellow as you can see in the picture above. The entrance to the building is through a gate on the left. 
Admission and Timing
There is no admission fee. The gallery is open from 8 A.M -12 Noon; and again from 1- 5pm. Photography is not permitted inside. 
Location
Ava Art Gallery in Darjeeling is located on the Hill Cart Road which is the National Highway 55. From the man market center (Chowk Bazaar), the gallery is about 4kms away and is on the way to Ghoom. So if you are going towards Ghoom to visit Tiger Hill, Batasia Loop or other places, this is a great attraction to combine. 
While you can walk it from the town center, I would suggest that you take a taxi, bus or a shared jeep since the highway is quite dusty and there are no sidewalks. 
Related Articles
Visitors' Reviews/Comments
Share your experience or stories.