Annandale House
Windamere Hotel Darjeeling
Annandale House is part of the Windamere Hotel property in Darjeeling. This colonial building is located opposite to the Observatory House and has eight Standard rooms. Standard rooms are slightly less expensive than the Superior rooms in
Observatory House
. However I could not find much difference. 
The amenities are almost identical. When I asked Shubhana, the General Sales Manager of the hotel about what's the real difference between the two, she said it's actually the size. 
She mentioned that the Superior rooms are little bigger and they can fit in an extra bed if necessary. However that's not possible in the Standard rooms. Otherwise they are the same. Honestly, I found that the Standard rooms are quite spacious enough. I would go for one without hesitation in order to save cost, whatever little that may be since the difference is so small. 
Annandale House, Windamere Darjeeling 
There are eight rooms in Annandale House with mix of king, queen and twin beds. All rooms have Television sets, phone and modern room heaters. Some of the rooms are interconnected through a door which can be opened when a family is occupying two adjacent rooms. Shubhana mentioned that there are some guests who want only the Standard Rooms in this block. 
Windamere, Standard Bedroom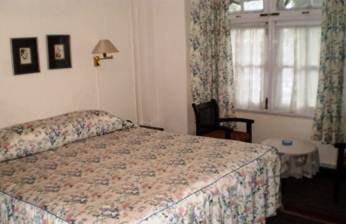 The furniture here are wooden and designed to reflect the colonial ambience. There is a low dressing table with mirror fitted into it, and has a cushioned stool combined with it. From the rooms, the views of the surrounding areas and that of the mountain range is wonderful. Next to the window, there is a cushioned chair and a round table to enjoy tea as you watch the view. 
Standard Bedroom, Windamere 
You can see the Dressing Table, TV & Heater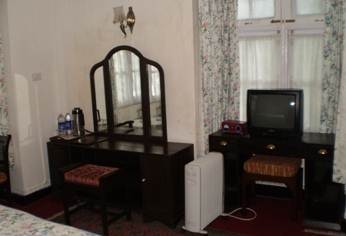 The rooms are all carpeted. They have television sets and heaters. Of course when I compared it with a room in Observatory House where I stayed, the TV set seems to be of little older model here. That may be for the room that was showed to me. Well that doesn't really matter either. 
Bathroom with a Standard Room, Windamere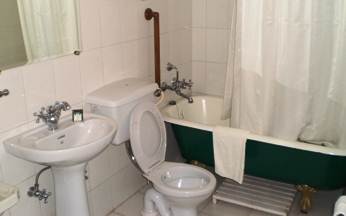 In the bathroom though, the bathtubs are of full size compared to the ones in the Superior rooms in Observatory House which were smaller and looked really cute. However other than the size, they look similar with golden colored stands and dark green exterior colors. 
Rates provided by booking.com 
Contact Info
Windamere is located on Observatory hill and access is from the Mall road. It is just above the Mall (Chowrasta) and a minute walk from there. 
Windamere Hotel, Observatory Hill, Darjeeling 734101, India. 
Phone: +91-354-2254041 / 42 
Fax: +91-354-2254043 / 2254211 
Related Articles
Visitors' Reviews/Comments
Share your experience or stories.