Windamere Annex, Darjeeling
This is the Annex building located outside the back gate of Windamere main building premises. This annex can be seen on the right of the uphill walkway that goes all the way to the summit of
Observatory Hill
. From the Windamere Sunny Side open patio, you can come out of the small back gate and the Annex is located opposite to the gate. There is a long corridor and rooms are lined up along one side of it. 
As you stand on the corridor and look through the windows on the other side, the view is marvelous. 
At the end of the corridor there is a room that says "Governor of Bengal". It is so named because during the British colonial days, the Governor of Bengal used to stay in that room whenever he came to Darjeeling. There are couple of such rooms at the end of the corridor that are perpetually reserved for ministers and VIPs. 
Windamere Annex, Darjeeling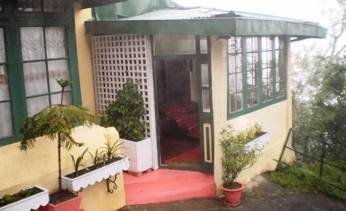 There are several Colonial Rooms in this building that retain the ambience and furnishing of the old colonial days. However unlike in the
Ada Villa
, these rooms here have some more amenities like phones and televisions. So these rooms offer you a combination of British colonial charm and some modern amenities at the same time. 
Corridor at Windamere Annex, Darjeeling 
Another feature of these rooms is that each room has another small room attached to it. So they are all like twin rooms. I was told by Shubhana, the General Manager Sales of Windamere Hotel that typically the Japanese people prefer such arrangements. 
Colonial Room at Windamere Annex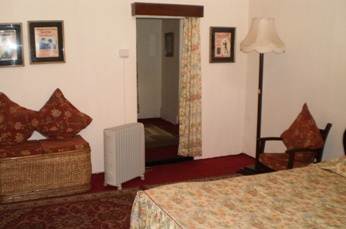 A Colonial Suit here typically has a Queen bed, a caned sofa with backrests, chair & table, room heater etc. The rooms are carpeted. The bathrooms are equipped with a geyser, pedestal wash basin, bathtub, and an wooden stand with towels. 
Bathroom at Annex 
The Wellness Center of Windamere hotel is located in the Annex building. It is the first room on the corridor. This is a Spa which focuses on healing of Mind and Body by regulating the flow of energy through the human body. It was closed when I last stayed in the hotel as the lady who runs the center was on leave. 
Rates provided by booking.com 
Contact Info
Windamere is located on Observatory hill and access is from the Mall road. It is just above the Mall (Chowrasta) and a minute walk from there. 
Windamere Hotel, Observatory Hill, Darjeeling 734101, India. 
Phone: +91-354-2254041 / 42 
Fax: +91-354-2254043 / 2254211 
Related Articles
Visitors' Reviews/Comments
Share your experience or stories.