Dining in Windamere Hotel Darjeeling
Windamere does not have an open restaurant. Only the hotel's guests can dine at the wonderfully designed dining room which is located next to the Sunny Side open patio. As you walk into the dining room, you will see rows of round dining tables with green table tops. The tables are arranged in rows with four caned chairs each and having a beautiful vas with fresh flower in it. 
There are few tables along the window side which are the first to get filled up. There are several small windows that open up to the Mall road below offering excellent views. 
Dining at the Windamere is quite formal and there are fixed times for breakfast, lunch and dinner. Lunch is served from 1pm to 2:30pm in the dining room. If you come after 2:30pm, you will likely miss your lunch. Breakfast is served from 7am until 9am. Waiters are all well dressed up and serve with gloves on. 
Dining Room, Windamere Darjeeling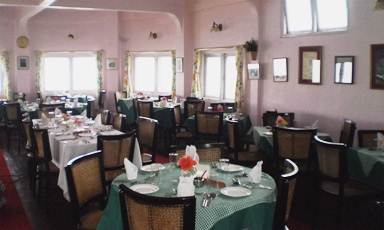 During breakfast, some of the signature dishes at Windamere are the porridge, and the cheese & onion pie. Of course they additionally serve toasts, eggs made to order, mashed potatoes, sausages, bacons etc. And finally you can wash it down with excellent coffee which they bring from Baba Budan Hills of Mysore, or have Darjeeling tea served on a pot. 
Lunch and dinner menus change daily and printed on a card which is given to you at the dining table. There is a choice between Continental and Indian dishes. However the waiter told me that it's actually not a choice, you can have both if you like which I thought was an impossible task. 
Here is a typical lunch menu at the Windamere Dining Room: 
Celery & Apple Soup 
Cheese and Onion Flan with cucumber & tomato salad. 
I took a flan with salad for lunch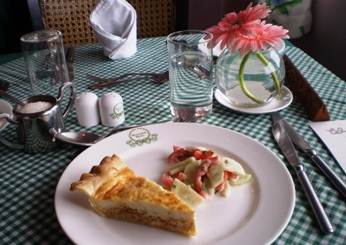 You can optionally or additionally take the following Indian dishes 
Aloo Paratha, Dal Butter Fry 
Gobi Biryani, Egg Lof, Karela Bhurji 
Jeera Aloo, Papad, Achar & Chutney 
For dessert: Lemon Pudding Cake followed by Coffee or Tea. 
The dinner here is another great experience. The candle lit dinner with soft music makes a great romantic atmosphere as you have a glass of wine. There is again nice choices between Indian and Continental dishes. 
Rates provided by booking.com 
Contact Info
Windamere is located on Observatory hill and access is from the Mall road. It is just above the Mall (Chowrasta) and a minute walk from there. 
Windamere Hotel, Observatory Hill, Darjeeling 734101, India. 
Phone: +91-354-2254041 / 42 
Fax: +91-354-2254043 / 2254211 
Related Articles
Visitors' Reviews/Comments
Share your experience or stories.