Viceroy Hotel Darjeeling
Category: 4-Star 
Located conveniently on Gandhi Road and close to Chowrasta Mall, Viceroy is a relatively new luxury hotel built in the early 2000. You will need to climb a flight of stairs from the road level to reach up to the lobby. There is a nice small terrace garden in front of the lobby. 
The lobby is well spaced and fairly large. On the right is the reception where Anjana the Front Desk Executive and Ali the Reservation Manager will welcome you with a smile. 
Viceroy Hotel Entrance, Darjeeling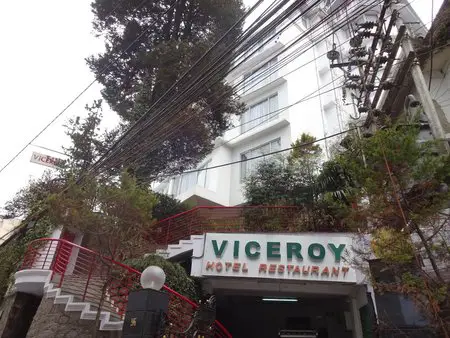 When I asked Anjana, which class of hotel is this, she said 4 Star. When I further asked her what are those four stars, she replied "Actually Sir strictly going by stars or the special amenities, I think this may be a 3 star hotel. But the manager can confirm". Most hotels in Darjeeling get categorized by the room rate or the tariff they charge and from that perspective Viceroy is a 4 star property. 
The lobby has nice comfy black leather sofas laid out. There are large heritage pictures hung up on the walls including that of Maha Rajas and early landscapes. One that stands out is the huge black & white wall picture of Batasia Loop with grand view of Kanchenjuga. There is a nice siting area in the lobby facing the terrace garden that has glasses on all sides. 
On one side there is pool table. A large fireplace adds to the grandeur of the lobby. If you like to read magazines or news papers, there is a magazine stand in the lobby as well. There is also a counter at one end where you can buy premier quality Darjeeling tea in packets. 
Viceroy Hotel Lobby, Darjeeling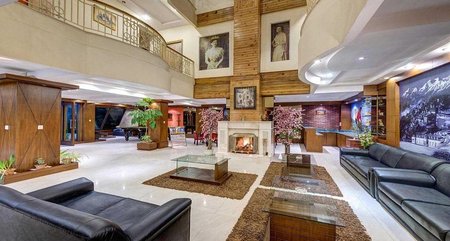 If you stand at the lobby and look up, you will see the floors and inside balconies all the way up to the 9th level. The top is covered with glass in a triangular shape. Each floor has an inside balcony overlooking the lobby below. If there is a lot of noise at the lobby, it is likely that you will hear it from the room. This can happen when children are playing at the lobby. 
There is a multi-cuisine restaurant Crystal Room on the first floor offering mainly Indian, Chinese and Continental dishes. They have some Nepali items as well. The restaurant serves breakfast, lunch and dinner. The breakfast time is from 7am to 9:30am. When I asked Anjana, she mentioned that there are separate specialized chefs for each type of cuisine. You will also get tea and coffee here. 
Viceroy Restaurant, Crystal Room, Darjeeling 
Viceroy has two types of rooms. There are 31 Executive Rooms and 8 Attic Premium rooms across nine floors that are accessible through staircase as well as elevator. 
Typical Executive Room, Viceroy Darjeeling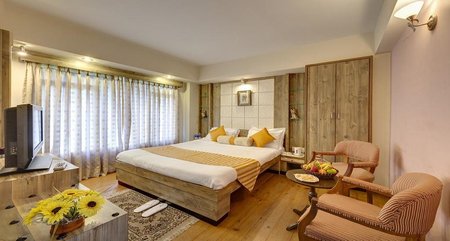 The Executive Rooms are bright and wall painted with bright pastel colors. They have in-room TV, Phones etc. Each room has a couple of cushioned chairs with a table where you can relax and have tea. While there are large windows almost in all rooms, views are limited from these rooms except from few of them. 
Bathroom, Viceroy Darjeeling 
There are different kinds of Attic Rooms. All are paneled with pine wood and therefore have nice warm and gorgeous ambience. Some of the rooms located in the 5th floor have even private balconies. All the rooms are equipped with small in-room fridge, DVD player, TV, Phone etc. Some even have Microwave ovens. The rooms have wonderful fireplaces with fine iron netted stands in front that act as protection and help spread the heat uniformly. 
One of the Attic rooms (#503) is of duplex type. There is a living room at the upper level connected by an wooden staircase from inside. This is ideal if you are travelling with your family when your children can play and sleep upstairs while you relax in the bedroom below. 
The western style bathrooms are all well done up with wooden paneling. They all have geysers, bathtub with mixers and other standard fittings that are expected in a luxury hotel. They also provide a bucket and a plastic mug in the bathrooms. 
However our personal favorites are the two rooms called King and Queen at the top floor. These two rooms located opposite to each other are also called the Attic Suites. Other than having complete pine wood finish and slanted ceilings that give a unique look and classic ambience, these rooms are exquisite in design with hanging lamps, wonderfully designed fireplace and have all the modern in-room amenities that you may need. 
Queen Suit, Viceroy Hotel Darjeeling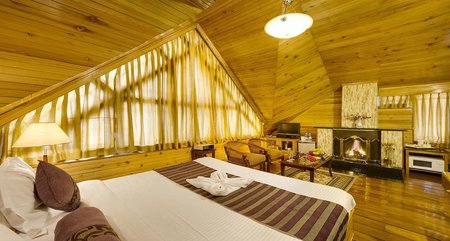 One of the biggest advantages of these two rooms is the Sun Deck. This is an open terrace area on an wooden platform which is located at the same floor and easily accessible from these two rooms. The view of the snow clad mountains and Kanchenjunga from here is simple spectacular. Sundeck is however accessible to all guests and has nice seating arrangements with several round tables and chairs. 
Sun Deck, Viceroy Hotel Darjeeling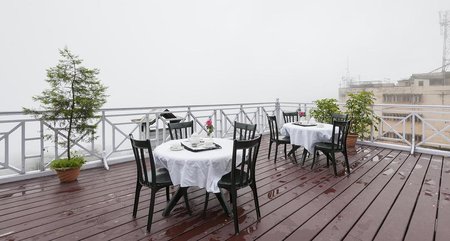 Here are the common amenities offered by Viceroy Hotel to its guests: 
Jacuzzi, Steam and Sauna 
Pool Table at the lobby 
The entire hotel is Wi-Fi enabled (wireless internet connectivity) 
Conference facilities at the top floor that can accommodate 40-60 persons 
Multi-cuisine restaurant 
Car Parking 
Travel Desk 
A Telescopic Gallery 
A Library with Coffee Lounge 
Rates provided by booking.com 
Location and Contacts
From the Clock Tower, the hotel is located at 1 minute walking distance on Gandhi road. But the road here narrows down quite a bit and cars from opposite direction can hardly pass. The Chowrasta Mall will be some 4-5 minutes walk from Viceroy Hotel. So the location is quite convenient. 
Viceroy Hotel, 17 Gandhi Road, Darjeeling-734101, West Bengal, India 
Phone: +91-354- 22 56165, 09007166165 
Related Articles
Visitors' Reviews/Comments
S R Anand (March 2016) 
I am a 64 years old person. I plan to visit Darjeeling in June. I like hotel Viceroy & their package. Please suggest me if this hotel is approachable by taxi since my wife has had her knees replaced. Thanks 
Raj (darjeeling-tourism.com) March 2016 
Taxi goes up to the entrance to the property at the road level. However there are few flights of steps to climb to reach up to the lobby which is at a higher level. You can see the stairs in the picture. You can't avoid this.