Hotel Revolver Darjeeling
Category: Low Budget 
I heard about this Beatles themed hotel sometime back. I had to experience it to believe it. So this page is more like an account of my experience and findings at this Bed & Breakfast Lodge. Revolver is a budget hotel run by a local couple Vikash Pradhan and his wife Asenla. 
Located within a few minutes of walking distance along Gandhi road, it used to be a residential family property once and a single storied house which was not in use for a while. The couple came up with an idea to convert this into a hotel. They constructed the upper floor for lodging and decided to make the ground floor as the cafe and restaurant. 
The hotel opened in 2010. There is an external metallic staircase on the left side of the building that leads to the upper floor which houses the rooms and the common lounge area. 
Being passionate about music and Beatles fanatics, they wanted to theme the hotel around the great band and name the rooms after the great four of Beatles. But there were five rooms. So the Band Manager Brian Epstein fitted into the fifth slot seamlessly. Then they had to find a name for the hotel. The name Revolver popped up from one of the acclaimed albums of Beatles. The rooms are named John, George, Ringo, Paul and Brian, and each one has its own character. 
Revolver Hotel, Darjeeling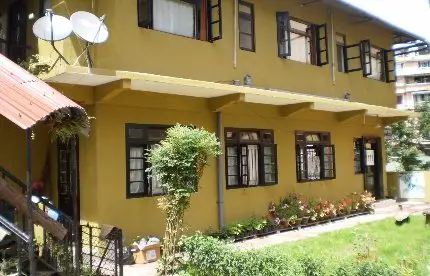 The entrance to the hotel is quite unassuming and through a narrow lane off Gandhi Road and by the side of the Union Church. There is a small red board on the main road showing the signs. Unless you are watchful, you will likely miss the signboard. As you enter the lane, you may be in doubt if you are entering the church. Actually not. Just before the Church's main gate, the lane turns right and this attractive mossy green building is located at the end of the short lane. 
There is another building on the right side of the lane. This building is used for holding open university classes in the ground floor for the drop outs. The part of the upper floor belongs to the church and the rest is used as a guest house. As you enter the Revolver premises, right in front is the entrance to the restaurant that has cartoons of the Beatles band members pasted on the door and another board on the side showing Lavazza. So you know that you can also get some great Italian coffee here. 
Vikash Pradhan, The owner of Revolver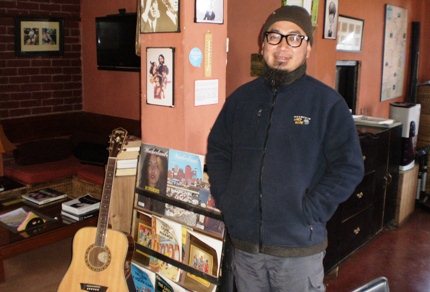 I'll come to the restaurant and the cafe later. As you climb up the stairs, there is a nice small lounge area in the upper floor with low seating arrangements that makes a relaxed ambience. There is a large LCD TV fixed on the wall. This is the place where many guests lounge in the evening, chat over a coffee and watch the television. 
Room - John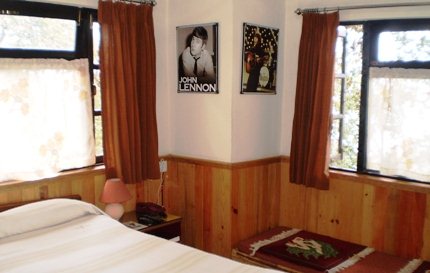 There is a short corridor with rooms on both sides. The first room is named John and is on the left. This is the view room, and on a clear day you can get lovely views of the Kanchenjunga peaks lying on the bed. Other rooms on the left could also have views, but they are obstructed by trees. The last room on the left of the corridor is named Paul. The rooms John and Paul both have windows on two sides. I hear that now the trees outside the room 'Paul' have been knocked off and this room too now has great Kanchenjunga view. 
The rooms are simple yet nice. Don't expect great luxury here. This is after all a budget hotel which unlike many others in its category, keeps its rates fixed through out the year. So they don't jack up the rates even during high season. All rooms are non-smoking. 
Room - Paul 
The hotel has a few things which none others have in their category. One is the Bed Warmer in the rooms. There is a control (remote like) which you can use to warm up your bed. It takes about 40 minutes and when you slip in under the blankets, it's nice and warm. Some of the rooms have bed warmer with timers. So you can time it to get automatically switched on and off. 
Here is the second exceptional offering from Revolver. This budget hotel has overtaken the others in terms of providing running hot water in the bathrooms. Most other budget hotels provide limited hot water from 6am to 9am in the morning that are controlled centrally. But Revolver provides small geysers that do not operate on electricity, rather on LPG (i.e. gas) cylinders. Each room has a covered cylinder. Just turn on the knob of the cylinder and that of the geyser, you get instant hot water from the shower anytime of the day you want.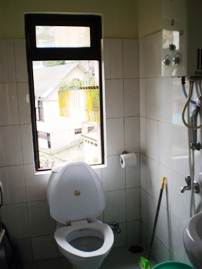 And here is another terrific offering for a lodge of its class. The entire hotel, including the rooms and the cafe are all Wi-Fi (wireless internet) enabled. And that's free. And how about this... the hotel has an electrical inverter that can support designated tube lights in all bedrooms, bathrooms, lounge area and the restaurant continuously for over three days. I never knew that I would have an experience here to even test that out. I'll come to that later. 
Update: They have added a family suite (300+ square feet) in the ground floor. It has 2 bedrooms, 4 beds, 1 utility room, 1 toilet/bathroom. They have named it Prudence. 
Other than bed tea that's served in the rooms, the guests are expected to have their meals in the restaurant unless one has mobility problems. The restaurant below offers a nice experience. Painted in bright pastel color, it has two sections. On one side are glass top tables and black leather chairs for dining. On the other side there is a cozy lounge area with low seating arrangements on cushioned cane sofas. The walls are full of glass framed pictures and paintings, mostly of Darjeeling. 
In breakfast they serve cereals, toast, butter, eggs to order, bacon, sausages, baked beans, mashed potatoes, pan cakes with honey, sandwich and other choices. For beverages you get pure Darjeeling Tea, Hot Lemon with Honey, Fruit Juice etc. Breakfast is served between 7:30 am and 10am. 
You need to give prior notice for dinner. They don't serve lunch on Sundays (there are plenty of eateries within easy walking distance). They have a set menu which is simple and not quite elaborate. A signature dish here and a unique preparation is the Naga dish (e.g. rice and meat with dry bambooshoots). Naga dishes use no oils and therefore are very healthy. I came to learn from Asenla that her father is a Naga and that's how they came to know about the Naga cuisine. 
Dining space in restaurant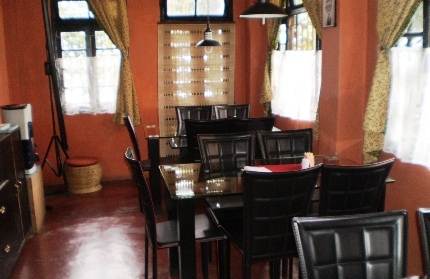 I have also tried authentic Nepali dishes here like rice, dal and sabji prepared in local style that were all delicious. You will of course get the standard Indian dishes here as well like chicken curry. You need to take your dinner by 8:30pm. Check out
Revolver Restaurant
to know about all its offerings. 
There is a small lounge area on one side of the restaurant offering some unique entertainment options. You can pick up one of the many DVDs from their collections and watch a concert or a movie on a large LCD TV fitted on the wall. They also offer a Sony Playstation... you can perform as you play the Beatles Rock Band. Of course they have a host of other games as well. 
Lounge area, Revolver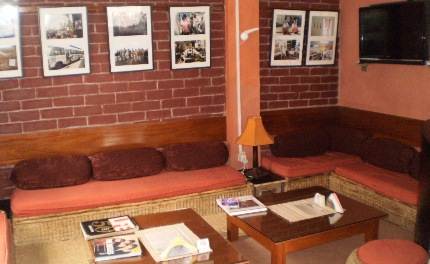 I was in this hotel when the shocking earthquake took place in September 2011 and the whole of Darjeeling went into a trauma. I have seen the photo frames falling off the walls as the building kept shaking on that dreaded evening. Power went off in the whole of Darjeeling and cell phones ceased to work. But the in-house inverter swung into play and the lights were on inside the hotel. 
I looked out through the windows and it was pitch dark outside. This hotel was probably the only one with lights on. There was only one other guest in the hotel, a British travel writer. Shaken by what just happened, we came out of our rooms and spent nearly the whole night in the lounge discussing what might be the state of affairs next morning. The inverter held on throughout the night. I didn't see it giving up even when I was leaving next day for Kurseong. There was still no electricity in the whole of Darjeeling. Nothing could have been a harder test for the inverter. 
On that traumatic evening and right after the earthquake, Asenla walked up while we were sitting in the lounge. She quite remorsefully said that all her staff including the cook had left for their homes in panic. But she proposed, if we could compromise a little, she would herself cook some toasts and eggs for us for dinner. Such was the kind of personalized service that I had received in this lodge. 
The next day and even in such a time of calamity, Asenla somehow managed to find a taxi for me to transfer to Kurseong, and that too at usual fare. It usually takes one & half hours to get to Kurseong from Darjeeling. It's another story that it took more than 6 hours on that day. The wide cracks left on the road by the earthquake forced us to take a jungle route which is seldom traversed on a small car. I wish I stayed back instead of taking such risk, because in Kurseong the situation was no different. 
But before leaving Hotel Revolver I had asked Asenla, "Great to see that you keep your rates the same despite all odds and even during the peak season, how long can you sustain?". She replied, "It has worked well for us Sir. We want to continue the same way". 
Update: They now have their own vehicles which are offered at very reasonable rates for transfers, pickups/drops and local sightseeing tours. 
Location and Contacts
Hotel Revolver is located on Gandhi Road, about 10 minutes walk from the Clock Tower. It's at the end of a narrow lane that branches off from Gandhi Road. The approach is by the side of Union Church. Taxis go close to the hotel. Chowrasta Mall is about 15 minutes walk from here. 
110, Gandhi Road, Behind Union Church, Darjeeling - 734101, India 
Related Articles
Visitors' Reviews/Comments
Surya Kanth Paris (June 2016) 
The hotel was every bit as good as indicated, perhaps even better. The staff is also very helpful. Mr. Pradhan himself is a delightful person to talk to. We stayed at Revolver between 14-18 June 2016. My wife fell sick during our stay and they provided her with the kind of food (soft rice and dal) that she required. All requests were met with a smile and attended to promptly. The rates charged by the cab service recommended by them were less than those being charged by others. Also we could gather useful information from Mr. Pradhan which made our trips to Gangtok and Pelling very comfortable. By the way, the gas operated geysers have been replaced by electric ones. Revolver is a hotel which I would unhesitatingly recommend to anybody who looks for a budget hotel in Darjeeling any time of the year.  Only ensure that you book your rooms well in advance to avoid disappointment. 
Satyajit Naskar, Kolkata (July 2014) 
The Revolver--the information about this memorable Halt-I have seen from this site. Then with a simple mail to Mr. Vikash Pradhan I have booked two rooms for two days at Darjeeling. I reached Darjeeling from Kalimpong on May28, 2014 about afternoon. Then after completing formalities, we four travelers entered the John and Brian's dens. A huge welcome was waiting in the rooms. The rooms are too good to live-in for the 'bad' people like us. Clean and green warm atmosphere inside and outside the room give a freshness obviously. The arrangement and system to live in the rooms are so modern and appreciable. Mr. Pradhan  is so professional and obviously educated. The kitchen/ drawing room of the lodge is fantastic. The taste of Mr. Pradhan in decorating the rooms is great. He is sensible, self esteemed and a great fan of 'Beatles'. But I think he should not be so heartless towards the sensitive and good travelers obviously if there is a child member among them. The view of Kanchanjungha from the lodge is memorable and fantastic, fabulous. 
The Naga food and the service in the lodge are good. But one thing-- the Dinner time should not be fixed so hard-- overall it is to be remembered that we are travelers-- and for the travelers there is no fixed time for lunch, dinner, and also getting back to hotel. We forget all the rules and regulation of the daily official life when we are in tour. But don't take it otherwise that we forget all  manners and 'must to do things' in tourist places. We always remember about all the basic civic senses in tourist places. Thank you Mr. Pradhan. Hope we will see you again. Look forward to the moment when we reach your beautiful den again and we will see your child walking in fresh air. 
Souvik (May 2014) 
It is undoubtedly one of the best accommodations in Darjeeling. Hospitality is not comparable with any other hotels. Staff are very polite and helpful. Prompt service. Its not a place with 5 star glamour, rather its a home far from home. 
Jeanette Lartius (March 2014) 
Hi, This place seems awesome, specially the hospitality during the earthquake that you mentioned. I was in Darj in 2009 and stayed close to the market on the uphill road, close to Keventers and Glenary. Can you tell me how far is Revolver from Keventers or the local market that sits on the road. I hope you understand which market am talking about as I dont remember the name. Also how can i get to know the rates of Revolver? 
Raj (darjeeling-tourism.com) March 2014 
Hi, It's less than 10 minutes walk from Keventer's (down Gandhi Road, i.e. in opposite direction of Glenary's). Present rate is Rs. 1200/- for the three best rooms including my favorite Paul's room. Other two rooms are Rs. 1000 and 800 per night. If you stay for a month or more, they offer discounted homestay rates with food for the same rooms. 
Sudip Chakrabarti (March 2013) 
Hi, I have seen so many discussions regarding Revolver lodge Darjeeling in your forum. I have gathered so much knowledge from your website. Thanks a lot for this. I haven't explored it yet. I would like to know how to reach revolver from Darjeeling taxi-stand (4 wheeler coming form Siliguri) or bus-stop or railway station (Darjeeling). What's about the charges for taxi from railway station or taxi-stand to the hotel. Regards 
Raj (darjeeling-tourism.com) March 2013 
The hotel is on Gandhi Road at a short distance from the Club Side taxi stand. The taxi can drop you near the hotel. A short narrow lane from the main road leads to the hotel (30 yards or so). If you notify them, the hotel staff will carry your luggage from the taxi to your room. Ask the taxi driver to take you to Hotel Sinclairs or Meghma. Revolver is very close to both these hotels. He may charge Rs. 30/- more than the usual fare from the station (he may not if you tell him up front that you want to be dropped at the hotel).