Hotel Capital Darjeeling
Category: Budget 
Such names are usually associated with large hotels that are landmark of a city or a town. But hotel Capital has heart to have kept such a name for itself although being in the category of a cheap hotel. 
A family owned hotel and run by the owner Mr. Bhutia, this hotel is ideal if you are looking for a cheap accommodation in Darjeeling and in a convenient location. Hotel Capital is located on Gandhi Road, in the area known as Upper Club-side Taxi Stand and right in front of the car park. 
The entrance is from the right side of the building. You will need to climb several steep marbled stairs through a narrow staircase that has stone finished walls on both sides. You will then reach a small landing with a large mirror. See your gasping face and compose yourself as you turn left to enter the reception area :) 
Hotel Capital, Darjeeling 
The reception counter is small and usually run by a staff. Mr. Bhutia mentioned that this hotel is over 50 years old. There used to be a cottage here known as the Aukland Villa that was later demolished and the new building came up. 
The name Aukland Villa immediately rung a bell. I had read that Deshbandhu Chitta Ranjan Das, the great patriot and freedom fighter of India actually wanted to purchase the Aukland Villa when he decided to stay in Darjeeling. But he died unexpectedly and thus his desires remained unfulfilled. 
There are 12 rooms in Hotel Capital of two categories - Deluxe Double and Super Deluxe Double. Some are at the reception level and rest in the floors above. The room next to the reception is one of the largest. The rooms in this floor do not have balconies but have large glass windows through which you can get nice views. 
Hotel Capital Room, Darjeeling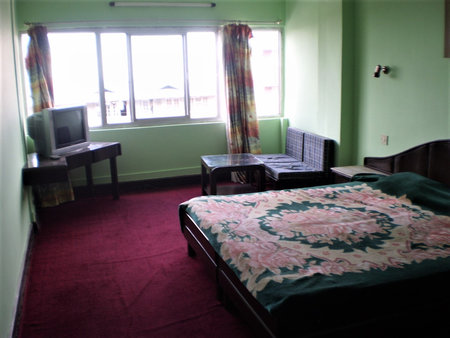 Super Deluxe Double, next to reception 
The furniture are expectedly quite old. There are couple of cushioned chairs with a table that are placed on the window side. All rooms have TVs. And there is also a cupboard. Rooms have queen or twin beds and are all carpeted. However wrinkles are visible in the carpets and signs of aging visible in the rooms and in the furniture. They don't generally clean the rooms during your stay unless you ask for it. 
The bathrooms are standard and are of western style. They have the basic amenities including geysers for hot water. But hot water is supplied in the morning for three hours. 
Bathroom, Super Deluxe Room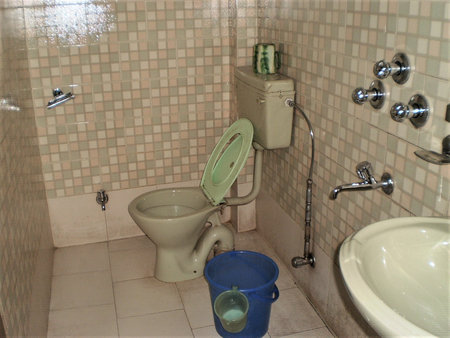 There are two floors above the reception level. You will notice one thing strange though as you reach the upper floors. There is a narrow passage at the end of the steep narrow stairs and the rooms are to the right. But there are drainage pipes that run along the walls of the passage which make it really look ugly and shabby. Don't understand why there should be exposed pipes on the passage. 
However I like the rooms on the top floor. They have private balconies from where you really get great views of the mountain range and the snow peaks of Kanchenjunga on a clear day. 
A room on the top floor with balcony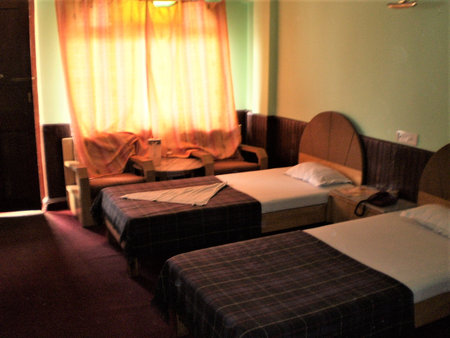 But the balconies of the adjacent rooms are only separated by a grill and are therefore right next to each other. So the privacy in the balcony here means that a person from the other rooms will not be able to come to your area, but can always shake hands with you at the balcony. 
Staff and the manager are quite nice and cooperative. They are quite friendly and will help you with whatever you need. For food, either you go to one of the many restaurants below the building or can ask one of the waiters to get food for you. You can also bring your own food and have it in the room. There is no dining room in the hotel. 
Top floor room, another view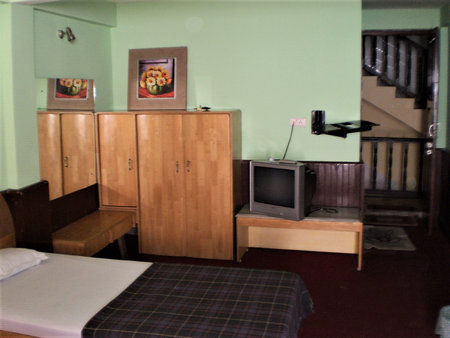 A negative aspect of the hotel is that the surrounding area is quite noisy. The hotel is located right on the Taxi stand and therefore expect a lot of noise that starts early in the morning when the traffic starts moving in the area. However that said, considering its location, convenience, and last but not the least, the views from the top floor, it's a good value for budget travelers. 
Location and Contacts
The location is right across the Clock Tower which is considered a major landmark in Darjeeling and this is the area from where the Nehru Road starts that leads to the Chowrasta Mall through glittering shops. You can walk up to the Mall in 4-5 minutes. The Capital Hotel is on the taxi stand and car park of Gandhi Road, and yards away from the Clock Tower. 
Hotel Capital, 1/A Gandhi Road, Darjeeling 734101, India. 
Phone: 0354/ 2254160, 2254698 
Related Articles
Visitors' Reviews/Comments
Sanjay Bhattacharjee (November 2021) 
Thanks Raj for this wonderful informative site, I stayed in  Hotel Capital on 27th & 28th Nov'2021 (Room No 3 besides Reception) & Room No. 103 on top floor. Excellent position. Rooms are quite spacious, value for money. Kanchenjunga is truly visible from the balcony of top floor. Don't expect very good service here but not bad at all. You can contact Prakash for Booking (9749578394). 
Bidisha Sarkar Datta (August 2015) 
Hi! I mentioned in my last mail, about my preference of Hotel Capital, but to my surprise, the owner, either doesn't pick up calls, or disconnects never to call back, or asks to call on some later date every time, we ask to book. On persuasion, he agreed to book on payment of some advance, but when we asked for bank details, so that we can transfer funds online, he said he will but never reverted back with the details.  
Bidisha Sarkar Datta (August 2015) 
Hi! Raj, We've decided to stay at Hotel Capital after shortlitsing it from your informative site. Do the taxis from njp (shared or reserved) drop us at the taxi stand that lies below hotel capital? Do we get shared taxi for local sight seeing(mainly zoo and ropeway) from this taxi stand below hotel capital? Can we get taxis while returning from zoo and ropeway, since with a three year old kid, I wish to keep a flexible itinerary and not opt of pre fixed point tour. As for hotel Capital where the owner has asked us to call up today for booking, should we opt for the top floor rooms, or one beside the reception for better mountain views? They classify it as deluxe(1800 per night) and super deluxe(2400 per night), which should I opt for? Your suggestion is extremely valuable. Thanks & Regards, 
Raj (darjeeling-tourism.com) August 2015 
Hi, Reserved taxis from NJP will come up to Clubside taxi stand below Hotel Capital, but shared taxis would likely drop you at Chowk Bazaar lower stand. You will get reserved taxis both ways to/from Ropeway. While returning if there is huge rush, then it could be a problem getting a taxi. In that case walk up to Singamari stand and get a taxi. For zoo, you can try the battery operated carts from Mall road. Reception level rooms would be more convenient for service, upper floor rooms are better for views but will require climb through steep staircase. 
Kalyan S Das (March 2014) 
I stayed in Hotel Capital with my family in June, 2013. The hotel is a good one in the budget category. The room next to the reception is good and spacious enough for a four members family. Though the furniture are old but clean. Only the room telephone connector was broken at that time. May be that has been repaired. The receptionist and the staff are cooperative.