Sonam's Kitchen Darjeeling
Category: Budget, Cuisine: Pasta, Pancakes, Sandwiches, Nepali food 
Sonam's Kitchen is a small eatery located on Zakir Hussain Road. You can walk up to the place from the Chowrasta Mall in a few minutes. 
It's an uphill short walk through a market area. This is a family owned business run by a Nepali couple... Puran Pradhan and his wife Sonam. They have been running this eatery for many years.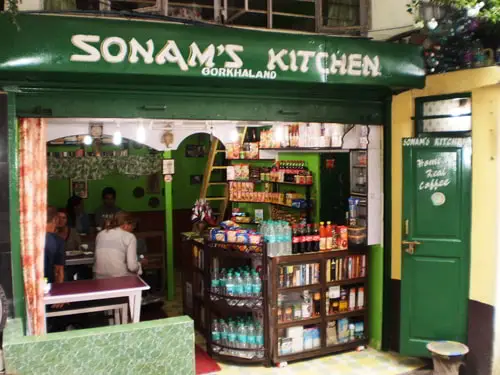 At the original eatery, there are only three tables. So you can imagine how small the place is. It's like a small garage space used as an eatery and the first table is almost on the road.  
Sonam's Kitchen serves breakfast and dinner, but no lunch. However it has earned its name mainly for the great breakfast it makes. 
The dishes are mainly vegetarian and egg preparations. They are made with fresh ingredients after you order. So it takes a while for them to serve. 
Sonam is the cook and Puran is her helping hand. It's unbelievable how small the kitchen is that has only one gas oven. Barely one person can squeeze in. 
The restaurant has a green interior finish. Tables are wooden with sun-mica top. The chairs are basically wooden benches that are quite comfortable though. 
Sonam & Puran in all smiles, as I said CHEESE!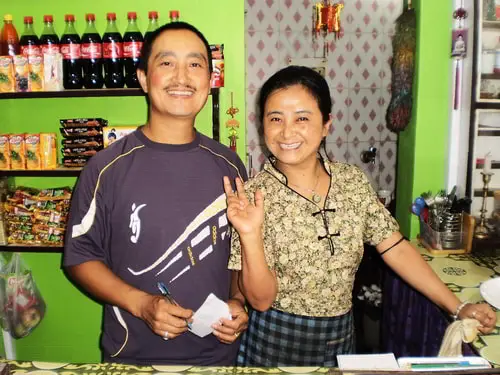 As you walk in, there is a small counter on the right. You will see many books in the glass cabinet below the counter. There are also cabinets fixed on the walls with good collection of books on travel and also on countries like India, South America, Tibet and others. 
You can borrow a book and read as you have your breakfast. This place seems to be a great favorite to the foreigners who are able to discover this. 
So what kind of food do you get here? In Breakfast, you have good choices. If you like to eat heavy, go for the set breakfast that comes with hash brown potatoes, fried eggs with roasted tomatoes, brown toasts etc. There are choices of porridge, pancakes with fruits & nuts, brown bread sandwiches including vegetable and egg sandwiches. 
In dinner, you will get soups of different types including tomato and egg soups. There are several preparations of pastas as well. If you are trying out pasta for dinner, go for the pasta with butter and garlic. They keep small amount of stock. 
There is a ladder that goes to the mezzanine floor upstairs. I asked if there is any seating there? Sonam was embarrassed and said that the space is used only for stocking supplies. 
However the supply does get over sometimes due to heavy demands and often they would run to the nearby market to get the ingredients. But they are quick. 
Sonam's Kitchen serves many different kinds of hot and cold beverages. In Darjeeling, there aren't many other places where you will get fresh coffee made out of roasted beans. Sonam really makes the coffee well. On the door of her kitchen, she proudly displays "Home of real coffee". 
Another great beverage is the ginger tea with lemon and honey - not only it tastes great, but served in a glass it looks great too. It's a perfect drink to get warmed up on a cold day. They also serve milk with honey, hot chocolate, and regular black tea as well.  
As I was fumbling with the menu card and wondering what to have in breakfast, Sonam offered to help. I said that I wanted to have something small. She suggested brown toast and vegetable omelet which were simply delicious. 
My vegetable omelet with brown toast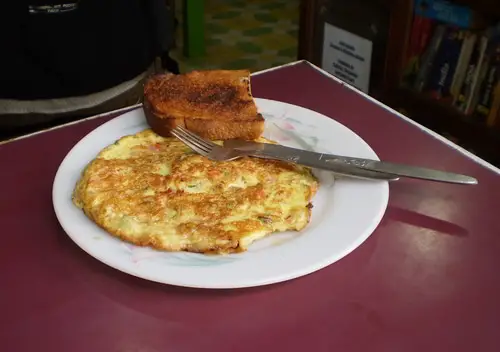 I took a bite (you can see that!) and realized that 
I had to take a picture :) 
On the counter table, there are many other packaged drinks and snacks kept including mineral water bottles, coke, fruit juices, wafers etc.  
New Extension of Sonam's Kitchen
What used to be a shack operating out of a typical garage space once, now has a new extension. The old space is still operational and looks the same, right at the opposite side of the road a new hotel called Magnolia Residency has come up. 
Sonam has opened a nice, brightly colored and very friendly looking restaurant at its ground floor. In fact the owner of the hotel is a close relative of Sonam and the new restaurant also serves as an in-house restaurant of the hotel although all are welcome. 
Sonam's Kitchen, The New Restaurant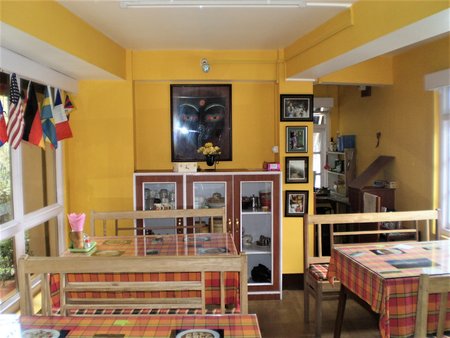 So this time I chose to dine at the new restaurant and ordered my favorite Vegetable Omelet, but now with Cheese Toasts. Sonam prepared it at a small kitchenette located at the end of the room and served it to me. She said she buys the bread from Glenary's Bakery. It was again made to perfection. 
Cheese toasts and veg. omelet at Sonam's Kitchen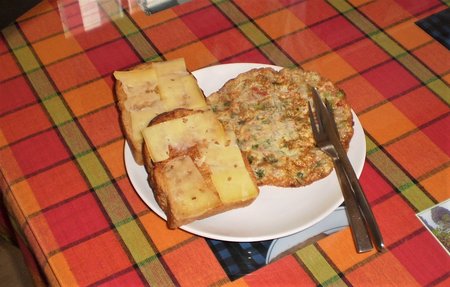 The new extension serves Breakfast, Brunch and Dinner. In lunch you actually get the same items as in breakfast. There are several set breakfast including hash brown, scrambled eggs, cheese, tomato and toast. 
You also get porridge, sandwiches and even pancakes, and of course tea of different types. In Dinner you get soups, salads, pastas and also nice Nepali dishes all cooked by Sonam herself. 
Open Hours
Sonam's Kitchen serves only breakfast and Dinner. The restaurant is open from 8am until 2:30pm for breakfast and brunch. It reopens at 6pm and serves dinner till 8:30pm. But you can take your time to finish your dinner. 
Location
Sonam's Kitchen is located on Dr. Zakir Hussain Road near the TV tower. From the Chowrasta Mall it's 3-4 minutes walk up to the restaurant. The walk is a little uphill but the rewards are great. On your way back, the downhill walk is quite pleasing. 
Related Articles
Visitors' Reviews/Comments
Share your experience.