Glenburn Tea Estate & Retreat
Category: Upscale 
Glenburn Tea Estate of Darjeeling is a family run business with hundreds of acres of rolling tea gardens perched on a hill slope with two river streams passing through the estate. The estate offers all inclusive and upscale home stay for tourists in plush bungalows amidst sprawling gardens with magnificent views of the valleys and mountain range including the mystic Kanchenjungha and Sikkim hills. 
Glenburn Estate was originally established and run by a Scottish tea company in 1859 during the British colonial days. It was taken over by the Kolkata based Prakash family. 
Prakash family has been running this 1,600 acre estate through four generations and for over a century. The original planter's bungalow which is known as the Burra Bunaglow has been completely restored in 2002 to its original structure retaining much of the colonial charm while adding the level of luxury required for a comfortable stay in today's time. It has four large suites. 
Another bungalow known as The Water Lily Bungalow has been added in 2008 at the edge of the ridge and ahead of the original bungalow which too has four large suites with high ceilings. 
The entire estate is spread over a hill slope with an elevation ranging from 3,200ft near the Burra Bungalow going down to 800ft where the Rungeet and Rung Dung rivers flow through the estate. The estate includes a forest area (known as Simbong forest) along the river side that spreads over 1,000 acres of area. Area under tea cultivation is about 390 acres. It's a bio-organic tea garden producing mainly Darjeeling green tea. 
Glenburn Tea Garden, Darjeeling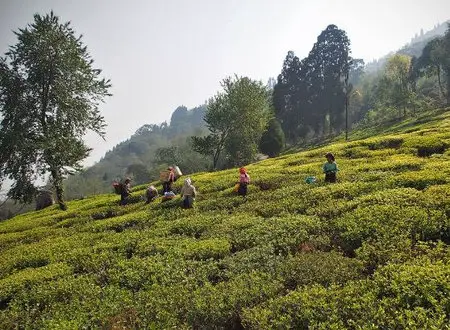 Accommodation & Landscapes
The Burra Bangalow is where the original planters of the estate used to stay. It has a large veranda, a living room with a library and fireplace, and a large dining room. The dining rooms is where sit down candle lit dinner is served to all the guests in the estate. 
There are four suit rooms in Burra Bungalow with different themes. All the suites have king size beds and some of them have an additional single room that are ideal for families. All the suites here open up to the main veranda and have private doors to the gardens behind. You get a sweeping view of the mountains from the main veranda. Two of the suites have fireplaces. The bathrooms are large and have old style bathtubs. One of the bathrooms in this bungalow has a walk-in rain shower. The rest have hand showers. 
Burra Bungalow  
Original Planter's House at Glenburn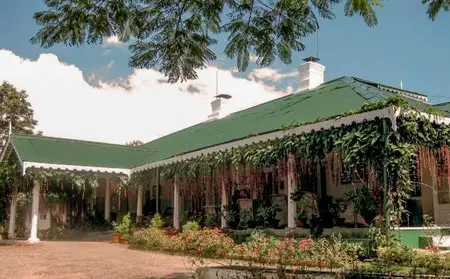 The newer Water Lily Bungalow is perched on the edge of a hill with stunning views of the mountains and the valleys. You get breathtaking view of valleys all around with Darjeeling town on one side and Kanchenjunga right ahead. The new bungalow is connected to the original main bungalow by a stone staircase. It too has four large suites with king size beds.  
Kanchenjungha Suit, Glenburn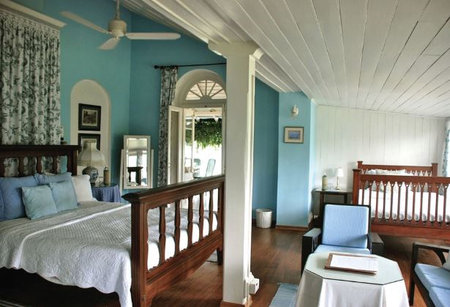 All the bedrooms in Water Lily bungalow have bay windows or sit out areas with great views of the mountains, private balconies and antique furniture. The rooms have Burma teak flooring and old cast iron window frames. The bathrooms have old style bathtubs with great views and walk-in rain showers. There are two verandas, garden areas laid out in different levels, living and dining rooms, a recreation/meeting room, and a massage & steam room. 
Water Lily Bungalow, Glenburn 
All the suites in Glenburn Tea Estate feature hand-embroidered bed linens, a vas full of fresh flowers from the gardens, basket of fresh fruits, bathrooms with running hot & cold water with complimentary Darjeeling Green Tea toiletries, overhead fans in the rooms and hair dryers. 
The beds are fitted with electrical bed warmers. Overall, the focus has been on the details. There are no TVs in the rooms to break the tranquility. Internet access in the premises is also limited. 
On the river side, there is a Campsite Lodge with two double rooms with attached bathrooms. There is a large veranda overlooking Sikkim on the opposite bank of the river. Here the rooms are lit up at night by Kerosene lanterns. This rustic lodge is great if you plan to stay by the river side in a forest environment, dine in the open on the river bank and like to spend your time on activities like fishing, swimming, forest walking etc.  
Campsite Lodge by the river, Glenburn 
However note that being at the far end near the river and the forest, there are midges and sometimes mosquitoes to be dealt with. Also the amenities and service may not be at per with what you get in the main bungalows above. 
Food & Dining
All meals including bed tea and snacks are included in the rates. Glenburn offers different cuisine including local fares, traditional Indian dishes, South-East Asian and even European food. Much of the herbs, vegetables and the spices used are grown in the estate's own kitchen garden. 
They also make homemade cookies and cakes that you can have as snacks anytime along with fresh fruit juice, lime water or tea & coffee. Snacks also include pakodas (fried pastries), sandwiches, chocolate brownies, momos (dumplings made in Tibetan style) etc. 
Breakfast and lunch are usually served in the Morning Room located at one end of the main veranda. You can also have breakfast in an open terrace or under a tree if you so like. They also organize picnic type lunch at the Campsite or even barbecue by the side of the Rung Dung river. 
If you are on a walking tour of the garden, you can also take packed lunch and have it at one of the many places around the tea gardens that offer spectacular views. 
However the dinner is usually a sit-down type and served in the candle lit dining room on a large dining table. This is a community dining and you will meet up the hosts and other guests over dinner. Usually place cards are given so that you have a chance to sit next to different people on different evenings. Guests chat with each other and share their experiences.  
Main Dining Hall, Glenburn 
Note that all food, snacks, fruits, juices and cold drinks are include in the rates. Complementary wine is offered that accompanies the dinner. You can also have cocktails & other alcoholic drinks that are separately chargeable (note that the drinks are quite expensive). If you want a private dining, ask for it in advance and they will arrange it in open air or on a patio. Glenburn also makes ice creams on request. 
Service at Glenburn
The entire staff of the Glenburn retreat are from the local community who have been trained over the years. There are calling bell switches available in all the rooms and even in the common rooms that can be used to call a waiter. 
The lady Najma is the hostess and is responsible for guest relations. She usually joins the guests over dinner and actively takes part in planning the itineraries during your stay. If you have time, ask her and she will let tell you a lot of stories about the life in tea plantation. 
Sanjay Sharma is the manager of Glenburn Tea Estate. He has been a key contributor in developing and shaping the estate to its current form. Other than his great knowledge in tea plantation and processing, he is also an expert in birding and fishing.  
There are resident drivers who will pick you up from Bagdogra airport or NJP Railway station and drop you back. The transfers are included in the rates. After they pick you up, they generally stop on the way at a scenic spot offering you packed snacks like sandwiches and hot tea. 
Activities at Glenburn
Glenburn offers lots of activities and local tours and sightseeing to keep you engaged for several days. Some of the activities like fishing & rafting are chargeable. Here is the activity snapshot: 
Tea Garden and Factory Visits: Starts with an audio visual on history of the estate.  You can then walk or drive through the tea gardens, interact with the garden workers and understand how tea is plucked. Then visit the factory to see tea processing. You will end the day tasting tea of many different flavors. 
Guided hikes to the campsite down below on the river side. The path takes you through villages, tea gardens, forests and water streams with wonderful views of Sikkim areas. At the campsite you can enjoy paddling in the natural pool, river walking, bird watching, relaxing on the sandy beaches and the large rocks lying on the stream. 
There are other great hikes like orange orchard walk, river Rung Dung walk, crossing over the suspension foot bridge on the river to Sikkim area and lot more. 
Take day trips to Darjeeling town or Kalimpong. 
Fishing on river Rungeet. The best fishing season is between October and March. Catches include Rainbow Trout, Brown Trout, Golden Mahseer, Snow Trout, Carp etc. Glenburn provides basic tackles and equipment. 
River Rafting: Rafting trips start from the Rungeet river campsite going downstream up to the confluence with river Teesta (known as Triveni). River rafting is possible when the water level is sufficiently high and during season. 
Herbal massage and beauty treatments. 
And there are beautiful flower gardens where you can walk around, take pictures of the many colorful & blooming flowers and just relax. 
Location & How To Reach
Glenburn Tea Estate and its boutique hotel is located in Darjeeling hills. From Bagdogra Airport or New Jalpaiguri/Siliguri Railway station, it's about 3 hours drive. From Darjeeling town center the drive is about 1 hour 15 minutes. A convenient approach is to drive up to Ghoom / Jorbungalow area and then take the road to Lopchu and Takdah. Note that hotel transfers included in the rates and the estate provides the vehicle. 
The temperature here varies between 6 to 24°C during winter and 18 to 30°C in summer. Monsoon is between July to August. 
Contacts
City Office (Kolkata, India) 
Glenburn Tea Estate (Tourism Division) 
Kanak Building, 41, Chowringhee Road, Kolkata - 700 071, India 
Mobile: +91/ 98300 70213 
UK Representative 
Mary-Anne Denison-Pender 
Mahout Ltd, The Manor, Manor Road, Great Bourton 
Banbury, Oxfordshire -OX17 1QT 
Phone: 0044 (0)1295 758 150 
Related Articles
2) Check out
Off Beat Stays
to know about the amazing places to stay around Darjeeling that take you to a different world where nature, people, plantation and animals have all come together in a perfect harmony. 
Visitors' Reviews/Comments
Share your experience.