Sukna Museum
Darjeeling Himalayan Railway
The Darjeeling Himalayan Railway (DHR) Museum at Sukna was setup in September 2005. This is the third DHR museum after the ones in Ghoom and Kurseong. Sukna is about 11kms from Siliguri Junction Station. There is a great collection of rare pictures and sketches at the Sukna Museum. 
One such sketch is of a Sahib (a white foreigner) travelling on the shoulders of four Indian porters who are struggling to carry him uphill on a portable seat (called dandy). The dandy once used to be a mode of transport in Darjeeling area. It's an 1897 sketch and the Sahib on the sketch is Mark Twain. 
At the photo gallery of Sukna Museum, you will also see a sketch of tangas (horse drawn carriages) that used to ply in Darjeeling long before the Hill Cart Road was built. Rare pictures include the Toy Train coming out below the Sevoke Coronation Bridge, the original Kurseong station in 1880 before it was moved to its current location, the Tindharia station before the DHR railway workshop was setup there in 1910, and lot more. 
A photograph shows a private trolley running along the DHR track. Another picture is that of a 100-year old woman who was called the Witch of Ghoom by the locals. She used to come to the Tindharia station area in 1890s. 
Sukna DHR Station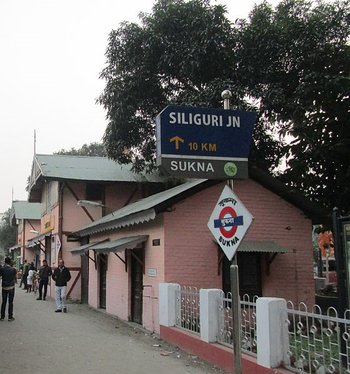 As you go through the collections that now comprises of well over 50 rare photographs and sketches, you will be able to visualize the entire history and the background of Darjeeling Himalayan Railway and why it was established. The museum's objective is to portray the heritage train and its history to the visitors. There are short story-lines given below the collections that make them even more interesting. At the counter of the museum, you will find many small souvenir items on sale like DHR T-shirts, Caps, Key Rings etc. 
How to visit DHR Sukna Museum
There is a joy ride available on a steam engine hauled toy train from Siliguri Junction station to Sukna and back. The total trip takes about 2 hours and includes the visit to the DHR Sukna Museum. While the timings are subject to change, usually one train leaves Siliguri at 10am and the second at 1pm. If you are coming to the museum by toy train, the head of the family or the leader of the group is given a certificate of the ride that serves as a small memento. 
Alternatively you can always take a taxi or a bus from Siliguri to reach Sukna. Buses leave from the Tenzing Norgay Central Bus Terminus located on Hill Cart Road in Siliguri. 
From Darjeeling you can take a taxi or a bus and reach Sukna in about 2.5 hours. 
Related Articles
Visitors' Reviews/Comments
Share your experience.