Bus, Taxi & Toy Train Fares To Darjeeling
From NJP, Siliguri & Bagdogra
This page is to give you an idea about the local transport fares to reach Darjeeling from places like New Jalpaiguri (NJP) station, Siliguri town and Bagdogra airport. 
In Order to get to Darjeeling, you will need to take a transport like a private or a shared taxi, bus, or a toy train once you reach the NJP station, Bagdogra airport or Siliguri. 
A taxi stand in Darjeeling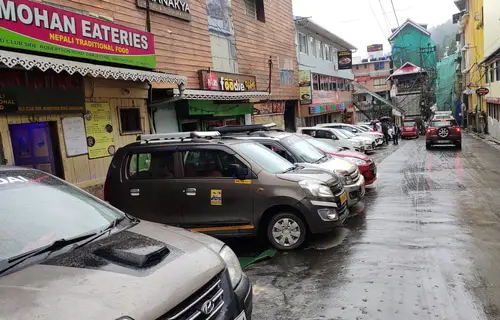 Reserved or private taxis are available at all places, shared jeeps are available at NJP station as well as Siliguri, while Toy train originates from NJP station, it can also be availed from Siliguri town. Buses are available only at Siliguri main bus stand. 
Additionally there are pre-paid taxi counters at both Bagdogra airport and NJP station where you can book a private taxi (small or a larger vehicle) 
The fares change with time and in this part of the country, they change more frequently than other places. Secondly, the private taxi fares can vary considerably depending on low or high tourist season. When demands are high, the reserved taxi fares can sky rocket.  
The fares that I have given below are indicative and applicable under normal situation, so that you get an idea about the cost of a local transport to Darjeeling depending on the mode of travel you choose. 
While returning from Darjeeling (i.e. for a drop to Bagdogra airport or NJP station), private taxi fares would be higher compared to the forward journey because the taxi might have to return empty. 
Recommended Resources 
The
eBook on Darjeeling & Sikkim
is a great resource to plan your tour and get deep insights into various attractions of Darjeeling, Kalimpong and Sikkim including trips, tours and rides. 
(Fare updated: March 2022) 
Private taxi fares
There are plenty of private taxis available both outside the NJP (New Jalpaiguri) railway station and Bagdogra airport. These are private commercial vehicles and have yellow number plates. The private taxis or cars are essentially of two types - small cars like Maruti Vans, WagonR, Alto etc which can take up to 4 passengers, and large ones like Scorpio, Sumo etc taking up to 7 passengers. 
While you can always take a private taxi from outside the station or airport, negotiate the rates and move to Darjeeling, it is advisable to take one from the Pre-Paid taxi counters. The pre-paid counters are run by the taxi association and they can track the driver and the car in case of any problems. 
The Prepaid Taxi Booth at NJP station is located opposite to the station entrance. It's a small booth outside the station building. The prepaid counter at Bagdogra airport is located at the arrival hall before the exit and to its left. 
The rates are fixed and the cars & drivers tend to be more reliable. You are given a slip as you pay up the amount in advance. Hand over the slip to the driver once he drops you at Darjeeling. No other payment is required. Update: The pre-paid 
Remember the taxis will drop you at Darjeeling town center (i.e. either at the Chowk Bazaar stand or at Clubside Taxi stand next to Gandhi Road police point). They can drop you right at your hotel entrance if your hotel is located close to the taxi stand. Otherwise the driver will ask for some extra money to drop you to your hotel. 
However some areas, like the mall area is closed to vehicles where taxis/cars are not allowed. If your hotel is located in such pedestrian-only area, then you will need to either walk or take a porter from the nearest taxi stand. 
Here are the indicative one-way reserved taxi fares from NJP / Bagdogra to Darjeeling: 
NOTE: Return one-way fare from Darjeeling would be more: 
NJP/Bagdogra to Darjeeling (Small Car): Rs. 1860.00 (from Pre-Paid Taxi counters) 
NJP/Bagdogra to Darjeeling (Large Car): Rs. 2400.00 (from Pre-Paid Taxi counters) 
Note that the normal cab fares (i.e. non-prepaid) from NJP/Bagdogra to Darjeeling can vary depending on season and can be anywhere between Rs. 3,000 - 3,500 for a small car. 
NJP/Bagdogra to Darjeeling (Small Car) Via Mirik: Rs. 4000 - 4,500. One takes this route if one wants to stop at Mirik, enjoy the lake at Mirik and also the wonderful tea gardens and scenic views along the way. This route is not as steep as the others but takes one hour more (usually about 4 hours+). 
NJP/Bagdogra to Mirik (Small Car): Rs. 2,800 - 3,000 
Mirik to Darjeeling (Small Car): Rs. 2,800 - 3,000 
Pre-Paid Taxis: The internal story
If you are planning to book a pre-paid taxi on arrival at Bagdogra or NJP, you should be aware of an interesting activity that takes place there. Pre-Paid taxi counters (both at Bagdogra airport and NJP railway station) usually allocate a local taxi with a local Siliguri based driver. The local driver then tries to find another driver who would have come from Darjeeling, Gangtok or other places to drop passengers and now waiting outside for a return customer. 
To those returning drivers almost any amount for return is acceptable as they would otherwise have to go back empty. The local driver would quickly negotiate a deal with him for a much smaller amount than the pre-paid fare which you have paid up at the counter.  
So don't be surprised if you find that having booked a pre-paid taxi, when you come outside you are transferred to another cab. Insist on your original booking as otherwise the security of pre-paid booking would be lost. 
This racket of brokerage is going on since long. So if you come outside and directly negotiate with a driver who is waiting to return, you can strike a rate which is far cheaper than the pre-paid rate. But the question is, will you always find such a returning cab outside? If you don't then you will need to negotiate with a local driver, in which case you may not get much price advantage and instead face a lot of haggling. 
NOTE: From NJP station, the route is along NH-110 (Hill Cart Road) via Siliguri. From Bagdogra the usual route is via Matigara, Simulbari, Rohini and Kurseong. It takes about 3 hours to reach Darjeeling from NJP or Bagdogra (with a short break in between). 
Shared Jeep/Taxi fares for Darjeeling
Shared taxis that go up to Darjeeling are usually large Commander Jeeps or sometimes Sumos. There are two places from where you can get shared jeeps for Darjeeling - 1) Outside NJP Station and 2) next to Siliguri Main Bus Stand (i.e. Tenzing Norgay Central Bus Terminus on Hill Cart Road). 
The Siliguri bus terminus is about 8kms from NJP railway station and you can reach the bus stand by an auto or a cycle rickshaw easily within few minutes. 
NOTE: In general there is no shared jeeps/taxis available at Bagdogra airport, neither you will get one on your return to Bagdogra. The only option is to take a pre-paid private taxi from the airport or go down to Siliguri stand by a private taxi (about 30 minutes) and take a shared taxi. 
The shared Jeeps take 10 persons in a jeep, and wait until all the seats are filled up. Usually I have seen that during the high season, the seats get filled up quite quickly during the day time when a jeep arrives. There are often many passengers waiting for the shared jeeps.  
In low season it might take 30 - 45 minutes for all seats to get filled up. Usually several locals would accompany you. Some of them get off on the way and new passengers may join in. 
With so many people packed into the Jeep, it can get uncomfortable at times. But there is a way out. In a shared jeep, you can actually pay and book more than one seats for yourself to buy comfort. For example, you can book both the seats next to the driver and occupy them yourself. 
Alternatively you can reserve four seats in the back row behind the driver's seat or the ones at the rear. Once booked, the driver won't let anyone else occupy those seats. Luggage is carried on the roof. 
For a city dweller like myself, 10 persons in a jeep becomes really stuffy and uncomfortable, and it may be worth paying for an extra seat for a journey that takes 3.5 hours. Shared taxis take longer time to reach compared to reserved taxis because they stop at several places along the way dropping and picking up passengers., as well as unloading and loading luggage from/on the roof. 
Below are the shared taxi fares. NOTE: During peak vacation time (like Durga Puja) when tourist rush soars, the fares are also hiked. 
Shared jeep fare from NJP Station to Darjeeling: Rs. 300.00 (per seat) 
Shared jeep fare from Siliguri Bus Stand to Darjeeling: Rs. 275.00 (per seat) 
Shared jeep fare from NJP Station to Mirik: Rs. 200.00 (per seat) 
Shared jeep fare from Mirik to Darjeeling: Rs. 200.00 (per seat) 
Usual route for a shared jeep is by Hill Cart Road (NH-110) and travel duration is about 3 & half hours. If any detour is required (due to closure on the main route), that would increase the fare. 
Bus fares to Darjeeling
You will get buses only from the Tenzing Norgay Central Bus Terminus located on Hill Cart Road in Siliguri. It is about 8kms from NJP station. The buses are run by North Bengal State Transport Corporation (NBSTC) and are blue in color. They look like mini buses and can carry some 30 passengers (standing is not allowed in these buses).  
Darjeeling Bus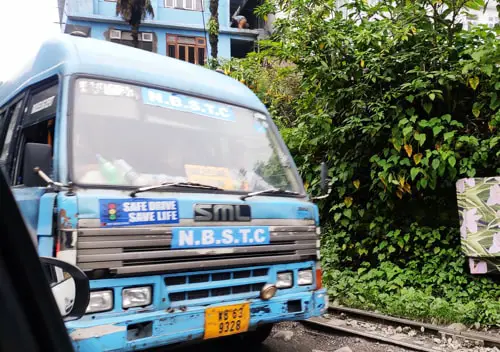 There are several bus services from Siliguri to Darjeeling and back. The first one starts around 7am in the morning and others ply during the day time. There is no night bus. The usual route is along Hill Cart Road (NH- 110), however detours are taken via Rohini if the main route is closed for some reason. The travel duration between Siliguri to Darjeeling by bus is about 3 hours 45 minutes including stoppages. 
Bus fare from Siliguri to Darjeeling: Rs. 103/- per person (along NH-110, Hill Cart Road). 
Bus fare from Bagdogra Airport to Darjeeling: Rs. 400/- per person. 
Toy Train Fare to Darjeeling
The diesel engine hauled toy train leaves NJP station in the morning (around 10am) and takes about 7 hours to reach Darjeeling. You can also board the train from Siliguri Town and Siliguri Junction stations that are 5kms and 8kms away from NJP respectively. 
You can also drive up to Kurseong (KGN) and board the train from there in case you want a shorter ride by the train. The toy train from NJP has First Class and AC Chair Car coaches. There is also another toy train that originates from Kurseong and goes to Darjeeling and returns... this train has First Class and Second Sitting coaches. 
NJP to Darjeeling (one way, about 87kms): First Class Rs. 1400, AC Chair Rs. 1500 
NOTE: In first class and AC Chair Cars there are individual reclining seats with more space (about 17-21 seats per coach) while in second class number of passengers could be up to 32. First Class and Second Sitting coaches are not air-conditioned. 
There are also toy trains available from Darjeeling for joy rides (both diesel and steam engines). Check out
Darjeeling Toy Train Services
for schedules & fares. 
NJP Station to Siliguri Bus Stand Fare
Siliguri main bus stand (Tenzing Norgay Bus Terminus on Hill Cart Road) is about 8kms away from NJP station. You can either take an auto rickshaw, a cycle rickshaw or a taxi from NJP to reach the bus terminus at Siliguri. 
Auto Rickshaw fare: Rs. 150/- (up to 3 persons, limited luggage), 10 minutes 
Cycle Rickshaw fare: Rs. 70/- (up to 2 persons, limited luggage), 30 minutes 
Taxi fare: Rs. 300/- (up to 4 persons) 
Related Articles
2) Check out
How to reach Darjeeling
for complete information on reaching Darjeeling from various places in India and neighboring countries. 
Visitors' Reviews/Comments
Tuhin Paul (January 2022) 
Hello sir, I had a couple of enquiries to make; I shall be visiting Kurseong on 26th March, 2022 with family 
( 4 adults and 2 children, aged 11 and 7); I would be coming from Bagdogra, landing at 10:30 am; Have been recommended one "Gourik Cab Services", by a friend, for my Airport pickup and drop; My preferred car is Innova, and I have been given a quote of Rs 3200 for Bagdogra - Kurseong, and Rs 4500 for Darjeeling - Bagdogra (via MIRIK, as i intend to visit the place on my downhill journey); Are these rates reasonable, or should I negotiate? 
My second query is, I would be travelling onward to Darjeeling, from Kurseong, after 3 days. Should I keep the same Innova for my local sight seeing and onward journey and Darjeeling Sightseeing? Or should I go for local cars, booked from Kurseong and Darjeeling? The INNOVA rate is Rs 4000 per day, in case I keep the car for the entire trip; Regards, 
Raj (darjeeling-tourism.com) January 2022 
Hello, I can not comment on the rates because it varies depending on the operator and the season. You can take quotes from other operators and compare them. You can go through the following link where I have listed some of the best Darjeeling-based operators such as Asmita, Clubside, etc who offer cars for transfers and tours...
Travel & Tour Operators in Darjeeling
. 
For Kurseong to Darjeeling transfer, and sightseeing in Darjeeling, local cars would be cheaper. Having a full-time car of your own can be definitely a lot more convenient, but your hotel must have parking, otherwise, you may need to pay heavy parking fees and the available parking place may not be nearby. One can not park in Darjeeling town by the roadside. Also check out, if the full-time rate includes driver's night charges, stay, and food. Even if it does, it is a general courtesy to support the driver for his food and stay to the extent possible instead of letting him freeze inside the car at nights, and that means additional cost. Regards, 
Priti (March 2019) 
How much will it cost if I book small car (4 seater) from NJP to Dhotrey? 
Raj (darjeeling-tourism.com) March 2019 
It's unlikely that you will get a direct taxi from NJP all the way up to Dhotrey. It is best to ask your hotel at Dhotrey to send you a car for pick up. Alternatively you can take a taxi up to Ghum or even better up to Sukhia Pokhri (if the driver agrees, wil cost around Rs. 2,500 for a small cab up to Sukhia). From Ghum there are shared taxis that go to Sukhia Pokhri. From Sukhia take another cab up to Dhotrey (around Rs. 1200 - 1400). 
Sreeya Bhowmik (November 2018) 
We went via bus from Esplanade bus stand and got down at Siliguri bus terminus. We hired a share jeep and it took 200/- rupees each. As per your information it was actually 150/- per head but as it was vacation time, they had increased the fare. 
Ravi (January 2018) 
Till what time we can get taxis... suppose if we reach Bagdogra airport or NJP around 4 pm... thanks a lot. 
Raj (darjeeling-tourism.com) January 2018 
At Bagdogra airport the pre-paid taxis are usually available till the last flight lands in the evening. At NJP, the pre-paid taxi counter closes at around 7pm. 
Arindam Majumdar (June 2017) 
Dear Raj, First of all let me thank you for your extensive writings. We five people (family members) will reach NJP on 8th June around 7 AM. If we book all the 10 seats of a shared Jeep i.e reserve the whole jeep (for our convenience) will he drop us at Clubside taxi stand (Gandhi rd police point) or near to Gorkha Bhawan on Mal road if requested? Thanks. 
Raj (darjeeling-tourism.com) June 2017 
A shared Jeep driver is likely to ask for some extra even if you book all seats while a Sumo on actual reserved fare won't. 
Sachin (January 2016) 
Hi Raj, I will be reaching Bagdogra Airport at around 2:30 PM in April 1st Week, 2016. My hotel booking is in Summit Yashshree Suites and Spa. I checked at Google Map and found that it is 12 KM away from TAXI stand. I want to know how much extra will prepaid counter charge me for these 12 KM? I have seen on your website that you have mentioned about Rs 100 for 2 KMs & Rs 1850 from Bagdogra Airport to Darjeeling (Small Car). Do I need to pay Rs 600 extra to reach my hotel since it is 12 KM away from TAXI Stand? I also searched Viceroy hotel and found that Viceroy hotel & Summit Yashshree Suites and Spa are nearby but you have mentioned Viceroy hotel is near Taxi stand. Please clear my doubts about TAXI. If my HOTEL is 12 KM away from Darjeeling town or Taxi stand then I will book another hotel. Can you let me know whether Google map is correct or not? 
Raj (darjeeling-tourism.com) January 2016 
Hi, google map here is wrong and I have discussed this under
the Maps
menu option why it can't be accurate for places like Darjeeling. Summit Yashshree is quite near the lower clubside taxi stand at Gandhi Road/Ladenla Road crossing (easy walk) and the driver should not charge any extra to drop you at the hotel. 
Rupesh (January 2016) 
Hi Raj, First of all Thanks for your info you already provided , I want to know if we hire prepaid taxi at NJP to Darjelling , is it only for dropping off at Darjeeling ? or we can have one day trip and back to NJP in the same Taxi. Thank you. 
Raj (darjeeling-tourism.com) January 2016 
Pre-paid taxis taken through pre-paid counters are only for point to point transfers. For sightseeing, you need to independently talk to taxi drivers for fares. 
Arnab Ray (September 2015) 
Hi Raj, Just read this article, especially the section - The Internal Story. My question is what one should do, apart from rejecting the proposal strongly, if the pre-paid taxi driver asks to get transferred to a different vehicle? Is there any real effective way to deal with them?? Thanks in advance. 
Raj (darjeeling-tourism.com) September 2015 
All taxi drivers in Siliguri area and hills are not exactly the right kind, so it is important that you are covered under the security of prepaid arrangement. You can try telling the man at the counter to ensure that such transfer does not happen, or ask the driver that if he can't go all the way, he should immediately change your slip to allocate another prepaid taxi. 
Neha Banerjee (April 2015) 
Hi RaJ, Me an my husband are planning to visit darjelling in May'2015. Just wanted to know that will the rates of a shared taxi be higher during the saeson time?  
Raj (darjeeling-tourism.com) April 2015 
Hi, shared taxi rates remain the same in high and low season because they are mostly used by the locals. Reserved taxi rates increase during high season. 
Kumar Gautam (March 2015) 
Update as on 26 March 2015 
Prepaid taxi fare from Bagdogra Airport to Darjeeling is 1850/-. Post claiming your baggage, just walk into the prepaid taxi counter at the departure area at the airport. 
CAUTION: In all likelihood you will be subjected to 'bait and switch' the moment you come outside the airport, its upon your wish to 'haggle/bargain' for a deal that suits you. The prepaid booking is till the taxi stand only (Near darjeeling station) . The driver will demand 200/- or 300/- for a drop till the hotel. Settle this in advance before getting into the vehicle. 
P.S. This website is a goldmine of useful information. 
Moumita Dutta (February 2014) 
Hello Raj, First of all thank you for the feedback which you provided regarding hotel in Darjeeling. Now I have a query regarding hiring a small car (private taxi) from NJP station to Darjeeling. You have already provided an idea of the cost, but came to know from people in off season, small cars take around 1200-1300Rs, if we can bargain. Just wanted to confirm from you is it correct or not. Many thanks in advance. 
Raj (darjeeling-tourism.com) February 2014 
I have indicated the pre-paid taxi fare in my site, which is fixed. However outside the NJP station you can negotiate with drivers who come from Darjeeling to drop other passengers and now waiting to get return passengers. They can agree to such lower rates as they would like to get back quickly. But you need to find such returning drivers. In off season you may not always find one. So don't bank on that. But you can negotiate with other drivers as well and sometimes get better rates than pre-paid charges. However in high season, it's unlikely that you can bargain better rates due to high demands. 
Amita Sinha (April 2013) 
I'm planning to reach NJP by train at around 9.00am. I want to hire a pre-paid taxi to reach Darjeeling via Mirik & would like to spend 2-3 Hrs at Mirik before reaching Darjeeling. Please suggest whether this is possible & if yes, what would be the additional cost for this journey? 
Raj (darjeeling-tourism.com) April 2013 
Pre-paid taxi route to Darjeeling is via Hill Cart Road or Pankhabari, not via Mirik. Mention at the counter that you want to go via Mirik. If they agree, they will let you know the charges which should be about Rs. 500/- more than the normal pre-paid rate. But the usual wait time at Mirik would be at the most 30 minutes for refreshment. If you like to halt there for 2-3 hours, then you will need to negotiate with the driver. If he doesn't agree, then you can try with a private taxi outside the station. 
Another solution is to take a pre-paid taxi from NJP up to Mirik. Then after spending 2-3 hours at Mirik, take a taxi from the Mirik Bazaar stand for Darjeeling. If you start from Mirik before 2pm, you can also take a shared jeep (from the bazaar area) for Darjeeling. 
Sysilia Tanhati (Jan 2013) 
Hi, I want to ask you, you mentioned that the price for shared jeep is 150/per seat, do I need to bargain or is it the fixed price? Thank you 
Raj (darjeeling-tourism.com) Jan 2013 
Hi, It's a fixed rate and you won't be able to bargain. P.S.: Take the rates as indicative as they change with time. 
Sysilia Tanhati (Jan 2013) 
Hi, Thanks for your info, I will be in Darjeeling next week. 1 question, should I find the jeep outside the train station in new jalpaiguri or there is a prepaid stand? Thanks a bunch 
Raj (darjeeling-tourism.com) Jan 2013 
Prepaid counter is only for private (reserved) taxis. You will get the shared jeeps outside New Jalpaiguri station. In case you don't see one (because they depart as soon as they are full), go down to Siliguri main bus stand area on Hill Cart Road (about 5kms). Take a rickshaw or an auto-rickshaw. You will find shared jeeps there. 
Sysilia Tanhati (Jan 2013) 
Noted, many thanks for your info. Your website helps a lot!