Sandakphu & Singalila Route Map
Below you will find a friendly route map for Sandakphu and the Singalila range as a whole. This route map will be useful for both trekkers who want to go on a trekking to Sandakphu & Phalut, as well as for tourists interested in Land Rover safaris in this region that can be availed from the gateway town Manebhanjan. 
From Darjeeling you can easily come up to Manebhanjan by shared jeep or private taxi. This is a normal motorable road although there is a 4km trekking route available between Sukhiapokhri and Manebhanjan. The treks and the Land Rover safaris start from Manebhanjan in the morning.  
From here there is a gravel road (full of boulders & rocks) that goes all the way up to Sandakphu and Phalut. This road is used by the 4-wheel drive vehicles like old British Land Rovers to take tourists to Singalila National Park, Sandakphu, Phalut etc. 
The trek route and the gravel road merge at several places and become common for both trekkers and vehicles. However the trek route passes through forested areas for several parts where it could be at times boulder pathway, natural muddy pathway, or even long concrete stairways through the mountains offering short cuts. This route through the Singalila range up to Sandakphu goes along the border of India & Nepal. There is also a motorable road from Manebhanjan up to Srikhola via Dhotrey and Rimbik. 
Sandakhphu & Singalila Trek Route Map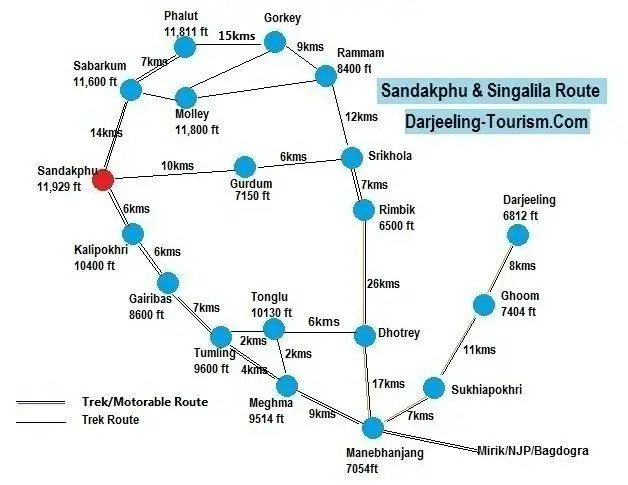 In the route map above, I have shown the distances between the important landmarks and places that you will be passing by during your trek or safari along with altitudes. In most of these places, there are trekker huts available for stay.  
The initial route from Manebhanjan up to Chitre (a small village before Meghma) is very steep, and so is the last lap between Bikheybhanjang (a village after Kalipokhri) and Sandakhphu. From Meghma, the trekkers usually take the trek route towards Tonglu. 
However before Tonglu, a trek route bifurcates towards left and leads towards Tumling while the main route continues to Tonglu. There is a GTA lodge at Tonglu and also a District Magistrate's bungalow. From here, the gravel road for vehicles continues towards Tumling. Tonglu to Tumling and then to Gairibas is a gradual descent making an easy route for the trekkers. 
From Sandakhphu, the most common route for return is via Gurdum, Srikhola and Rimbik. From Rimbik trekkers usually take a bus or jeep for a drop at Manebhanjan. However many prefer to trek from Sandakphu further up to Phalut and then return via Gorkey, Rammam, Srikhola, Rimbik. 
There is also another route from Sandakphu via Sabarkum (11,600 ft) and Molley (11,800 ft) that connects to Rammam. From there it merges with the route of Srikhola and Rimbik. 
Related Articles
Visitors' Reviews/Comments
Share your experience or stories.