Camping on Sandakphu & Singalila route
I know some of you won't let go the precious experience of camping as you trek to Sandakphu or beyond. While you may not get the comfort of a hotel, but spending the nights with the wonder nature of the Himalayas and in the Singalila National Park area can be an experience of a lifetime. There are limited number of lodges along the way. So camping is always a good option. 
During the peak trekking season, you will be taking chances if you do not have prior reservations and that may be very risky. You don't want to spend a night out there without proper lodging arrangements at a freezing cold altitude. 
If you are making a trek plan in a short notice and that too in a high trekking season, then camping is the way to go. 
So what are the camping areas and facilities along the Sandakphu route? While there are no designated camping areas or facilities as such, that doesn't mean that you can camp anywhere along the route or wherever you see a free space good for camping. There are some restrictions that you need to know. 
Firstly, you will need to take a camping permit at Manebhanjan check post and pay a fee. The fee depends on the number of camping tents and other gears you are carrying, and also the places where you plan to camp. For a small group of 2-3 persons, the camping charge would be to the tune of Rs. 400/- per day (this is only an indicative figure and may vary depending on your camping plans). 
The usual first night halt is at Tonglu or Tumling. Before that you will pass by Meghma. Note that Meghma is the border area of India and Nepal. Security men from the Shimanta Shurakhya Bahini are posted there. Although the security personnel stay at newly built camps of their own which you can see below, they won't let you camp at Meghma :( 
But you can certainly camp at the next point either at Tonglu (11kms from Manebhanjan) or Tumling (13kms from Manebhanjan). In Tonglu, you can't camp at the lodge premises, but at a nearby place. There is a designated space where you can camp. Ask anybody, and they will show you the area. Tonglu is located at 10,130ft and this is considered high altitude camping. 
Tonglu Camping (see the tiny camps)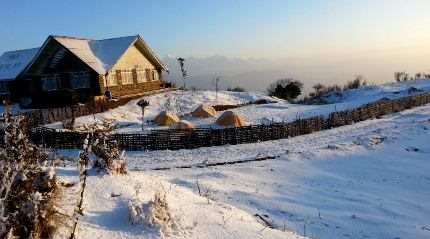 Further up, you can camp at Gairibas (7kms from Tumling) and Kalipokhri (further 6kms from Gairibas). Once you reach Sandakhphu, there are places there for camping as well. Update: Camping is no longer allowed at Gairibas. Neither GTA trekkers hut not the Forest Department will allow camping at Gairibas. 
If you are trekking onward to Phalut, then camp at Molley which is about 14kms from Sandakphu. From here Phalut is about 7kms. There is no good camping place at Phalut. 
While returning from Phalut via Rammam, you can camp at Gorkey (15kms from Phalut), Rammam (9kms from Gorkey) and at Srikhola (12kms from Rammam). You will then of course come down to Rimbik and catch a bus or a shared jeep for Manebhanjan, unless you decide to stay at Rimbik in one of the several private lodges. 
Some points to note
Be careful if you plan to camp on your own in places like Sandakphu where water source is far away. You need to get a porter to get water. If you camp at places like Phalut, you need to cook yourself. You need to carry a stove and kerosene. Otherwise carry enough food. The lodge there is unlikely to offer food to outsiders. Remember that in most places along the way, there are no public eateries. The huts, lodges and hotels mostly cook for their own guests and based on prior orders. However there are few hotels (e.g. hotel Siddhartha in Tumling and Sherpa Chalet at Sandakphu), where you can walk in and place orders at their dining rooms. But go early, otherwise they won't entertain once cooking starts. 
How to do camping in Darjeeling hills?
The best is to go through a trek/camping operator. They will arrange everything for you including the tent, porters and other camping gears. They will also provide a guide who will help you easily find the right camping areas. They also offer camping at Tiger Hill and other areas. Camping can also be combined with River Rafting & Kayaking. 
Related Articles
Visitors' Reviews/Comments
Devangi Choudhury (June 2022) 
Hello sir, I am Devangi. I am planning on trekking the Manebhanjan to Sandakphu route. This is my first time. I just needed to know what are the documents or if any kind of permission is required for the same. Also, i was planning on camping on the way, rather than booking hotels and home stays, so is it allowed? One last query! Is a guide really necessary for this trek or it can be avoided? 
Raj (darjeeling-tourism.com) June 2022 
Hello, 
A guide or a porter is mandatory. Camping can only be done at designated places and there are very few places before Sandakphu where you can camp these days... the forest department personnel have restricted camping at several places. The guide can help you with the camping sites. 
You need to take the Singalila National Park entry permit from Manebhanjan Forest Office. You should carry proper Photo ID proofs including a few photocopies. Suggest you go through the following link in detail to get complete information about this trek:
Sandakphu Trek Info
. 
Gaurav Banerjee (October 2016) 
Hello, We are 6 guys trekking to Phalut during the 2 week of November. Unfortunately, the trekkers hut at Phalut is full around that time. Can we rent tents and sleeping bags from Manebhanjan for camping at Phalut? 
Raj (darjeeling-tourism.com) October 2016 
Hi, you won't find tents and sleeping bags on rent at Manebhanjan.
Some operators
have started renting them in Darjeeling though.