Chitre
Chitre is a small mountain village and is the first place along the way to Sandakphu where trekkers and tourists halt for a while. The road and the trekking trail from
Mane Bhanjang
up to Chitre is considered one of the steepest in the entire stretch to Sandakphu. Chitre is located at an altitude of 8,340ft and about 3kms from Mane Bhanjang. It takes about 1.5 hours of trek from Mane Bhanjang and about 20 minutes by 4-wheel-drive vehicle to reach Chitre. 
It used to be a boulder road starting from Mane Bhanjan up to Chitre and all the way up to Sandakphu. However now the road up to Chitre has been concretized and vehicles can easily come up to this place. But from Chitre onwards, it is still a bumpy boulder road ahead. 
The main attraction in Chitre is the old Buddhist Monastery and the marvelous views of the Kanchenjunga snow peaks. Take some time out, walk through the gate into the monastery premises and take a look inside. Before the main monastery are eight small stupas elevated from the ground. 
Chitre Monastery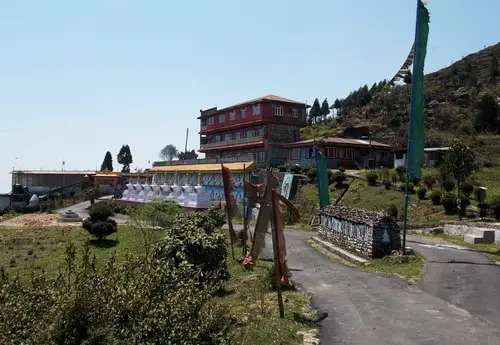 About 5-6 minutes walk from the monastery is a local restaurant on an open field. It's more like a shack. This is where most take their breakfast and also soak in the sun for a while before proceeding onwards. The local restaurant is owned by a lady whose family picture hangs proudly on the wall of the inside dining room. Toast and eggs are really nice and so is the tea. They also serve noodles, momos and even non-veg Chinese dishes. You can also get soft drinks, packaged water here. 
Local restaurant, Chitre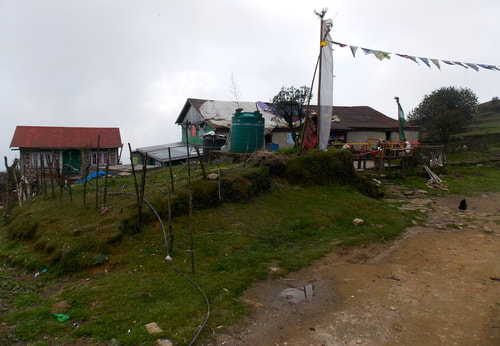 Take a window-side table and you get lovely views. There is outdoor seating as well and also a small tinned toilet outside which you can use even if you a do not eat here. 
Inside Chitre restaurant 
Related Articles
Visitors' Reviews/Comments