Lamaydhura
Lamaydhura is one of the tinniest hamlets on the route to Sandakphu and located at an altitude of 8,792ft between Chitre and Meghma. Only a handful of Tibetan families live here and survive mostly on earnings made by selling snacks out of their shacks and offering low budget beds & food to trekkers. 
The legend says that the name of the place originated from a Lama (a Buddhist monk) who once lived here and applied pitch (known locally as dhura) as a coating to his hut. 
Lamaydhura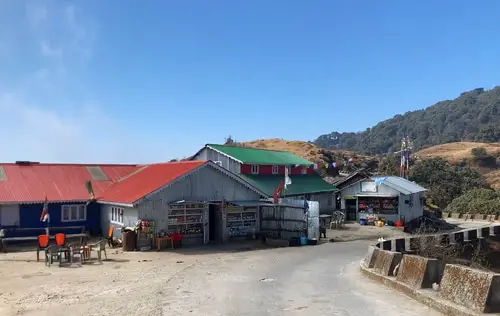 The road or the trek route here passes along the border of India and Nepal. One side of the road (where stalls are located) is part of Nepal while the other side is part of India. In fact the stalls here have boards proudly displaying 'Welcome to Nepal'. 
There is however no restriction or visa requirements. It's a gravel (boulder) road here which continues all the way up. 
A Tibetan lady Chockey runs a small tea stall here. Other than tea, biscuits, packaged snack items & water, she can offer noodles (like Magi), eggs etc just in case you like to have a simple lunch. 
Recently I saw her stall stocked with alcoholic beverages like beer and even rum. 
Chockey at her stall, Lamaydhura 
I wondered who would drink that on a trek route such as this? There are hardly any settlement here and trekkers won't certainly touch that. 
When I saw a large group of young Nepalis entering her stall and ordering for beer, I realized that locals from other places including Manebhanjan actually keep pouring in and keep such beverages in demand. 
Surprisingly, all kinds of alcohol, homemade made beer locally known as Thongba, and Roxy (an intoxicating drink made from flowers called Guras) are abundantly available almost at all places along the route. None of course have any license, so on some days when there is a raid, you may see them all clean. 
Once I asked Chokey how such small hamlets located miles away from civilization actually survive? She mentioned that in most cases one or more family members actually go and settle down at the plains, and earn to support the families who live in the bare mountains here. 
Sherpa Stall, Lamaydhura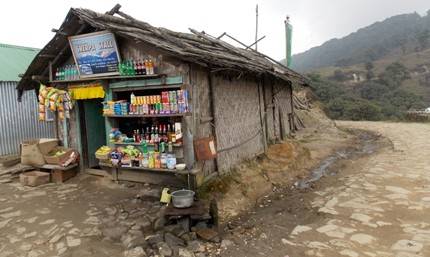 Chockey shack has an extension with three beds for trekkers. A makeshift toilet is located outside. Another trekkers' hut with beds have come up right next to her stall. The beds are available for Rs. 100 to 150 per day. Electricity is available here. But Indian mobile networks won't work. 
Trekkers beds in Chockey's hut, Lamaydhura 
Related Articles
Visitors' Reviews/Comments