Golden Heights Enclave Darjeeling
Category: 2-Star 
This is another nice 2-star hotel located at the corner of Gandhi Road and a lane. Unlike most other hotels in Darjeeling which have their own property, this one is part of a multi-storeyed building which is partly residential. The hotel occupies the top couple of floors and partially on other floors of a 5-storeyed large pink colored residential building. I call it large because you won't see many such tall and large buildings in the hill town. From outside, it doesn't look like a typical hotel. But once you get in, take the elevator and enter the reception area, you come across a very nice and mostly wood finished hotel accommodation which is maintained with personal care. 
And I was quite pleasantly surprised that the residential part does not interfere with the hotel at all, and in fact you won't realize that you are in a residential building. 
The smiling staff and the owner (Chogyal) himself are very friendly and cooperative. The hotel is owned by a Tibetan Family and you will find plenty of Tibetan touch in the furnishing and interiors of the rooms. Chogyal is usually available from 6:30pm onwards. During the day time (on weekdays), he makes rounds at his several clothing shops located at the Chowk Bazaar and Fancy market area. 
Update 2019: There has been a change in ownership. New owners stay in the same building. 
Attic Room - Golden Heights Enclave, Darjeeling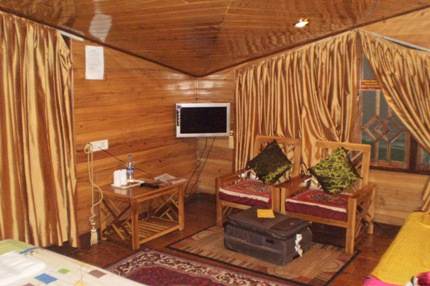 There are several very well appointed rooms in the hotel. The lounge/dining space is on the top floor. Although the building looks large from outside, the hotel accommodation inside is limited (total of 18 rooms only). There are four types of rooms - 5 Standard rooms (double bed), 6 Deluxe rooms (triple bed), 5 family rooms, and 2 Attic rooms on the top (double bed). The attic rooms which have highest tariff are designed for great Kanchenjungha views (room no. 502 and 503). Only few other deluxe rooms (at the end of the corridor) have some views of the valley, but not all. 
Attic Bath - polished wood paneled walls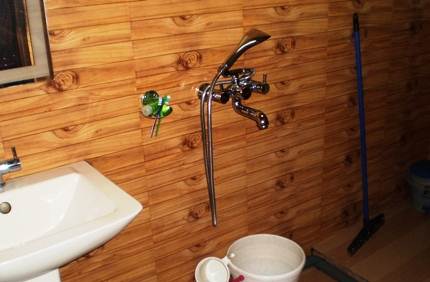 All rooms are clean and well furnished. They have geysers for hot and cold showers in the attached bathrooms. Some rooms have queen beds and some two single (twin beds). This is a relatively new hotel and therefore painting and the artwork on the walls look brand new. Other in-room amenities include cable TV, wi-fi internet service, intercom phone with std/isd facility, wall to wall carpet etc. 
Some rooms like (room #103) have a fireplace. While you can use the fireplace in the winter, the staff would ask you not to use it after 11pm and there is a valid reason for that. The rooms can get quite smoky and since lots of wooden paneling is used on the walls and ceilings, it can be quite risky as well to keep it lighted while asleep. 
Standard Deluxe Room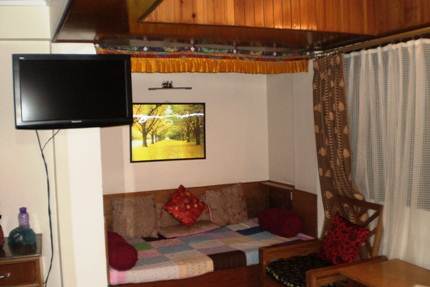 The rooms have wood paneling on ceiling, floors and walls giving nice & warm cottage like feeling. Although the room service is 24 hours, you may find it hard to wake up the waiters after 11pm until early morning. But there is technically room service available even at late hours. Complementary bed tea is offered. 
Bathroom of Standard Deluxe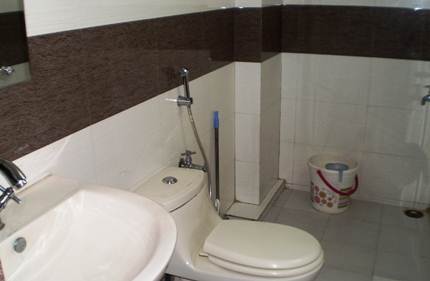 The in-house dining room & lounge at the top floor is excellent. It has sweeping view of the valley and snow peaks (of course on a clear day). It's a great place to spend the evenings and read books. The menu is limited but the food prepared is quite nice. Both non-veg and veg Indian & Chinese dishes are available. You will get breakfast, lunch and dinner. But for dinner, you must order in advance and by 7pm. You are unlikely to get dinner on the fly. 
There is also a charming library section here with a fireplace and complete with wooden finish. You can take books and read (although not a great collection). The hotel has its own travel desk. They organize tours at reasonable prices and they have their own cars with very friendly and knowledgeable driver. They also have laundry service. 
The lovely lounge area, ideal for reading and views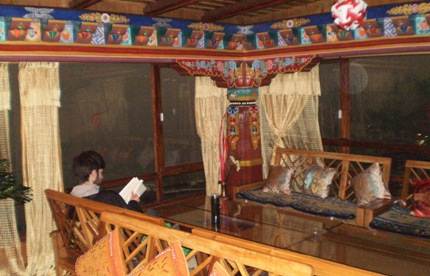 My overall opinion about Golden Heights Enclave of Darjeeling: 
1) I tend to call it a modern service apartment rather than a hotel. Being part of a residential building it feels a bit strange to conceive it as a proper hotel. But the in-room amenities and cleanliness are in line with quality 2/3 star accommodation. The biggest plus point of this hotels is its lovely lounge and dining area with large glass panes through which you get wonderful views of the peaks. 
2) The hotel is located in a very convenient location. Lots of shops and restaurants along Nehru road and Gandhi Road are all within minutes walking distance. It gets full marks when location is concerned. Additionally it offers great Kanchenjunga views from some of its rooms (particularly the Atiic rooms). 
3) The service is excellent and most staff are very friendly and helpful. What I liked most was the smile in the faces of the owner and the staff. 
4) One great advantage of this hotel is its elevator. So no need to climb steep stairs between the floors which is often the case with many hotels of its category. Taxis also come right up to the door front and therefore this hotel is handicap friendly and good for those on wheelchairs or having other physical challenges. However, there is a short flight of stairs from the road level up to the elevator point. 
5) Being located in a congested area, it can be quite noisy at times. The sound proofing of the hotel may not be the best and dog barking on the street at night can be clearly heard from the standard rooms. 
6) Over all a great value for money. I'll come back again. 
Rates provided by booking.com 
Location and Contacts
1/2/3 Gandhi Road, Darjeeling, India - 734101   
Mobile: 098516 74185 (Mr. Sudarshan Chetry, Manager) 
Related Articles
Visitors' Reviews/Comments
Arindam Bhowmik (October 2016) 
Where exactly we have to drop to reach Golden Height Enclave. What should we say to hired vehicle? Do we need to hire porter or local taxi? 
Raj (darjeeling-tourism.com) October 2016 
It's on Gandhi road. Ask the taxi driver to drive up Gandhi road from the traffic police point next to club side stand. It's only half a minute from there. Porters not required, same taxi will drop you. 
Rahul Biswas (March 2016) 
I have stayed at Hotel Golden Heights and liked the hotel a lot. Mr. Chogyal, the owner of the hotel is very friendly. Beside the view of the mountains, my room also gave me a good view of the central part of the Darjeeling town. Beside the amenities listed here, this hotel also has good and secured car parking facility (though chargeable). 
Papiya Gupta (February 2015) 
Hello Raj, I appreciate your website is very informative and one of the best tour guides for Darjeeling I have come across! After going through your detailed information, I have zeroed down to Hotel Golden Harvest Enclave for my stay at Darjeeling in the month of May (1st week) with my aged parents as it is near to Glenarys and Keventers and also has elevator. I want to book the attic suite for 3 of us as it provides the best view of the snow capped mountains, however, while booking I am only getting options for standard rooms/ deluxe rooms etc but not attic rooms. My budget is around 2000/- Moreover, this hotel does not have its own website. So I am a bit confused. Can you please help? Thanks, 
Raj (darjeeling-tourism.com) February 2015 
Hi, it's Golden Heights Enclave and not Harvest as you mentioned. Looks like their website has expired. You can call up the owner Chogyal directly and book through bank transfer. He offers 20% discount on Darjeeling Tourism Card. You will find his numbers in my site.