White Water Rafting on River Teesta
Darjeeling & Sikkim
If you are visiting Darjeeling or Sikkim, one of the popular adventure activities that you can undertake along with your family members is white water river rafting. 
River Teesta and Rangeet gush down the Himalayan mountains and create foaming white water and stretches with varying rapids that are excellent for rafting for both beginners and seasoned rafters. 
Confluence of River Rangeet and Teesta (Triveni)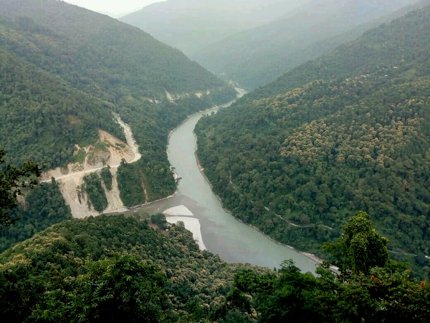 River Teesta originates from Tso Lhamo lake in North Sikkim at an altitude of over 5,330 meters, while Rangeet originates from a glacier of Mount Kabru in the lower Kanchenjunga region. Teesta eventually forms the boundary between Darjeeling district (of West Bengal) and Sikkim. 
Both Teesta and Rangeet meet at a place close to Teesta Bazar near the plains. This meeting point is known as Triveni. Check out
Teesta & Rangeet Confluence
to know more about the meeting point. 
While rafting also takes place at Triveni, the most popular place for rafting is on river Teesta is Melli. 
If you look at the first picture on this page, you will see a sandy delta at the corner of the confluence. This is from where the rafting is launched in Triveni. This sandy beach is also a popular campsite for the rafters. 
Many tourists actually combine rafting with camping. The valley and the landscape around the rivers create an amazing scene. 
From the meeting point at Triveni, Teesta flows down south and meets the plains at Sivoke where the Coronation Bridge connects to North Bengal such as Dooars. It is estimated that around 50 rafts are operated on Teesta river during the high season. 
As you raft down Teesta, the mesmerizing view of the dense forests along the slope of the mountains, the vegetation, the many different birds, fishes on the water, combined with the excitement of rafting through the torrents and foaming waters create an unforgettable experience. 
There are small villages on both sides of the river. You can therefore see many cultivated lands. Overall an awesome feeling. 
White Water Rafting on Teesta, Darjeeling 
White Water Rafting in Teesta has been introduced by erstwhile DGHC (Darjeeling Gorkha Hill Council, now GTA) in 1991 and has been consistently gaining popularity since then. It's fun and exciting. 
In rafting, there are 6 grades or levels of difficulty depending on the rapids or the current in the river. Grade-1 (with flat calm water) is the easiest and Grade-6 is most difficult.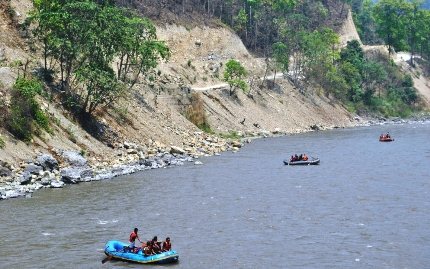 Due to series of rapids and varying intensity of flow, most part of Teesta where rafting is done has been graded in a scale of 2 to 4. Grade-2 would have small roller coaster rapids but easy to negotiate. 
Grade-3 requires a trained guide & some technical ability, while Grade-4 would have some serious and large rapids, and should be attempted only by seasoned rafters. 
The Rangeet river on the other hand has more turbulence compared to Teesta. Its multi dimensional rapids can be very challenging at times. 
Both these rivers are fed by melting snow in the summer months and rain water in the monsoon. They are perennial rivers. In monsoon the rivers swell. 
Camping on Teesta bank 

While many tourists and beginners go down to Teesta Bazaar, take instructions from the guides and set out for fun white water rafting, it helps if one has some prior experience of river rafting, kayaking or boating. However there are options and river courses for both swimmers and non-swimmers.  
Rafting Courses in Teesta
A popular place in Darjeeling where most tourists go for white water rafting is Teesta Bazaar. It takes about 1.5 hours by taxi or shared jeep to reach Teesta Bazaar from Darjeeling town, 1 hour 45 minutes from NJP along Sevoke road (NH-10). 
From Bagdogra airport it would take 2 hours 15 minutes. Another popular place for rafting is Melli which is located further up along NH-10 (and about 35 minutes from Teesta Bazaar by car). 
However, the Teesta rafting route actually starts at Tar Khola (further up from Melli along NH-10). The rafting course from Tar Khola comes down all the way up to Kalijhora via Melli, Triveni and Teesta Bazaar. Here are the most popular courses (i.e. river sections) on Teesta for rafting: 
For non-swimmers: 
1) Melli to 29th Mile (1.5 hours) 
2) Melli to Kalijhora (3 hours) 
For swimmers only: 
1) Tarkhola to Melli (2 hours) 
2) Tarkhola to 29 Mile (3 hours) 
3) Starts at 7th Mile and ends at Labarbote near Sikkim Bengal border (4-5 kms). 
There are longer sections also on river Teesta. For example Bordang to 29th Mile takes about 4.5 hours and involves grade 2-4 rapids. 
Cost of rafting
(Fare updated: March 2022) 
At Melli, the rafting activity usually takes place from 8am till 3pm. From Melli, there are two variants of the rafting... 1.5 hours (5kms from Melli to 29th Mile) and 3 hours (7kms from Melli to Kalijhora). 
The average cost for 5kms rafting is Rs. 800 per person while the average cost for 7km course is Rs. 1,200 per person. There will be maximum 4 to 5 rapids along the course. 
The rafting boat has a total capacity of 6 persons. There will be an experienced guide on the rafting boat who is also a swimmer. Safety gears including life jackets are included in the cost. 
How to do rafting and camping on Teesta
If you want to go down from Darjeeling or Sikkim, do rafting and get back, then you can get complete packages from several operators. 
They offer packages including transport, camping/overnight stay (if required), all equipment including life jackets, food, experienced guide, lessons etc. 
Another way is to go down to Teesta Bazar from Darjeeling or Gangtok, or alternatively go directly from NJP/Bagdogra on your way to Darjeeling / Sikkim. Teesta Bazar is the main hub for rafting. 
Here you will find the River Rafting Center of GTA Tourism. They organize the rafting on Teesta river (Phone: 03552 - 68261 / 68297). 
The company Action Adventure Pvt Ltd and Rescue Group has an outlet at Teesta Bazar and they too organize white water rafting in Teesta (Phone: 03552 - 68236). 
Usually you need to be in a group of minimum four... otherwise join another group. 
You can also directly go to Melli along NH-10 and there are several operators who have their outlets along the roadside... talk to them and finalize the rafting activity. 
Update: 
Damns have been constructed on river Teesta which control the water flow. As a result the rapids have reduced significantly. So the timing for rafting must match with opening and closing time of the stop gates. 
Best time for rafting
You should avoid the monsoon (July to September) when rivers swell due to rain fed water and the rapids can be very high. All other months are good for rafting. The best time for rafting on Teesta or Rangeet is between December to June. 
But note that during winter, water can be ice cold and you should wear wetsuits to counter the cold water. 
Some important points to note
One has to sign 'Assumption of Risk and Release' bond before undertaking the rafting trip. 
Foreign tourists require to carry their passport which needs to be shown while signing the bond and also while crossing the Teesta Bridge. 
You should wear shorts and carry extra pair of shoes/sneakers, sun screen lotion, water bottle, an additional set of dry clothes etc. 
If you have heart problems, epilepsy etc, it is advisable not to undertake the trip. 
You must not drink alcohol at least 6 hours before the trip. 
You must use life jackets provided by the operator and follow all safety rules. 
Hotels at Teesta Bazaar
One of the good hotels at Teesta Bazaar is Chitrey Wayside Inn which is located near river Teesta (Phone: +91 3552-268261). It's run by the state government and has a bar & restaurant. 
The balcony overlooks the forested bank of river Teesta. The rooms are spacious and clean. The attached bathrooms have hot & cold water. 
Related Articles
Visitors' Reviews/Comments
Jasmine Reddy (June 2023) 
River rafting... after entering Darjeeling from Sikkim, it was really dangerous ... When we reached they gave us instructions but didn't follow any safety measures they should, like giving something for holding while siting in raft of any kind of belt , just life jackets and those instructions. 
We fell in river and that was so dangerous... I suggest not to go for river rafting there. And even more they are not even bothered, they literally told that this is normal, on a day to day basis, at least 2-3 incidents occur... (bro, you should pay attention towards it). 
And still took total 6000/- Rs , they were so shameless, my god. 
Biswajit Paul Choudhury (March 2017) 
I was in Melli in November 2016. Still they operate river rafting... but only with the lower rapids. They charge Rs. 3500/- for 5 persons in a boat and two experts will be with you in that boat 
Suman D Choudhury (June 2016) 
Hi Raj, Visitng Darjeeling in October 2016. Is rafting is still possible in Teesta for a non- swimmer, amateur in rafting while on the way from NJP to Darjeeling on the same day? 
Raj (darjeeling-tourism.com) June 2016 
Rapids are low. But it can be done based on timings of the damn gates that control the water flow. So you need to go down to Teesta Bazaar and check with a local operator. It can't be coordinated from Darjeeling. 
Dr Kallol Banerjee (October 2015) 
Rafting has stopped after the Dam was built and there is no Rapids or White Water. There are no approved rafters. Chitrey Way Side Inn is under renovation.