Paragliding in Darjeeling
This is the closest you can get to flying like a bird. And imagine you are flying with the Himalayan mountains in the backdrop. 
As you look below, you will see the rows of local houses like tiny dots on the mountain landscapes, and if look along the horizon, you will get marvelous views of Kanchenjunga snow peaks and even Everest, and all that from the sky. Sounds interesting? Then take a paragliding flight in Darjeeling. 
Darjeeling has joined the coveted network of places in India that offer paragliding including Gangtok in Sikkim, Himachal, Uttaranchal, Maharastra etc. Usually paragliding is done on a clear day so that you get a clear view as you glide in the sky and come back down to the earth satisfied. On a clear day, the operators launch the paragliding trips several times through out the day. 
Paragliding in Darjeeling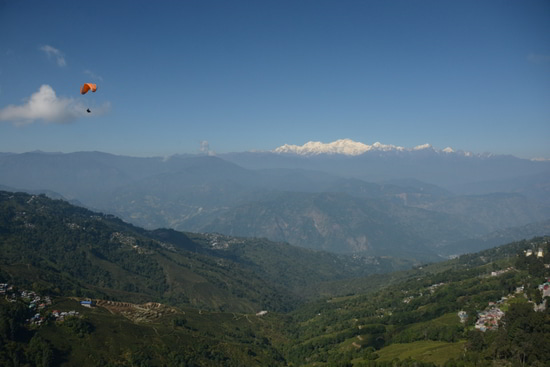 Photo: Offroad Adventure 
You can do it on your own if you have the experience and technical capability to do so. Otherwise a guide will join you. This is called tandem paragliding where you and the guide will be secured in separate safety harnesses but the guide will control the flight. At the time of launching, all you have to do is to run for few steps and as the guide calls out "Go!", you jump into the sky from the edge of a flat area of the cliff. And then, you are in paradise!! 
In Darjeeling, a popular paragliding take off point is near the St. Paul's School at Jalapahar area which is located at a much higher altitude than the Mall. The operator will transport you to the launching area. One can also walk up to the place from the Mall (takes about 30 minutes uphill walk). 
Sometimes, paragliding is also done at Jamuney, a picturesque place which is about 30minute drive from Darjeeling. The take off takes place at Tukvar tea garden and landing at Jamuney ground. 
The entire flight takes about 15 minutes although may extend to maximum of about 30 minutes depending on wind & weather conditions. While paragliding from Jalapahar area in Darjeeling, you will pass above the Chowrasta Mall, and one thing for sure, almost everybody at the Mall will be looking at you taking this amazing flight and wonder if they could also do it. Wave your hands and fly on.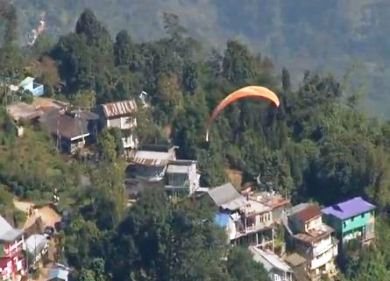 The landing takes place at the Lebong Ground located at the lower levels. From one side of the Mall you can see the Lebong Ground far below. It's a flat land area (a field) and is about 7kms from the town center. The guide who sits just behind you all through the flight, will ensure that the landing is smooth. While touching down, you will again need to run for few steps on the ground. After landing, the operator will transport you back to the town center. 
Paragliding is also offered in Kalimpong which is about 2 hours from Darjeeling. In Kalimpong the common take off point is from the Dello Hills. There are two types of flights offered - Medium (for about 15 minutes) and High (for about 30 minutes). Although the take off point is same for both, the landing points are different. For Medium flight the landing point is at Homes Garden near the school Dr. Graham's Home, while for High flight the landing point is at Relli River ground further down. There are couple of operators there. Ask the taxi driver and he will take you. 
Indicative rates
(Fare updated March 2022) 
The per person rate for 12-15 minutes flight (Medium Flight) is Rs. 3,200/- . 
The per person rate for 20-25 minutes flight (Long Flight) is Rs. 5,700/- . 
Don't go for it if you have Asthma or heart disorders, or even fear of height. 
Best time for paragliding in Darjeeling
Due to wind conditions, paragliding in Darjeeling is done between October to April. However during the peak winter season (January to February), paragliding is usually avoided due to excessive chill. During season when the weather is clear, an individual guide would typically make 8 to 9 flights a day. An operator would typically operate around 15 paragliding flights per day in Darjeeling. 
Learning to paraglide
In Darjeeling, the operators also offer lessons for paragliding so that you can paraglide on your own rather than with a guide and be an independent bird :) 
It's not difficult to learn paragliding. Anybody who is physically fit can do it. Introductory, novice and intermediate courses are offered by expert guides that span from 3 to 5 days. 
How to paraglide in Darjeeling?
You will first need to book a paragliding flight with an operator in Darjeeling. And this should be done in advance, although they will also entertain you for walk-in flights if guides and resources are available. The operator will arrange for a transport to transfer you to the take off point and then bring you from the landing point back to their office (or even to your hotel if that's nearby). 
Update September, 2021: Presently paragliding is taking place in Kalimpong and not in Darjeeling. The Darjeeling based operators can arrange for paragliding in Kalimpong including car transfers. You can also go down to Kalimpong and book a paragliding flight with one of the several operators there whose stalls are lined up at Delo Hills. The take off point in Kalimpong is at Delo Hills (near Science City). The landing for medium flight is at Dr. Graham Homes School field (which is about 5kms away) while the landing for long flight is at Relli (about 10kms away). 
While there are several operators who take bookings for paragliding in Darjeeling, Offroad Adventure is one of the first to introduce this activity in Darjeeling and remains as the main operator for paragliding. Visit
Tour Operators
to get operator information including offerings and contacts. 
Related Articles
Visitors' Reviews/Comments
Sruti Dey (March 2022) 
Can I go for paragliding in May month in Darjeeling? 
Raj (darjeeling-tourism.com) March 2022 
Paragliding in Darjeeling is suspended at present. However, you can do it in Kalimpong and the operators in Darjeeling can arrange for the transfers between Darjeeling and Kalimpong. You should get in touch with an operator (like 'Offroad Adventure' in Darjeeling) to finalize the details. You will find their details under
Darjeeling operators
. 
Sourish Murmu (September 2021) 
Hi, I am becoming a fan of your website. So much handy info. I just have one query. We are planning to go to Darjeeling next month. Is paragliding available ? I heard that it was closed last year. Thanks in advance. 
Raj (darjeeling-tourism.com) September 2021 
Hi, Paragliding has still not resumed in Darjeeling. You can do it in Kalimpong though and the operators in Darjeeling can organize it in Kalimpong including transfers to and fro. 
Roshan Jaiswal (March 2020) 
Hi, We have planned to visit Darjeeling & also for paragliding... but I want to know, do they provide any video shooting of paragliding. 
Raj (darjeeling-tourism.com) March 2020 
Hi, they can give you a selfie stick which you can hold on to and shoot your own video while paragliding. 
Mrinalini (January 2017) 
Dear, I hope this email finds you well. I am a permanent resident of Darjeeling currently working in Dubai, when I was in Darjeeling I always wanted to go for paragliding due to some reason I will be travelling in March so can I go for paragliding that time????? and the pictures will also be provided that time? Look forward to hearing from you. 
Raj (darjeeling-tourism.com) January 2017 
There are currently some restrictions on paragliding imposed by Darjeeling authorities. However the company Offroad Adventure is still authorized to operate paragliding in Darjeeling and few others (five operators) in Kalimpong. And the season for paragliding in Darjeeling lasts till April. So it should be possible. 
Murtaza (November 2016) 
Kindly advise which is  better place for paragliding, Gangtok or Kalimpong? Thanking you once again for your wonderful service. Best Regards, 
Raj (darjeeling-tourism.com) November 2016 
You can do paragliding in Darjeeling. Contact offroad adventures. They use couple of sites to take off in Darjeeling. Talk to them and choose the one you like. Gangtok & Kalimpong also have great sites for Paragliding. 
Dr Arjun Dasgupta (May 2015) 
Hi I am a healthy and fit 100kg guy. Can I do paragliding? 
Raj (darjeeling-tourism.com) May 2015 
Hi, you can do it at your own risk. Usually they won't stop you. In other places like in Kalimpong, the paragliding weight limit is 120kg.