Hot Air Balloon in Darjeeling
Well if you are not that adventurous to paraglide and fly like a bird, then there is another excellent option for you to be air borne and in a very safe and easy way. Hop into the Hot Air Balloon!! Surprised? Well Darjeeling now has one of the only three hot air balloons in the whole of India and imagine you can fly in one of them. 
They pump in hot air through a gas burner fitted in the balloon. All what you have to do is to just sit on the carrier basket and you will be slowly lifted 300-ft above the ground. 
The view from that altitude in the air is awesome and is no less than what paragliding offers. The only difference here is that you will be somewhat stationery in the air because the balloon is after all tied to the ground with long ropes so that it doesn't wander away. 
But sitting under the canopy of a large, vibrant and colorful parachute and soaking in the panoramic views of the mountains and landscapes is an unforgettable experience. And you can have that rare experience now in Darjeeling.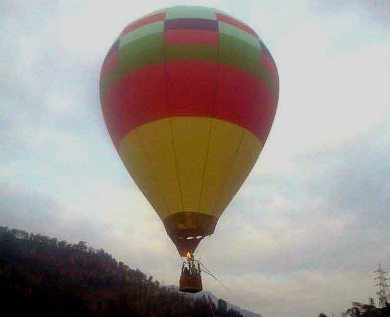 Photo: Offroad Adventure 
The rise and the descent are very slow and gradual. There will be a guide or pilot accompanying you who will control the burner and ensure that adequate hot air always remains in the balloon for it to have the right buoyancy at all times. The men at the ground always hold on to the ropes and when its time to descend, gradually pull the parachute down to its place of launch.  
Best time to ride Hot Air Balloon in Darjeeling
A good time to fly in hot air balloon in Darjeeling is between October to May. This is when the sky remains clear and visibility is great. You should avoid hot air balloon during the monsoon. 
How to fly in hot air balloon in Darjeeling?
Update November 2015: Hot Air Balloon is no longer operated in Darjeeling. 
Hot Air Balloon in Darjeeling was introduced in 2011. The operator requires minimum of 15 persons to fly the balloon. The rate is Rs. 1500/- per person. If you have a smaller group or like to fly in exclusivity, you will need to pay up a minimum charge (currently Rs. 15,000/-). 
The usual timing of the flight is between 4pm to 6pm. One of the venues where the Hot Air Balloon operates in Darjeeling area is Jamuni (about 45 minutes from Darjeeling town). 
Related Articles
Visitors' Reviews/Comments
Yukti Ajani (September 2015) 
Dear Sir, I am very impressed by the information provided by you on this site. I am planning to visit Darjeeling and Gangtok from 30th Sept to 6th October this year. I was interested to know which of the tour agencies provide Hot Air Balloon and will it be available at this time of the year. Also, out of personal experience, do let me know if it is safe enough because I am sure it will be worth doing. Thank you again for the help. 
Raj (darjeeling-tourism.com) September 2015 
Although there is no safety issue, presently nobody is offering Hot Air Balloon rides due to lack of demand.