Roy Villa
This large four storeyed building located on Lebong Cart Road in Darjeeling did not have much significance until Sister Nivedita (the Irish lady who became a fond disciple of Swami Vivekananda and made India her home) started living here occasionally since May 1903. She breathed her last here in October 1911. 
The building is now under Ramkrishna Mission and renamed as Ramakrishna Mission Nivedita Educational and Cultural Centre. Originally this building was owned by Dwarakanath Roy, the brother of P K Roy who was the first Principal of Presidency College of Kolkata. It was after him the building was so named.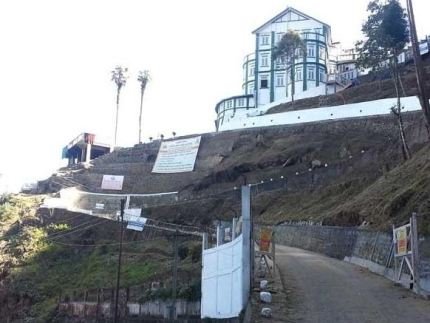 Photo: Department of Tourism, West Bengal 
From Darjeeling Chowk Bazaar area when you drive along Lebong Cart road towards Lebong Market, after about 3kms you will see this striking building on the right and perched on a cliff high above. A narrow uphill driveway leads to the main entrance of this white colored building with dark green borders. You can't miss it. 
When Sister Nivedita's health started deteriorating in early 1900s, Dwarakanath Roy invited her to stay here. She started liking Darjeeling as well as her stay in this house. Although she did not live here continuously, she kept coming back. During her seven visits to Darjeeling, she stayed at Roy Villa for 242 days. 
Despite deteriorating health, Sister Nivedita had planned a trip to Sandakphu from Roy Villa in September 1911. It had to be postponed to October due to her illness, but still could not eventually materialize.  
Few days later, she passed away. She breathed her last at Roy Villa on 13th October 1911. Her last words were "The boat is sinking but I can yet see the sunrise". Swami Vivekananda had also visited and stayed at Roy Villa several times (97 days in three visits between 1897 and 1901). 
Following Sister Nivedita's death in October 1911, Roy Villa remained abandoned and then was used by Himalayan Mountaineering Institute for a while when it first started its operation in 1954 before they moved to their current location. The dilapidated building was finally handed over to Ramakrishna Mission on July 10, 2013. 
The building has been renovated and painted while retaining the hallmark Victorian facade and the captivating structures of the villa, many artifacts have also been restored. Other than her own large portrait, Sister Nivedita's room retains her original writing desk & chair, lamp, type-writer, wall clock and many other memorabilia. 
Ramkrishna Mission now runs several social projects from here including free medical camps, a program for upliftment of local children and several others. 
A note on Sister Nivedita
Originally known as Margaret Elizabeth Noble, she was born on 28th October 1867 in Ireland. She first met Swami Vivekananda in London in the year 1895. Three years later, she came down to Kolkata to become a disciple of Swamiji. Swami Vivekananda gave her name Sister Nivedita meaning 'Dedicated to God'. 
She actively worked towards promoting Indian culture, heritage, art and science and also for India's freedom movement. In November 1898, she opened Sister Nivedita Girls School in Kolkata. Before her death in Roy Villa, she had donated all her properties to Ramakrishna Mission except for this school. During her life, she worked with many eminent persons including Rabindranath Tagore and Jagadish Chandra Bose. 
Location and Contact Info
'Roy Villa', Lebong Cart Road, Near Tenzing Rock, Darjeeling - 734104 
(About 4.5kms from Darjeeling railway station, 3kms from both Chowk Bazaar and Darjeeling Town Center). You can take a taxi from the stand. Shared taxis are also available from Chowk Bazaar. 
Phone: +91 9831769737; 9830289328; 9433320004; 
Related Articles
Visitors' Reviews/Comments