Visit & Explore
Rumtek Monastery Near Gangtok
Rumtek Monastery is located in a place called Rumtek which is 23kms away from Gangtok town and in the opposite mountain. So if you visit Rumtek, there are vantage points from where you get amazing sights of the whole Gangtok town. From the entry gate located below a pathway, it requires a steep uphill walk (of about 500 meters) to reach up to the main monastery building. The entire monastery complex is known as Rumtek Dharma Chakra Centre. 
Although there is an old Rumtek Monastery, the present one was built under the direction of 16th Karmapa (Rangjung Rigpe Dorje) in 1967 and it required 4 years of construction work. Karmapa is the head of Kagyupa sect or school of Buddhism. So the Rumtek monastery belongs to the Kagyupa sect of Buddhists which originated in 12th century in Tibet. 
Rumtek Monastery Gangtok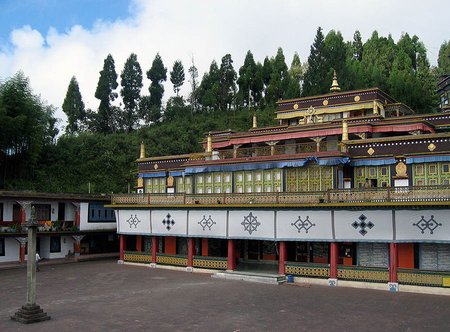 Photo: Wikimedia Commons 
Rumtek Monastery is the largest in Sikkim and the architecture of the monastery is one of the finest in the world. It is perched at an altitude of 5,500ft and closely resembles the original one in Tsurphu, Tibet because after all, the 16th Karmapa had his original seat in Tsurphu Monastery in Tibet. 
The 16th Karmapa left Tibet in 1959 with a group of 150 monks, lamas and followers after the Chinese invaded and occupied Tibet, and seemingly posed threats to Buddhist religious activities. They carried invaluable Buddhist relics and other religious articles that were gathered over 700 years. They undertook a tedious journey to get to India via Bhutan, and when they reached the border, they received an invitation from the King of Sikkim (Chogyal Tashi Namgyal) to make his new seat at Rumtek. The Karmapa accepted the request and made his main seat at Rumtek. 
There is an original or Old Rumtek Monastery, located a short distance away, that was built in mid-18th century under the direction of the 9th Karmapa. But when the 16th Karmapa arrived, it was in a state of disrepair and he decided to build a new one. 
Rumtek Monastery Gangtok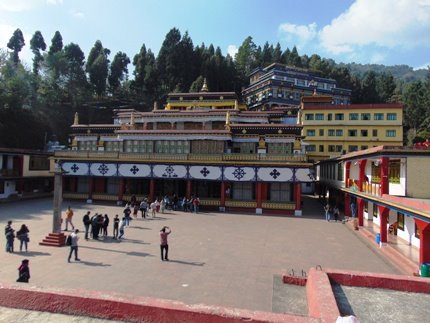 Photo: Devraj Bhattacharya 
The main monastery is a 3-storeyed building with a golden sculpture on top called 'Ghanzira'. It houses some of the rarest Buddhist religious artwork of the world such as invaluable work of wall murals, thankas (intricate scroll paintings), 1001 miniature golden models of Buddha, and more. 
It is also a world renowned center for Kagyu teachings. The legend says that after the first Karmapa ended his long years of meditation in a cave, he was greeted by 1000 fairies each one of who gave him a strand of hair. All those hairs were woven into a hat. It is said that the hat is now in custody of Rumtek Monastery. But the hat has to be kept in a box or held by hand, otherwise it would fly off :) 
The Ground Floor of the main monastery building has a large prayer hall. Cameras are not allowed inside. At the entrance are life-size images of the 4 guardian kings of the universe protecting the four cardinal directions. The hall has large hand painted and intricate wall murals, thangkas, silk paintings and statues. There are huge floor-to-ceiling red columns and ancient thangkas hanging from them. 
At the back wall, there is a 10-foot statue of Shakyamuni Buddha. The holy throne of the Gyalwa Karmapa is placed in front of the statue. On either side of the hall you will find complete sets of Buddhist religious books Kangyur and Tanjur. 
The First Floor is where the 16th Karmapa lived. You can see the items of his daily use. This is where the hat with hair strands is kept in a box. The Top Floor has a terrace and a small stupa.  
There is a large stone courtyard in front of the main monastery building. The courtyard has few other buildings surrounding it where the monks live. 
Right at the backside of the main monastery, a stairway leads to the Nalanda Institute for Higher Buddhist Studies. This institute too was initiated by the 16th Karmapa. It was inaugurated in 1981. 
Nalanda Institute, Rumtek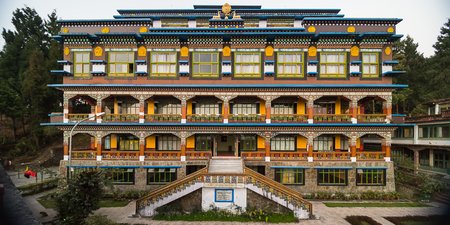 Photo: Rumtek.org 
The Higher Buddhist studies here are attended by the tulkus and monks to combine intellectual understandings from the lessons with practice and meditation in order to realize full spiritual potential. You will find a huge painting of Lord Buddha here. And just in front of the institute building, there is a lawn from where you get a lovely view of Gangtok township in the opposite hill. 
Just opposite to the Nalanda Institute is a building (the original building of Nalanda Institute) where in a shrine room you will find the Golden Stupa. After the 16th Karmapa passed away in 1981, work on this Golden Stupa began in November 1982 in order to store his holy remains and precious relics. The Golden Stupa is made of pure gold and adorned with rare turquoise and corals. No cameras are allowed here for obvious reasons and it is heavily guarded. 
Golden Stupa, Rumtek Monastery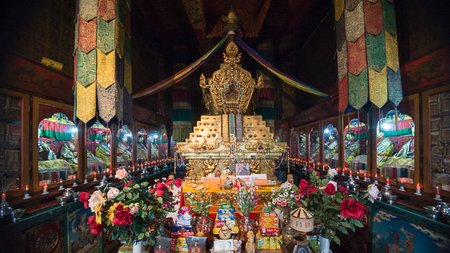 Photo: Rumtek.org 
The monastery also houses other priceless items like the Black Hat (known as the Vajra Mukut) which is studded with gold, diamond, ruby and many other precious stones. It was presented to the 5th Karmapa in 15th century by the then emperor of China. No wonder you will find so many sentries at Rumtek Monastery right from its entrance and all over. 
Few meters from the Nalanda Institute is a bird aviary that has many beautiful birds. The 16th Karmapa it seems was very fond of birds. Another half a kilometer uphill walk will lead to the hermitage point of the monks where they meditate for up to 3 years in complete seclusion. 
Note that the Old Rumtek Monastery which was originally built in 1730 by the 9th Karmapa Wangchuk Dorje, is actually located about 15 minutes downhill from the main building. Down below the pathway and outside the gate, the road to the left leads to the Old Rumtek Monastery. 
Old Rumtel Monastery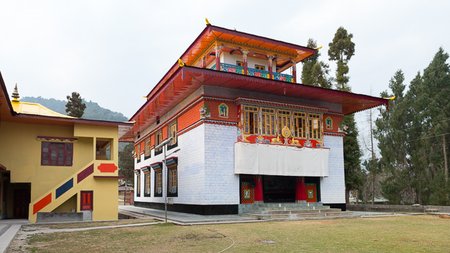 Photo: Rumtek.org 
It got ravaged by fire and had to be rebuilt. The main dances of Rumtek known as Tse-Chu Chaams are held in the Old Rumtek Monastery on 10th day of the 5th month of Buddhist calendar which usually falls in June. Kagyat dances are also held here on 28th and 29th day of the 10th month of Buddhist Calendar which usually falls in December. Losar Celebrations (Tibetan New Year) take place during February - March. So these are great times to visit the monastery. 
View of Gangtok Township from Rumtek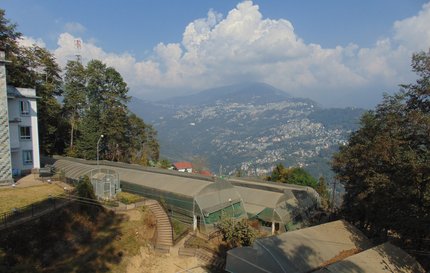 Admission, Open Hours & Amenities
Admission fee is Rs. 10/- per person. Rumtek Monastery is open from 9am to 6pm daily. There is a pay & use toilet for both ladies & gents outside the main entrance and few steps down. 
Taxis will drop you below from where there is a fairly long and steep uphill walk to reach the main entrance of the monastery. As you walk along the pathway, you will find a few stalls selling souvenir & gift items, plus tea and snacks like veg momos, samosas, packaged potato chips etc. Most importantly, they all have benches where you can sit and rest your legs as you sip a cup of tea. 
Stalls at Rumtek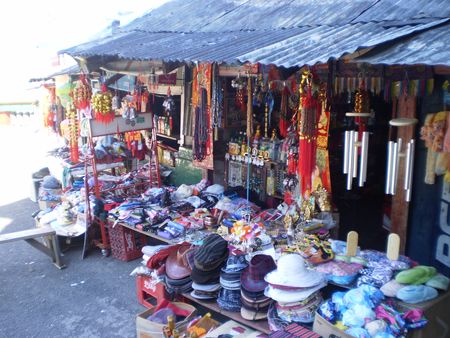 Just before the stairway outside the main monastery building that leads to Nalanda Institute and Golden Stupa, there is a small cafe (called Nalanda Cafe) on the right with 3-4 tables serving veg snacks and tea. I tried some noodles (quite rubbery though) and tea. You will also get veg momos, bread butter etc at reasonable prices. It's got nice views from couple of window-side tables. There are also a few shops and basic eateries below where the taxis drop you. 
How to reach Rumtek
While you can always take a private taxi from Gantok to reach Rumtek Manastery, there is a more economical option of taking a shared vehicle (10am to 2pm) from Gangtok Taxi Jeep Service Stand located near the hotel Hungry Jack on NH10. There is also bus service to Rumtek. 
Accommodation in Rumtek
If you like to stay at Rumtek close to the Monastery, there are a few options: 
Sungay Guest House is one of the best budget options and the Rumtek Monastery is 5 minute walk up the road. It overlooks the valley and faces the Gangtok township at the opposite mountain, so you will get great views from here. This is a well maintained Tibetan guest house run by a Tibetan family who stay in the adjoining house. Pema is the host and is very friendly. 
The guest house has several rooms spread across three floors. Rooms have wooden flooring, better ones have balconies, bathrooms have hot & cold water. Rooms and the beds are clean. They make great homemade food as well. Food is served in the dining room. Try out the lemon tea in the evenings... it's excellent and will keep you warm. In the morning, you will hear the chirping of the birds, and in the evening the sounds of the cricket. Overall a nice, clean and quiet place to stay. 
Zharna Waterfall Resort is a low budget resort located in Rumtek area. They have rooms for two and four with option of meal plans and also dormitory. There are cottages for families. Transport arranged for visits to Rumtek monastery (free along with MAP plans). 
Contact : +91-9434117180; 7550991690 
Shambala Mountain Resort is a mid-range accommodation. Amenities include a library, bar & restaurant, gift shop, laundry, doctor on call service etc (Phone: 03592 252240, 252243).  
Another one is
Martam Village Resort
, a mid-range resort with huts as in villages. Amenities include Indian Restaurant, Bar, room service etc (Phone: 03592 203314, Email:
[email protected]
). 
Related Articles
Visitors' Reviews/Comments
Share your experience or stories.