Ban Jhakri Waterfall
This 100-foot waterfall is located in a landscaped park with forested area at about 7kms from Gangtok town and close to Ranka Monastery. There are paved pathways and footbridge around the park which spreads across some 2-acres of land area with many trees and flowering plants in it. It's a popular picnic spot. 
There is also a manmade lake here with a dragon at the center. You can do paddle boating at the lake. The entire park is themed on Shaman culture and you can see Sikkimese architecture visible all across the park. There are gazebos at several points where you can relax while soaking in the view of the flowing stream that forms at the bottom of the waterfall and the greenery all around. 
Ban Jhakri Waterfall, Gangtok 
Ban Jhakri means 'Jungle Priest' or in some definition 'Jungle Magician'. The Nepali folklore says that the first Jhakri or Shaman acquired the power of mastering the evil spirits from the gods. However he required to identify the right boys and teach the technique secretly in his forest cave. 
And after the training the boys themselves became Jhakris being able to cure anybody affected by evil spirits. While the male Jhakris always protected human beings, the folklore says that their wives (the Jhakrinis) were evil spirits themselves and would eat up human beings. 
While there are several figurines here that reflect the Jhakri mythology, the one which I like the most is the figure of the Jhakri himself. We met with a charming young lady here who is a guide of the park area. She has come to work here from Darjeeling. If free, she will take you around the park, to the waterfall and explain even the myths about the park. She also volunteers to take your pictures. 
Gazebo & Model of Jhakri, Ban Jhakri Waterfall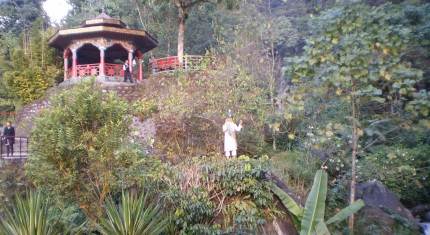 This park is also known as the Energy Park because of its use of non conventional energy like solar. There are slides and swings in the park that generate power when used by the children. Another great thing that I liked about the park is a great viewing platform right in the middle of the jungle. A short spiral stairway leads up to the platform. On top there is a bench where you can sit and just gaze at the amazing forest ambience all around and hear the birds twitting. 
Admission & How to reach
There is an admission fee of Rs. 50/- per person + an extra charge for camera. 
Car parking fee is extra. 
The ticket counter is at the main gate and then there is a large car park. On one side of the car park is a cafe and a gift shop. Road to Ban Jhakri Waterfall is not in a good condition. You should take a larger vehicle like a Scorpio, Bolero etc and combine the visit with the nearby Ranka Monastery. 
Related Articles
Visitors' Reviews/Comments
Share your experience.