Hanuman Tok
A Grand Temple & View Point in Gangtok
Tok means a temple, so it's a temple of Lord Hanuman. But it's actually far more than that and known for its wonderful serene ambience and a viewing area that offers spectacular view of Kanchenjunga range. If you ask me which point in the whole of Gangtok area offers the best views of Kanchenjunga, I won't hesitate to choose Hanuman Tok. 
It's located at an altitude of 7,200 ft and on a road that branches off from the Gantok-Nathula Highway (just before 3rd Mile Check Post). It's located at a distance of 11kms from Gangtok town. 
From the parking lot when you start climbing the paved stairs of the temple, there are benches to rest and soak in the greenery around. However the climb is relatively easy and doable for all. Prayer bells hang from above. Ring a bell and it makes a resonating sound. 
Prayer chants and sometimes religious music are played through the fitted audio speakers. It's a divine and heavenly feeling when you reach up to the main Hanuman temple and offer your prayers. 
It is believed by the locals that Lord Hanuman took rest for a moment at this place when he was on his way to Lanka from the Himalayas. He was carrying sanjeevani herbs to cure Lakshman. The temple is popularly known as wish fulfilling temple. 
As the legend says, locals used to worship a stone here for centuries. In 1950s a political officer named Appaji Pant had a divine dream at this place and after that the idol of Lord Hanuman had been erected here. Since then the temple is locally known as the Hanuma Tok. 
Hanuman Tok, Gangtok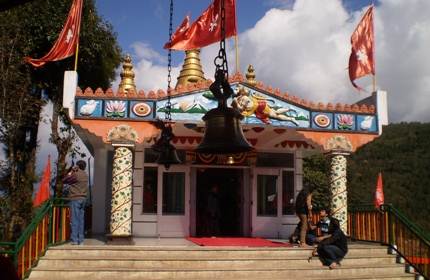 In 1968 this entire area was handed over to Indian Army. It is now maintained and preserved by the Units of 17 Mountain Division of the Army. 
There is a temple of Sirdi Saibaba here as well just right of Lord Hanuman Temple. Nearby and just before the entrance to the stairway is the cremation ground of erstwhile Namgyal Royal family of Sikkiim. You can see several stupas and chortens there. 
Viewing Gallery, Hanuman Tok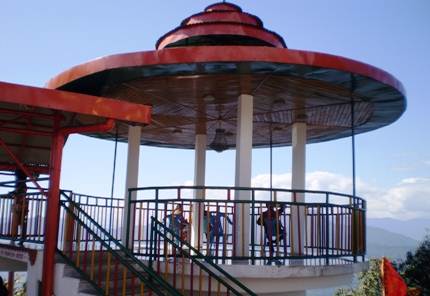 Admission & Amenities
There is no admission fee, but donations are welcome. There are toilet facilities at Hanuman Tok for both gents and ladies. 
How to reach
Hanuman Tok is a popular tourist destination from Gangtok and included in the standard local package sightseeing tours offered by the taxi drivers. If you can take a taxi from the Gangtok town center, it will take about 25-30 minutes to reach the base of the temple. You won't usually get a taxi on your return, so book the taxi for a return trip. 
Related Articles
Visitors' Reviews/Comments
Share your experience.