Saramsa Garden Gangtok
This is a vast stretch of landscaped garden located about 14kms from Gangtok Town and near Ranipool. It's ideal for leisure, recreation and picnic. And of course it's a favorite for romantic couples. Saramsa Garden was established in 1922 by the Sikkim Forest Department initially to grow fruits for the erstwhile Namgyal Royal family and also for the British political officers of those days. 
The forest manager Rai Saheb Bhim Bahadur Pradhan introduced many fruit trees here including orange, banana, guava, lychee and pineapple. 
Saramsa Garden, Gangtok 
The garden became a major fruit garden and the practice of growing fruits continued here until 1940. This is when the forest department introduced a medicinal plant in the garden called Cephaelis Ipecacuanha. The plant was imported from Malaysia and used for producing Emetine, a powerful alkaloid which is of great significance in medical research. Since then the Garden is also known as the Ipeca Garden, named after the medicinal plant. 
However growing of medicinal plants were discontinued in 1970 because it was not viable. And then the department introduced many flowering plants here including different kinds of Orchids. 
Saramsa Garden, Gangtok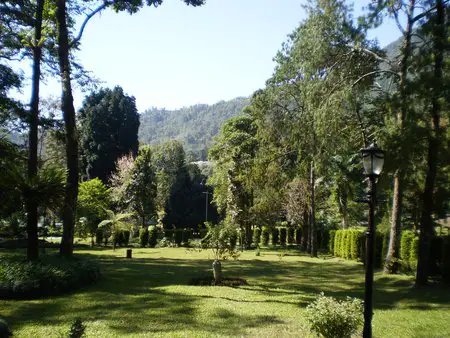 There is a large nursery inside. Most of the plants that you see here today were introduced during 1975 to 1980. In 2008 the first International Flori Show was held in Saramsa Gadren which was hosted by the State Government of Sikkim. 
Several developments have taken place in the garden over the years. A modern Convention Center has been built in the garden which can accommodate 500 persons. So private meetings and functions can be held here. 
The garden has several sections known as blocks. As you enter through the main gate, towards the far right is the nursery and followed by the Convention Center. In front of that is a section with a mini foot bridge over a mini pool and a garden full of hedging plants that have been given different shapes. 
Another section at the far end (north west from the main gate) has a mini pool, and a bench under canopy of trees where you can relax in complete silence. The foliage here is so dense that sunlight can barely enter. However my favorite is the section right at the end (northern end from the entrance) which has a wonderful viewing area. Sitting on a bench here you can see the river Ranikhola flowing through the ravine far below.  
View of River Ranikhola from Saramsa Garden, Gangtok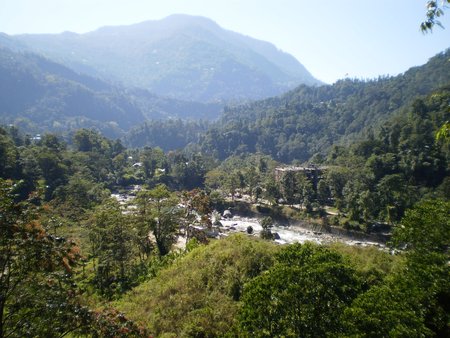 Admission & Amenities
Admission fee is Rs. 10/- per person. While several toilets are available at various blocks of the garden, we however did not find a single one open. Strangely all were actually locked from outside. When I asked the man at the front gate, he directed me to the toilet behind the convention center, which too happened to be locked. There are several local shops and restaurants just outside the main gate and on the other side of the road. 
How to reach
You will need a taxi from Gangtok to reach Saramsa Garden. Takes about 45 minutes. It is not covered under any standard local tour. Few minutes before reaching Saramsa Garden and on the same route, you will find Shiva Panchayatan Temple. 
Related Articles
Visitors' Reviews/Comments
Share your experience.