Ganesh Tok
Temple & View Point, Gangtok
Close to Tashi View point is Ganesh Tok, a temple of Lord Gansha. It's located at an altitude of 6,500 ft and at a hill adjacent to that of the huge TV Tower. Like Hanuman Tok, tourists come here not only to offer prayers to Ganesh, but also to soak in the views from the viewing lounge and the circular balcony around it. 
You will need to climb a stair case to reach to the upper levels where the temple and viewing area are located. Mid-away along the staircase you will be required to take off your shoes. 
The temple itself is quite small. However next to is the enclosed viewing lounge with glass panels. The balcony around is even better for the views. You can see the Gangtok town, rolling hill and the snow capped mountains including Kanchenjunga. 
Ganesh Tok Temple, Gangtok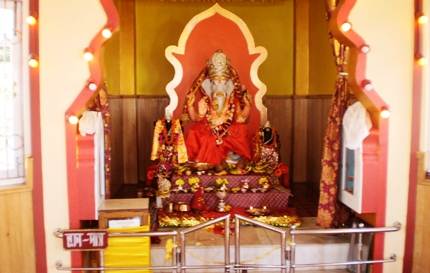 Amenities
There is gift and souvenir shop in the complex. Down stairs a few steps away is a cafe serving tea, coffee and various snack items like toast & omelet, veg momos, noodles, paratthas, cold drinks, bottled water etc at reasonable price. Ask them to put less sugar in tea or else they are very generous in making the tea sweeter than what you may like. But that I guess is the case in whole of Gangtok. 
While veg momos are nice and served with sauce, I like the toast & omelet here. They sandwich the omelet in toast, cut them into triangular pieces and serve with ketchup. 
Ganesh Tok Viewing Area, Gangtok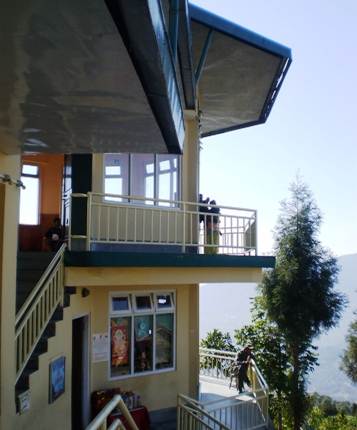 Admission
There is no admission fee at Ganesh Tok, however donations aer welcome. Just next to Ganesh Tok is the Pinetum garden. Take a stroll through the pine trees and enjoy the ambience. 
How to reach
Ganesh tok is only 6kms from Gangtok Town. The standard local tours offered by the taxi drivers cover this as part of sightseeing. You can otherwise just hire a taxi and come here. Opposite to Ganesh Tok is the entrance to the Zoo. 
Related Articles
Visitors' Reviews/Comments
Share your experience.