Bakthang Waterfall Gangtok
This is a wonderful waterfall located on the North Sikkim Highway towards Tashi View Point and about 3kms from Gangtok town. While visiting Tashi View point or returning, it's worth stopping at this roadside waterfall for sometime. While the height of the fall isn't much, it's the width of the fall that makes it so beautiful. The source of the water is at Ratey Chu. The flowing water falls over a canopy of green creepers. It's a wonderful sight to take pictures. 
Bakthang Waterfall Gangtok, Rope Sliding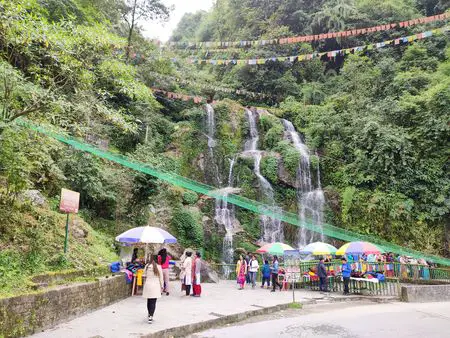 Another attraction here for the young and the energetic is the rope sliding (for Rs. 100/-), although it's only a short slide of few seconds but still quite thrilling. In the picture you can also see the rope. 
Bakthang Waterfall Gangtok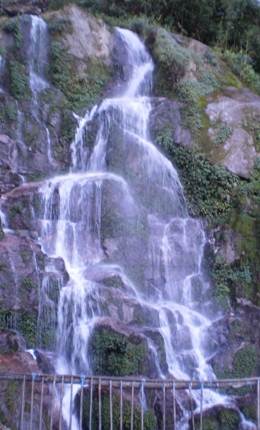 There is no entry fee. The views around are beautiful. You can see the Kanchenjunga snow peaks from the fall area and also a part of the Gangtok township. It takes only some 20 minutes to reach by taxi along NH10.
Tashi View Point
is nearby. 
Related Articles
Visitors' Reviews/Comments
Share your experience.