Ridge Park & Flower Exhibition Center
The Ridge
is a flat wonderful stretch of road just above the Gangtok Town. It would be about 20 minutes walk from
MG Marg main market
. The Ridge is flanked on one side by the
White Hall
as well as the Chief Minister's Residence, and on the other side by a wonderful gate with pagoda like top. 
The White Hall is a two-storey building of British architecture built in 1932 in memory of the first British Political Officer Sir John Claude White - the founder of Gangtok. It once used to be a venue of important functions, but today it lies more as a historical building with not much activities. 
The Ridge Park runs along The Ridge road and is full of flowering plants and shrubs. There is a traditional Sikkimese style Gazebo here where visitors can rest and soak in the ambience around. There are benches as well in the park. 
At one end and below the Ridge Park is the Flower Exhibition Center which holds the annual Orchid show. Inside the area is not very large but it has amazing collections of flowers of many different types, If you are a flower lover, then this is the place for you. But the best time is between March to June when the Orchids are in full bloom and put on display. 
Flower Exhibition Center Gangtok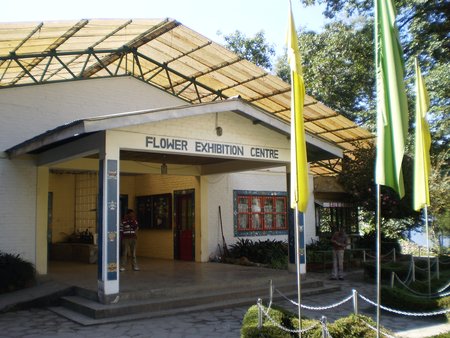 Some flowers that I noted includes Blue Venda Orchids, Celosia, Chrysanthemum, Paps etc. In fact all sections and flowering plants are labeled so that you know which is what. There is a small footbridge over an artificial baby pool that you can walk across. The place is ideal for great photography amongst colorful flowers and shrubs. 
Inside Flower Exhibition Center Gangtok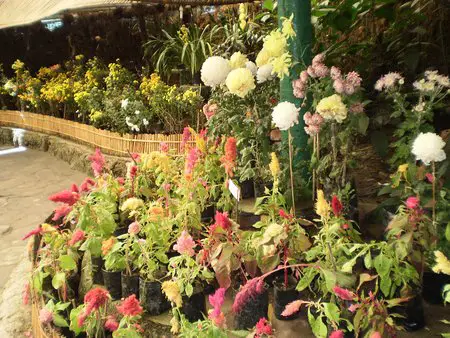 Admission & Hours
There is no admission fee for Ridge Park. However admission fee for Flower Exhibition Center is Rs. 10/- per person. It's open from 9am to 5:15pm daily. It would take about 1 hour to cover both Ridge Park and the Flower Exhibition Center. 
This place is part of most standard local sightseeing tours in Gangtok. You can also walk to this place from the town center (takes about 20 minutes). 
Related Articles
Visitors' Reviews/Comments
Share your experience or stories.