Kanchendzonga Tourist Complex Gangtok
An All Inclusive Offer
This is a socio-cultural complex having amusement park and accommodations. So if you are travelling with your family and looking for an all inclusive complex & stay, this can be the place for you. Any tourists with families can also make a day visit to enjoy the park and the amenities, take lunch, spend the day and come back. 
The tourist complex is located in Ranka, in between the Ranka Monastery and Banjhakri waterfall. It's about 15kms from Gangtok and spread over an area of 16 acres. Being at a distance from the main town center of Gangtok gives the place an identity of its own and away from the crowd. 
The attractions and entertainment include indoor heated swimming pool, bowling alleys, snooker, children's park, video games, musical fountains, food court, exhibition hall showcasing art & craft, musical instruments etc and more. Several rides are available here including toy train ride which goes through a tunnel, striking cars, jumping frog, octopus and a water chute etc. 
There is also a dome shaped Sikkim Panorama showcasing relief features made of fibers and displaying low land areas of Sikkim going all the way up to the slopes of Mt. Kanchenjunga. 
Kanchendzonga Tourist Complex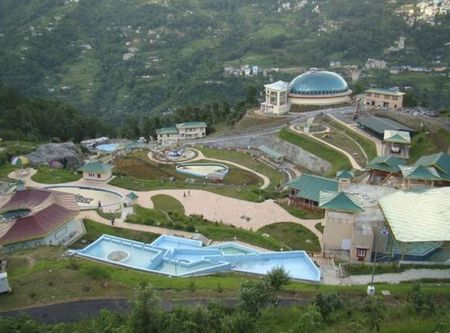 Photo: Sikkim Tourism Development Corporation 
The multi-cuisine restaurant Ranka Cave Cafe is quite unique and is set up in a jungle setting with lots of greenery and artificial animals. The bar is set up on the wings of a mammoth artificial butterfly. Overall a nice ambience. 
For overnight stays, there are several mid-range to upscale accommodations available here including cottages built in traditional Sikkimese style and deluxe rooms with all hotel facilities. There are 14 deluxe rooms and 10 cottages. All accommodations have attached bath with running hot & cold water, air-con during summer, room heaters during winter, 24 hours front desk service etc.  
The cottages additionally have a separate living & dining space, an outside patio with chairs & umbrella for enjoying the views, bath tub in the bathrooms etc. Cottages can also accommodate an additional person. 
How To Reach
The tourist complex is 15kms from the town center of Gangtok and you can take a reserved taxi for a drop. It takes about 40 minutes one way. However you may not get a taxi on your return, so it's a good idea to reserve a taxi for few hours if you are visiting the complex or alternatively combine your visit with a local sightseeing tour. 
The facility is open all days (8am to 8pm) except Saturdays and Sundays. 
Contact Info for inquiry and reservation
Phone: +91-33-2282 7255 
Mobile: +91-96747-58061 
Related Articles
Visitors' Reviews/Comments
Share your experience.