Kalimpong Restaurants & Bars
There are very few great restaurants and bars in Kalimpong. For convenience, most tourists prefer to dine at the in-house restaurants of the hotels they stay at. But if you are looking for variations and good food, eventually you must look outside. 
Restaurant at Sood's Garden Retreat
(Category: Mid Range) 
This is the restaurant located within the boutique hotel Sood's Garden Retreat. Although it's an in-house restaurant of a hotel, when you see so many outside tourists and locals in the dining room, you can make out it's a popular dining place in Kalimpong within both the residents and visitors. 
The hotel and the restaurant is located a bit out of the town (takes about 20 minutes walk from the town center). But the ambience is very nice and cozy. The inside dining room can accommodate about 45 persons. It extends into a lovely open garden where too you can dine open air if the weather permits. There is also a lounge area that can seat 10. 
And you get free wifi to browse and catch up with emails. There is a bar at the corner which has good stock of liquor and beer. However there is no heating system in the restaurant, so if you come during the winter, it can be quite cold out here. 
The restaurant serves North Indian, Tandoori, Chinese, Tibetan, Continental and even Bengali dishes. Although the menu is not quite extensive, the food prepared is quite nice and portions are large. You get both vegetarian and non-veg dishes here. In non-veg try out the mutton curry with naan... delicious and accompany that with a chilled beer or drink (not many choices of cold drink though). 
Location and Contact info 
Sood's Garden Retreat 
8.5 Miles Kalimpong-734301, West Bengal. 
Gompus Bar & Restaurant
(Category: Budget) 
This is a cozy restaurant located right in the market area and opposite the Damber Chowk on a narrow lane. This restaurant too is extremely popular with tourists and locals. It's run by a Tibetan family which is also running a hotel upstairs through several generations (Gompu's Hotel) since the early 1900s. 
Gompu's Hotel and Restaurant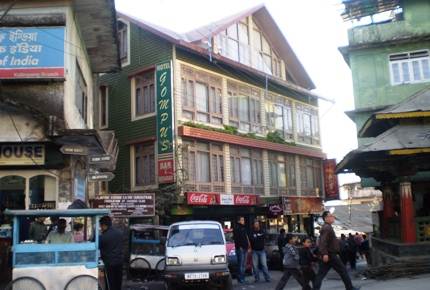 The restaurant at the ground floor serves nice Chinese, Tibetan & Indian dishes. In starter or snacks you get items like garlic chili potato, chicken drumsticks, chicken wings, fish & chips, onion rings, pakodas and even the local dish alu dum. You get some choices of soups as well like wonton soup, chicken mushroom soup etc. But one of the famous here is the pork or chicken momos (comes fried or steamed). 
Gompu's Bar and Restaurant, Kalimpong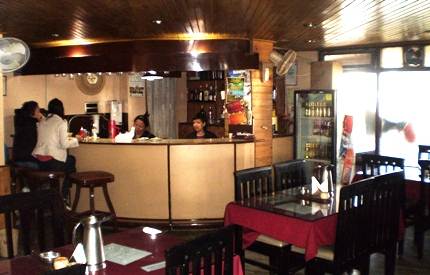 And there are different preparations of stir fried noodles, noodle soups, fried rice, chicken & pork side orders, some select Indian dishes etc. When I asked the Nepali waiter to suggest something good and light, he suggested fried rice with Chinese chicken curry. It was delicious. There is a small bar counter at one corner which is managed by ladies during the day time. You will find a small toilet at the staircase. 
Gompu's Restaurant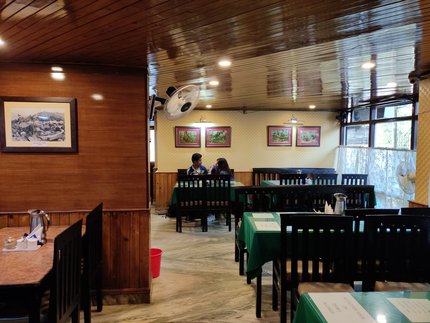 Location & Contact info 
Gompu's Bar & Restaurant (open 7am to 9pm) 
Damber Chowk, Kalimpong -734301, Darjeeling District, W.B. India 
Phone + 91 (3552) 255818; Mobile 9832435448 
King Thai Restaurant
(Category: Budget/Mid Range) 
The restaurant is located right at the town square at the entrance to the market and at a corner. Although the large green board outside says 'Multi Cuisine' restaurant, strangely you won't get Thai food here despite its name. It's essentially a Chinese restaurant also serving few Nepali and Bengali dishes. 
From the road, climb up two flights of stairs to enter the restaurant which also has a bar area with bar stools. This is the only restaurant in Kalimpong where live musical performances are held in the evenings. There is a small performing stage in one side and a wall full of graffiti and mural. Overall a nice & friendly ambience. It's very popular with locals particularly because of the live entertainment in the evenings. This is as far a nightlife can go in a sleepy hill town like Kalimpong. 
King Thai Restaurant, Kalimpong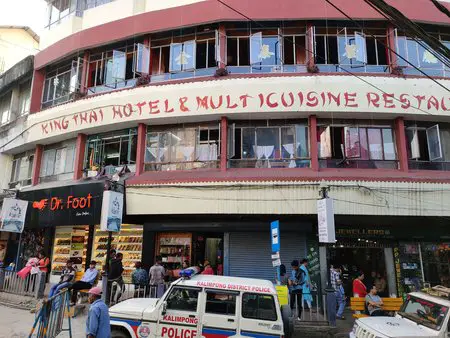 Food is good and the portions are quite good as well. They can also vary the spice based how you want it. Ingredients used are fresh. The staff are friendly and cordial. You will enjoy a lunch or a dinner here. 
Location & Contact info 
3rd floor Supermarket, DB Giri Road, Kalimpong. Open 11am - 9:30pm. 
Kalash Restaurant
(Category: Budget) 
This is a pure vegetarian restaurant located right in the middle of the market area and below Hotel Kalash. Quite popular with locals and tourists for its wide range of dishes in budget price. They serve North Indian & South Indian, Chinese, Tibetan, Continental and even Rajasthani vegetarian food. And you get breakfast, lunch and dinner. 
Kalash Restaurant, Kalimpong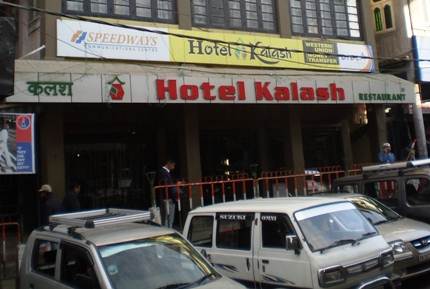 In breakfast you get toast & butter, grilled sandwiches, puri sabji, paratha etc. In snacks popular items are pakodas, momos, chaats, pau bhaji etc. 
In North Indian try out Tandoori roti or naan, dal makhani, paneer butter masala and kadai veg along with green salad. You get normal rotis as well. In south Indian you will get dosas, idli, vada, uttapam etc. And in Continental you get pizzas, pastas, burgers, rolls, French fries and so on. Soups and cold drinks are also available. 
Inside Kalash Restaurant, Kalimpong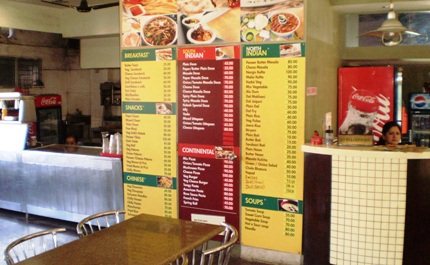 Location & Contact info 
SDB Giri Road (Main Road), Kalimpong - 734 301 
Related Articles
Visitors' Reviews/Comments
Share your experience.