A cute cat in Darjeeling Monastery
Sreedevi (Kochi, May 2014) 
Dear Mr.Raj, 
I have contacted you in last December in connection with a visit to Darjeeling. We visited Darjeeling, Kolkota, Shillong and spent a short time in Guwahati too. As you are interested in Darjeeling  I would like to share some beautiful moments I experienced there.  
A short flashback!! 
I have two pet cats in our home and I was sad to leave them with my neighbours when we left for Darjeeling.  
Now the Reality 
We reached Darjeeling on 19th Dec, from Bagdogra Airport we hired a Pre Paid taxi. One Mr. Anil was the driver, a local man. Very friendly and he was with us on our entire tour. You may be knowing him, if so please give him our warm regards. We stayed in Highlanders' Inn run by three beautiful and cordial ladies. We had dinner from Glenarys Buzz Bar and the food was great. Next day we started our local sight seeing with Mr. Anil, visited the important tourist spots there. You will get bored if I go on talking about the tourists places because you know each nook and corner there!! 
But I want to share this with you. 
We went to
Samten Choling Monastery
, but due to severe cold, me and my son didn't enter the monastery, but waited outside for my husband to return. That time one beautiful cat appeared from somewhere and as I'm fond of cats, I talked to it the same way I talk to my cats.  That too in my language Malayalam, but surprisingly it came running to me as if it understood I was calling it and talking to it!! 
Please see the picture, my son is also fond of cats and he took the photo.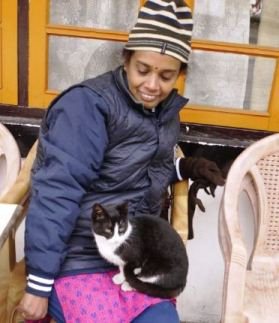 I was thinking of writing to you soon after we reached Kochi. But somehow it took such a long time. Thank you very much for your precious time and  information you have given. God Bless You and God Bless Darjeeling.  
If you visit this monastery the next time please check this cat ( I named it Kichappu- Malayalam name!) and tell him I love him. 
Sreedevi (Kochi, May 2014) 
Related Articles
Visitors' Reviews/Comments
Share your experience.