Best Restaurants and Cafes in Kurseong
Unlike Darjeeling town, you won't find many restaurants in Kurseong. That's mainly because the place does not yet see the kind of tourist flow which Darjeeling does and the local residents don't seem to be interested much in eating out. However, tourism in Kurseong is gradually increasing over time and in the recent time several nice cafes and restaurants have popped up, and some of course had been existing since long. 
Here are the best dining options in Kurseong including proper restaurants, cafes and small eateries: 
Restaurant at Kurseong Tourist Lodge
(Category: Mid Range) 
The West Bengal Tourism Department operated Kurseong Tourist Lodge (now renamed to Roudrachaya Tourism Property) has a fairly large nice multi cuisine family restaurant and an adjacent bar. The restaurant is open to both in-house guests as well as outsiders, and very popular with tourists with its range of Indian and Chinese food. The food preparations are nice and portions are good. Service is good as well. No wonder, most of the days during lunch, this restaurant gets full with tourists, both in-house and from outside.  
Kurseong Tourist Lodge Restaurant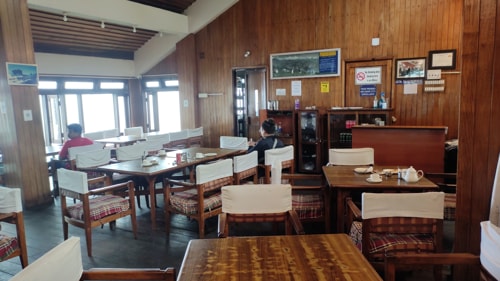 However, the best part of this place is its lovely views of the mountains and Kanchenjunga snow peaks through the window. So the window-side tables are the first to get filled up. 
The restaurant serves breakfast, lunch and dinner. In breakfast, you get toasts, butter/jam, and eggs, or puri sabji accompanied with bananas. For in-house guests, breakfast is included in the room rate. For lunch and dinner you can order Indian or Chinese. They have both non-vegetarian and vegetarian dishes on the menu. 
Our Chinese dinner: Egg fried rice, chicken wings and chili chicken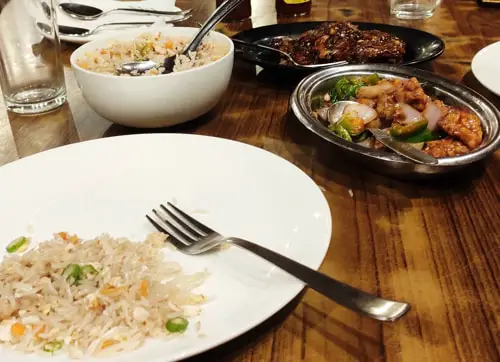 There are also snack items on the menu like pakoras of different types (vegetable, onion, egg, chicken, etc) which you can order in the evenings. One of the best offerings of the restaurant is its momos... dumplings made of white flour with fillings of minced vegetables or chicken, and can be steamed or fried. They make both vegetable and chicken momos and both are simply superb. I have tried both steamed and fried ones several times, I can say that the steamed ones are better. 
Residents of Kurseong from far flung places such as the tea gardens come here to eat or take away momos. In fact, the lodge once had a separate section called Momo Corner which was located just outside the restaurant where fresh momos were made right in front of you. One could also get sandwiches, snacks, cold drinks and bottled water at the Momo Corner. There were small tables and chairs where one could sit and have the momos that were served with special sauce. 
Erstwhile Momo Corner, now Liquor Off-Shop 
While you get the same momos now in the restaurant of Kurseong Tourist Lodge which are also prepared fresh, but the Momo Corner no longer exists, it has been converted into a liquor off-shop. The sitting area still exists though. The restaurant also serves excellent Darjeeling Tea (from Makaibari tea garden). 
Bar room at Kurseong Tourist Lodge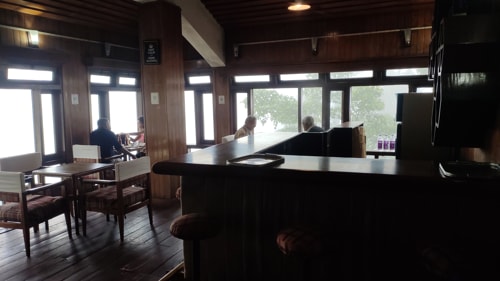 The bar room of the Kurseong Tourist Lodge is located adjacent to its restaurant and is a separate area. The bar room is also quite attractive and has windows on two sides. The window-side tables are the first to get occupied because you get a lovely view of the mountains from there. Other than alcoholic beverages, you can order for all kinds of snacks at the bar room to accompany with your drinks. 
The Bar at Kurseong Tourist Lodge 
The bar itself is fairly well stocked and has most of the Indian brands of liquor and some Scotch whiskeys as well. Dinesh is the bar tender and is a nice friendly man. He is the only man here taking care of the bar orders, and therefore, when the bar room is full with guests, the service can be a tad slow, but that's understandable. 
Dinesh - The Bar Man in Charge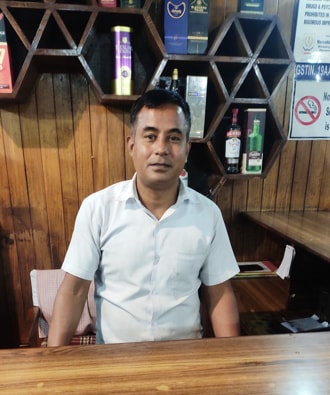 While having a chat with Dinesh, he started telling me about his tenure of service in Kurseong Tourist Lodge... he has been working here for over two decades, but he is still a temporary worker. Despite his long sincere service, his position has not been confirmed yet... that's probably the only remorse he has in his life. 
Margaret's Deck
(Category: Mid-Range) 
This is an excellent tea lounge located about 8.5kms ahead of Kurseong Market area and on Hill Cart Road (i.e. NH-110) towards Darjeeling. Other than inside seating, there is a lovely roof-covered open deck that overlooks the vast Margaret's Hope tea gardens on the slopes of the rolling hills. It' a special experience to take a table on the deck and sip a fine cup of Darjeeling tea while watching the views of the misty valley ahead and the tea gardens. The tea lounge and the Margaret's Hope tea garden belongs to Goodricke.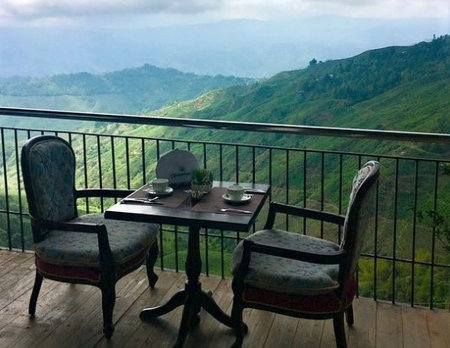 (Photo: Margaret's Deck Management) 
Other than a range of tea that are plucked from the various gardens of Goodricke and served on tea pots, you also get excellent snack items as accompaniments such as scones, cakes, smoked chicken sausages, chicken sausage rolls and more. Although the portions are not large, the food itself is great and so is the friendly service. A small pot of tea (single) costs around Rs. 300. You can also buy packets of tea at the counter that are sourced from various gardens of Goodricke. 
Go through
Margaret's Deck
to get complete details of this lovely tea lounge that can make your day. 
Cafe Kurseong Diaries
(Category: Mid Range) 
This is a relatively new, stylish and spacious cafe that has come up in Kurseong filling up a large void for the youth and young hearted ones who look for a good cafe vibe, live music, good food and of course great beverages including coffee, tea and even alcoholic drinks. It is located on Hill Cart Road, near the Locomotive Shed and about 100 meters from the Kurseong Railway Station. The cafe occupies the top floor (i.e. the 4th floor of Amarjeet Hotel). Note that Amarjeet Hotel itself has its own Punjabi restaurant which is described below.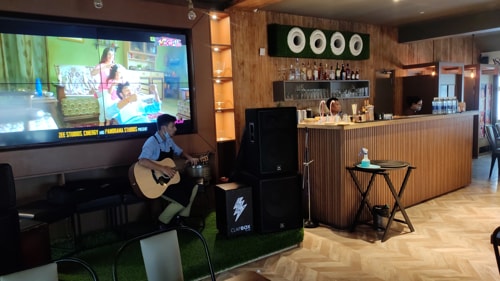 However, in order to get to Cafe Kurseong Diaries, you will need to enter the Amarjeet Hotel through its ground floor restaurant, and climb up the stairway to the 4th floor... there is no elevator in the hotel. So, if anyone in your group has a mobility issue, then this cafe won't be suitable. But, otherwise it's a great choice. 
Between the third and fourth floor and on the landing you will see a prominent, colorful and glittering signage of the cafe. This seems to be a popular selfie spot for the guests visiting the cafe. There is only one more flight of stairs from here and you enter the impressive cafe that are manned by young, agile and caring staff.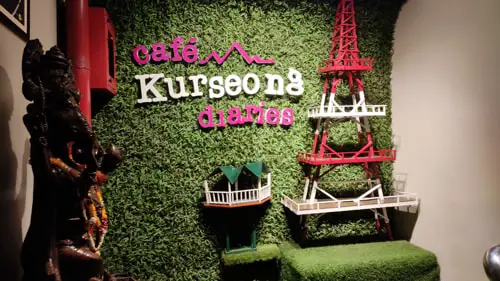 As you walk in, there is a bar to your right which is stocked with both domestic and imported spirits. Although, there are not too many selections on the bar menu, you do get some decent choices of both imported and domestic whiskeys. Shortly after the bar and to the right is the designated place for performers of the live music, there are large speaker boxes set up there, and in the evenings, there is usually live music playing. When live music is not available, large LCD TVs on the walls play popular channels. 
At the center is a large dining space where the tables are laid out. At the end of the dining space, there are window-side open cabins with sofa seating and these are the ones that get filled up first. From one of them which is at the far left corner, you get lovely view of the mountains including that of Eagle's Craig viewpoint.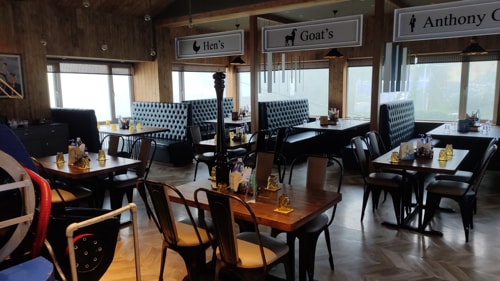 Overall, the ambience is attractive and lively. The food menu is extensive... you have several choices including soups, salads, starters, burgers & steaks, pizzas & pastas, momos & thukpa, main courses, and desserts. And you get enough choices for vegetarian and non-vegetarian dishes in each category. 
In starters, for veg, try out crispy fried wantons in mustard sauce, hummus with crispy lavas, paneer tikka, paneer chilly, baked cheesy nachos, etc. In non-veg starters, some of the great items include prawn salt & pepper, chicken tandoori, chicken tikka kebab, pan grilled chicken, fish tikka kebab, lasooni murg tikka, etc. 
In veg main courses, you have choices such as paneer butter masala, dal tadka, paneer tikka masala, dal makhani, veg kolhapuri, angoori malai kofta, matar mushroom, etc. In non veg, choices includes butter chicken, fish curry, chicken curry, chicken kasa, chicken tikka masala, chicken bharta, mutton kasa, fish tikka masala, mutton curry, etc. Surprisingly, even Indonesian cuisine such as Nasi Goreng also features in the menu.  
You can accompany your main course with a range of rice, noodles and bread preparations such as fried rice, hakka noodles, byriani, etc (both veg and non-veg), naans, tandoori roti, masala kulcha etc. 
Under the bar services, you get a selection of drinks including cocktails, beer, whiskey, vodka & tequila, wine & Breezer, gin, rum & brandy, etc. In non-alcoholic beverages, you have choices of mocktails, shakes, smoothies, fresh fruit juices, etc. In desserts, you get ice creams, brownies, mousse, etc. 
Overall, Cafe Kurseong Diaries aims to fill up the void for a modern cafe as well as doubles up as nice family restaurant that also offers live music which is a rarity in the hills here. While visiting Kurseong, you should try out a meal here at least once, preferably in the evening... you won't be disappointed. 
33 Dream Cafe
(Category: Mid-Range but Pocket Friendly) 
Founded by Choephell Tenzin, a resident of Kurseong and a strong believer of realizing dreams in life, this cafe is a manifestation of his dreams. It's located on the Hill Cart Road (NH-110) right opposite to the Bharat Petroleum Oil Pump and diagonally opposite to the Kurseong Railway Station. The entrance to the cafe is right next to Mio Amore Cake Shop... you won't miss it, it's located at a very prominent area.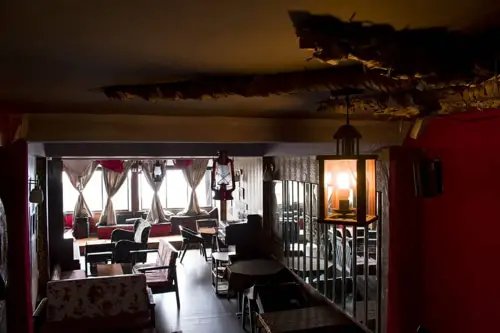 The cafe is spread across three levels in the building. As you climb the stairs and walk into the cafe, you will immediately realize that this is one like an art cafe. There is an artwork or a sketch at every corner of the cafe. Every aspect of the cafe is thoughtfully designed including the interior of each floor and the furnishing. 
On the top floor, there is a glass-made structure with indoor seating as well as an open terrace where too tables are laid out. The open terrace is an ideal place if you want to get views of Kurseong. They have named it 'Infinity Rooftop floor'. You can see the mountains including the tower at Eagles Craig ahead, below you can see the platform of the Kurseong toy train station and the traffic passing by.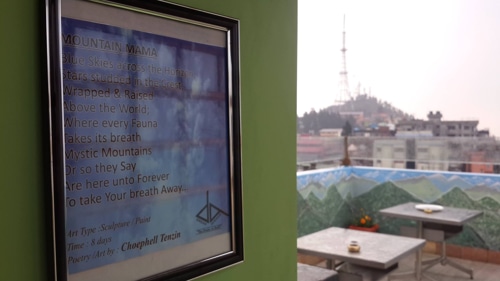 However, one disadvantage of the open terrace is... it's also a smoking area, and if there are people smoking around, it can become a little disturbing for the non- smokers. Otherwise, it's a gem of a place on a clear day. 
The level below the terrace is a great indoor space with cozy seating arrangements. This is also the floor where sometimes live music is played. Coming to the food & beverages... this is one cafe where prices are quite reasonable and it won't burn a big hole in your pocket.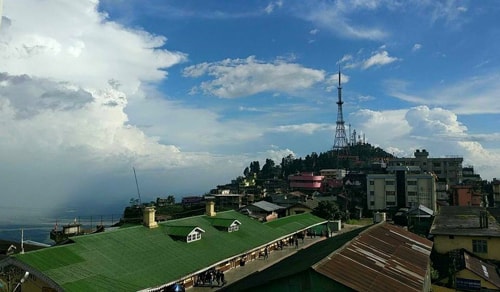 In coffee, you can get coffee brewed from beans including cappuccino, cafe latte etc, hot chocolate, Darjeeling tea of various types (black, green, lemon, ginger honey tea, etc). You also get ice shaken coffee, shakes, fresh juice and mocktails, bubble tea, etc. Beverages range from Rs. 50 to Rs. 130. There is no alcohol served here. 
Under the all-day breakfast options, you get chicken grilled sandwich (Rs. 160), Veg grilled sandwich (Rs. 140), eggs made to order including cheese omelet (Rs. 15 - 50). Under the non-veg options, some of the favorites here include chicken sticks, chicken drumsticks, stir fried chicken/beef/pork, etc. You can also try out their chicken momos, they make it well (price range of non-veg items varies from Rs. 150 - 250). 
They also make pizzas (veg, barbecue chicken/ pork, crispy chicken... Rs. 150 - 200), pastas (Rs. 140 - 180), burgers with fries (chicken, pork, beef and egg burgers... RS. 140  - 170), rice and ramen bowls good for one person (veg, chicken, pork, beef... Rs. 160 - 190), Sizzlers (veg, chicken, pork... Rs. 240 - 270). 
Under vegetarian options, you can also get cheese sticks, French fries, onion rings, teriyaki paneer etc (Rs. 90 - 200). You can also go for some nice soups such as cream of mushroom, hot & sour, etc. 
In desserts, try out the yummy cheesecake. They also make great muffins... dark chocolate, red velvet, plain, carrot and more. And there are many different types of pastries as well like strawberry, chocolate, black forest, carrot, red velvet, kiwi, blueberry, pineapple, etc (Rs. 50 - 70 a piece). 
Overall the food is nice and well prepared. Sometimes when it gets crowded, the preparations can become an issue.... fries get over-fried and burgers may taste too dry. But, in general, the food is good and the portions are good as well. Overall, the cafe is quite clean. If there is one thing they need to take care of... that is the cleanliness of the washrooms, particularly one in the top floor. But that might had been one-off a case. I would strongly recommend that you visit this cafe while in Kurseong. 
Restaurant at Amarjeet Hotel
(Category: Mid Range) 
Another quite popular Punjabi restaurant is the one at Amarjeet Hotel, located near the Locomotive Shed and close to the station, and right on the Hill Cart Road. The restaurant is in the ground floor with an entry from the road. It serves north Indian and Chinese cuisine. 
Amarjeet Restaurant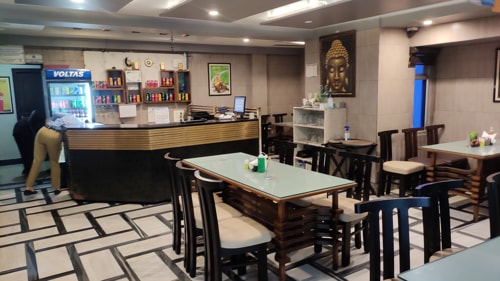 It has a bar as well. Inside ambience used to be a bit darkish but now the lighting has been changed and so has been the furnishing. It looks quite nice now. This is the best place in Kurseong to try out punjabi food such as chicken butter masala, chicken do pyaza, chicken bharta etc, tandoori items such as tandoori chicken, chicken tikka masala, etc and accompany that with tandoori roti or naans... delicious. For vegetarians, some of the best options are dal makhani, paneer butter masala, kulcha, naans etc. They also make nice Chinese dishes. For snacks in the evenings, try out the Amarjeet Samosas with tomato sauce. The service is fast and good. 
Note that on top floor of Amarjeet Hotel, there is the popular Cafe Kurseong Diaries which too serves delicious food as well as alcoholic beverages. You need to walk up to the 4th floor. 
Marmen Restaurant
(Category: Budget) 
This is a tiny hidden restaurant, more like a wooden shack with a tinned roof. It's located some 100 yards from the station area and on the busy Makaibari road. It serves only local Nepali food (both vegetarian and non Veg) and is very popular with the locals, specially the working class and the shop owners around. 
Marmen Restaurant Kurseong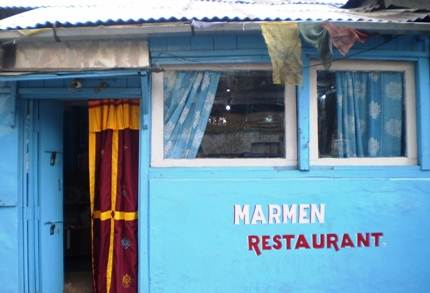 It's a budget restaurant run by a few local ladies. The food is simple and good. I took the chicken thali which came with rice, daal, sabji, salad and chicken curry. The portions are okay. However I thought the chicken pieces could have been better. May be it was my bad luck to get such pieces which were mostly bones and skin. There is a tap outside and on the road to wash your hands. If you are smoker (most locals are), you will get loose or packed cigarettes at the restaurant's counter as well. 
Marmen Restaurant Kurseong, Inside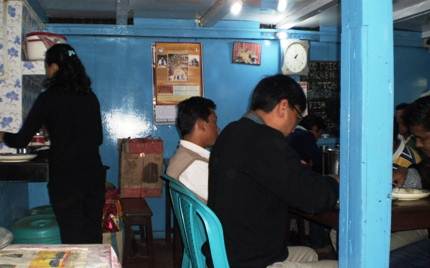 Related Articles
Visitors' Reviews/Comments
Share your experience.