Lamahatta Homestays & Lodges
Some 15 homestays are lined up along one side of the road, several others are coming up below. And there are five tents as well. So this is an indication that the place is catching up with tourism or at least gearing up for it. 
However the homestays are all very simple and basic, although clean and have attached western style toilets. Almost in all homestays the attached bathrooms have geysers, so hot water is available all the time. These homestays are all extensions to existing homes of the locals. They all offer homemade food, some also have a separate dining space. This is an ideal way to get to know the local culture and people. 
The indicative rate for a homestay room is Rs. 1500/- plus tax (for two) and for a tent is Rs. 2000/- plus tax (for two). All meals are charged extra. The tents are placed next to the jungle and have provision for lights. All homestays can arrange for local sightseeing tours, treks, transfers to and from airport/station and other destinations. 
Contact Info for booking & Inquiry
The homestays and tents can be booked directly (I have given contact information for some in the sections below) or through their community office (mobile no. +91 - 81166 02248). There is no price difference whichever way you book. 
Here are some nice homestays in Lamahatta along with their direct contact info: 
Everest Hut Resort
(Homestay) 
Well, Tashi Sherpa I must say has a lot of heart to name it as a resort although this is essentially a simple homestay with only three rooms. But undoubtedly this is one of the best and quite cozy. Plus it comes with the warmth of Mr & Mrs Sherpa. The small balcony at the back has lovely views of Kanchenjunga. There is also a small open porch in front where you can sit and have tea and homemade snacks. 
Everest Hut and Tashi's Car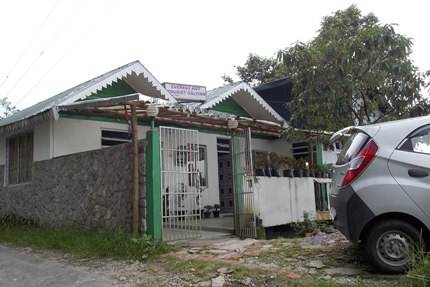 Tashi Sherpa also has a car of his own which is used for transfers and local tours. The lodge is located about 100 yards from the entrance of Lamahatta Roadside Garden. 
A room in Everest Hut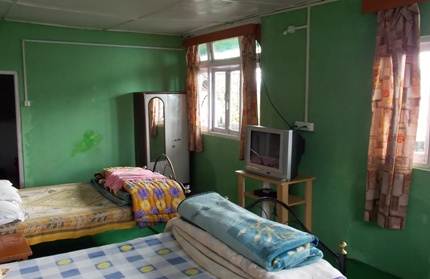 Phone No. : +91 9434865611 / 9832340682 / 9475900758/ 9093314186  
Kanchanjunga View Fooding & Lodging
(Homestay) 
This is a simple homestay with three wooden rooms with attached baths run by Ram Kumar Chhetri and his family. The bathrooms are clean, with western toilets and geysers. It's located about 30 yards from the Roadside Garden entrance. They will cook food to order and serve in the room. 
Chhetri's Family (you can see the toilet behind)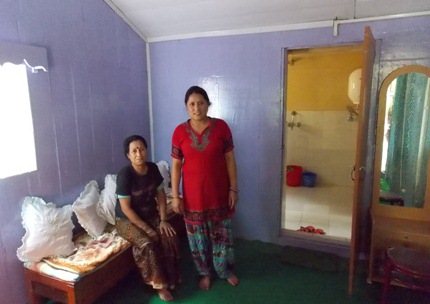 Phone: +91- 97349 32403, 96418 07304 (no emails). 
Mountain View Food & Lodging
(Homestay) 
This homestay is run by Dhiren Chhetri and his wife Sujata Chhetri. They have rooms with views of the peaks from the backside common balcony. Rooms are small but quite okay. There is a separate dining room for guests to take their meals. 
A room in Mountain View Homestay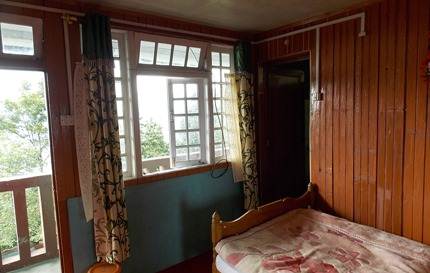 Dhiren told me that he has the vision of putting up a music system in his dining area playing light music. It will also be used to provide audio commentary giving information about history of Lamahatta and its various attractions. I was surprised to hear this coming out from a villager who has hardly seen the world around. The homestay is located opposite to the entrance of Lamahatta Roadside Garden. Phone: +91 - 9775482027, 9609427851 
NOTE: A detailed review of Mountain View Homestay is available under 'Visitors Reviews/Comments' section below. 
Lamahatta Lodge
Another stay option is the private Lamahatta Lodge set up by ex Honorary Army Captain Tinjong Lama. Highlights include nicely maintained wood paneled & carpeted rooms with attached western style bathrooms, 24-hours hot water, homely organic food, car park, a dining/lounge area and quiet & calm ambience.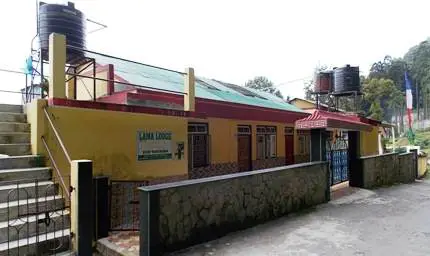 Although they also try to portray the lodge as a homestay, the ambience is more like a hotel which is run by several local staff. The large balcony on the backside which is common to three triple bedded rooms, offers great views of the mountains.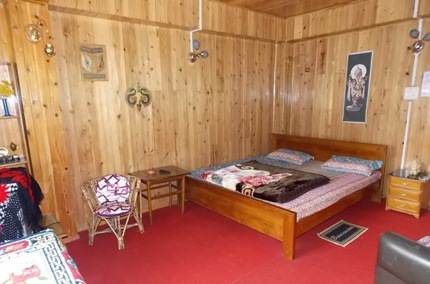 The lodge is located about 75 yards from the entrance of the Roadside Garden. 
Mobile : +91 98320 33444; +91 9593735599 
Related Articles
Visitors' Reviews/Comments
Krishnendu Sarkar (June 2018) 
Last week my family stayed at Druk Homestay at lamahatta. This is the worst ever I have seen in my life. There was no electricity, no TV, no internet or mobile connection. Virtually we were isolated from the world. Rooms were very dirty, no day to day cleaning, in fact when we checked in no body offers a glass of water. And the service was a nightmare. We reached hotel around 2.30pm. After having lunch  I ordered rice for dinner and  two ruti/chapati for my 3yrs son, and the guy replied so angrily that my adventure mood in a new place disappeared. 
At the time of sight seeing I asked the driver if there was any hotel with better service but I did not imagine it would backfire on me. When back to hotel, the caretaker boy told me he would show what a service could be... I told him no electricity, no TV, then he replied "if you don't like, get out from my room, go to Darjeeling". It was in the evening and I was with my wife and son. I was really scared. I had to beg mercy/pardon for my complain with folded hand. I don't know the name of the caretaker but he is one son of the owner. 
I discovered the  reason behind their rude behaviour. Actually I booked our pickup and drop from NJP personally instead of booking their cab. Please those who plan for Druk... my advice is don't go or keep police informed about the trip as the boy may kill you if something goes wrong. His behaviour is just like a jungli dog. 
Sutanu Dalui (January 2016) : Couple stay at Lamahatta - some afterthoughts 
Myself and my wife, stayed for 2 nights (25-27 Jan 2016) at Lamahatta. I am just sharing my reflections after experiencing a short stay here. We stayed at Mr Dhiren Chettri's, Mountain View home stay. From a home stay perspective, I think it was expensive. The room (we stayed in the one displayed on Mr. Raj's site) charge was 1500 per day. Though the bathroom was fitted with a geyser, it was activated only during the morning. 
A room heater could be arranged for another Rs 200. The meal plan was 500 per person per day, and included breakfast, lunch and dinner. Somehow, the taste of food was not up-to my expectation. Pls note, I am not talking of the cuisine, rather the taste of the dish. The lunch served hot rice, daal (lentil), shaag (spinach), a cauliflower or cabbage mix, and egg/chicken curry. The dish was very okay with me, but not the taste. 
This was my first "home-stay" trip, and somehow it has changed my notion on home stay. Though named a homestay, and indeed the rooms would be apt for that, I thought the charge was like a hotel. I thought home stay was like experiencing a different culture, but to me it felt like staying at a hotel minus the amenities. 
A car from Darjeeling to Lamahatta charged Rs 900. A drop to NJP cost us Rs 2500. The lake, on the top of the park seemed very artificial to me. And for sure, it does not require a guide since the way is very clearly demarcated. Unless, you want to wander and explore the pine jungle, there is no need for some one to guide your way. I found the stay at Lamahatta to be overrated, and it would be better to take a day trip from Darjeeling here. And instead of spending the whole time at the park, try to get around the tea estate trails, Gumpha dara view point, Sangam (Teesta Rangeet) view point. 
This is totally my personal experience, and it can be argued that I visited during the wrong period of year (since I did not see even a glimpse of Kanchenzhonga, which according to me, should be the USP for Lamahatta)