Himalayan Inn Homestay, Darjeeling
Category: Budget 
This is a small and relatively new homestay run by Subash Chettri and his wife. It's located within short walking distance from the heart of Darjeeling, i.e. Chowrasta Mall area but tucked in a residential area which is free from crowd and offering wonderful view of the mountains. 
There are two rooms in the ground floor which are reserved for guests. The family stays in the upper floor of this two-storeyed house which is simple yet very nice and well maintained. 
Rooms are cozy and have attached toilets. The size of a room is 12ft by 9ft. The rooms have carpet, couple of comfortable wicker chairs with cushions, a small tea table, dressing mirror, a small drawer/side table, and a nice queen size bed with blankets. 
Himalayan Inn, Darjeeling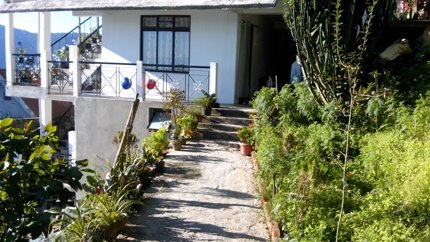 The bathrooms are also nice and have shower along with geyser, nice wash basin with large mirror. Both have western style toilets. So when it comes to basic comfort in a budget homestay, you got to say this accommodation is fairly complete for its category and meets expectations of most. 
Bedroom, Himalayan Inn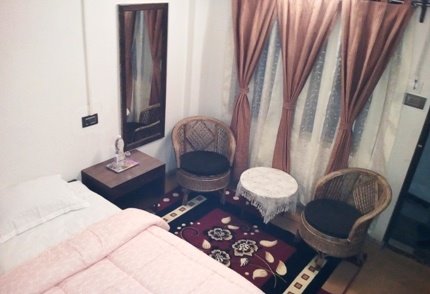 Rooms face the same direction as the Mall road (east). Those who have been to Darjeeling and know the Mall road, they will understand that some of the best mountain views and sunrise in Darjeeling can be seen in that direction. However this homestay is not on Mall road. It is at a lane which runs below the Mall road and goes further down towards Bhutia busti. While Kanchenjunga views is not available from the homestay, you can get great views of mountains and landscapes from here. 
Bathroom with mini geyser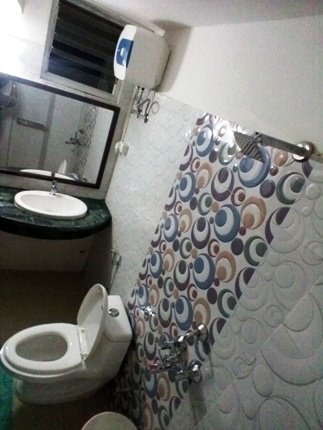 Although the rooms are airy, have windows and enough sun lights, to get the best view of sunrise, come out and stand on the upper balcony and watch the sun play its colors and hues on the horizon as it appears from behind the mountains... an unforgettable experience. 
View of sunrise from homestay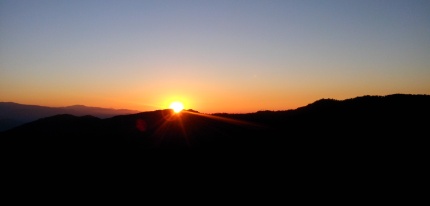 The hosts offer complimentary breakfast as well as flavored Darjeeling tea which are included in the rates. For lunch and dinner, there are two options. One option is to walk up to an eatery or restaurant near the Mall which would be about 7-8 minute uphill walk from the home stay. There are plenty of restaurants and eateries of all types near Mall (i.e. Chowrasta, the main town square). 
Daytime view from homestay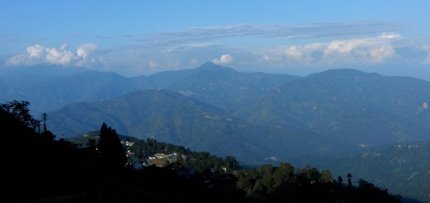 The second option and in my view the better one is to ask the host to make your lunch and dinner, or at least dinner. This is a great opportunity to experience homemade food from the locals. And the family will make it the way they do it for themselves. They can make both vegetarian and non vegetarian food, which can be normal Indian or local Nepali food. They will do the best they can. 
The cost of food (lunch/dinner) will depend on what you order. Being a home stay, they don't keep a menu. They will cater to your request based on what is available in the market and stock. So you must order for meals well in advance, preferably the previous day or at the time of breakfast. Breakfast is normal stuff that most of are used to... toast, butter, omlette or puri, sabji etc with tea. 
The nearest taxi stand is the Club side motor stand which is below Nehru road and near Keventers. Another stand is near Alice Villa hotel on Robertson road. Both taxi stands are about 10-12 minute walk from the home stay. 
My overall opinion
1) If you like to stay close to the main hub of Darjeeling yet away from the crowd to enjoy a quiet, comfortable but simple stay with a local family, this home stay is a great choice. 
2) Great views of the mountains is a special attraction of this home stay. 
3) Chowrasta or the Mall area is a pedestrian only zone, that means vehicles are not allowed in this area. So from the nearest taxi stand, you need to walk for about 10-12 minutes to reach the home stay. If you have heavy luggage, this can be quite cumbersome unless you take a porter. On your way back, from the home stay up to the Mall is an uphill walk for about 6-7 minutes. 
Contact Info & Location
Himalayan Inn 
C.R. Das Road, Upper Bhutia Busti, Near Mall (Chowrasta) and next to Deshbandhu museum. 
Direction to reach 
At Chowrasta Mall and next to Cafe Coffee Day (CCD) and Nathmull Tea Stall, take C.R. Das road. This is a narrow road which goes downhill. Walk for about 5-6 minutes and you will find Himalayan Inn near CR Das (Desbandhu) museum. Taxis do not come up to the home stay. The nearest taxi stand is at Club side near Keventers and another one at Robertson road near Alice Villa. 
Related Articles
Visitors' Reviews/Comments
Share your experience....