Hotel Sinclairs, Darjeeling
Category: 3-Star 
Sinclairs is a group of hotels located at several places in India and run by Sinclairs Hotels Ltd., a company listed in Mumbai Stock Exchange. So unlike most hotels in Darjeeling which are run by local owners, at Sinclairs Darjeeling you can feel a bit of corporate flavor, although the hotel which has been there for many years, has been carefully maintaining its friendly and uncluttered ambience. 
This is a 3-star property located off Gandhi road. A steep uphill narrow lane going up from Gandhi road leads up to the hotel (takes about 5 minutes uphill walk from Gandhi road). 
And when you reach the base of the hotel, you will need to climb several flights of stairs (about 20 steps) to reach the reception lobby. 
So for many and particularly for seniors, this can be a very tiring walk unless one has a vehicle. Cars can come up to the hotel, but you will still have to negotiate the stairway. 
Hotel Sinclairs, Darjeeling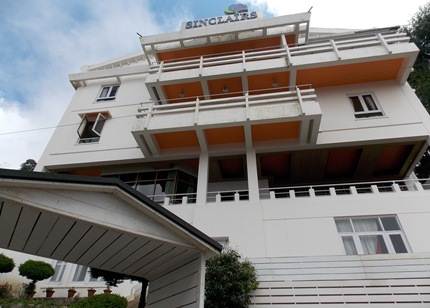 Having said that, the hotel is quite conveniently located. The Mall is about 10-12 minutes walk and many shops and restaurants are nearby. The reception lobby is huge. Look at the ceiling - the woodwork and the chandeliers hanging from the ceilings, the sofa seating arrangements and the polished teak floor will certainly give you a feel of a classy hotel. 
Main Lobby, Hotel Sinclairs Darjeeling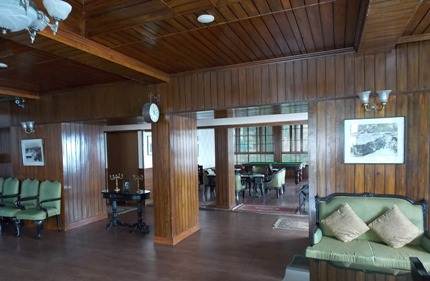 At far end of the lobby is the lounge bar and a pool table. The bar is a small but classy cupboard bar with limited stocks. However you will get nice selection of imported whiskey there. They will serve snacks from the restaurant if you want. With a drink in hand, a round of pool game in the evening is not a bad idea at all. 
Bar Lounge and the Pool Table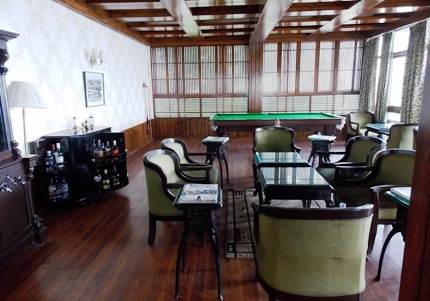 From both the lobby area and the bar lounge, there are doors opening out to a front side long deck. This is a great place to lounge and enjoy the mountain views. 
The restaurant is at one end of the ground floor corridor. It's quite large and spacious. It serves Indian, local and continental dishes. Although the menu is not extensive, you get standard items including soups, salads, usual main courses and desserts. Couple of items that I personally like here are their lemon coriander soup and honey chili chicken. 
Restaurant, Hotel Sinclairs, Darjeeling 
Outside the restaurant they have newly opened an open air cafe. In a lush garden setting there are colorful tables and chairs laid in a row. You can get snack items here like pakodas, sandwiches etc as well as juices, coffee and tea. 
Outside Cafe and the Garden 
Coming to rooms, there are 46 rooms in the hotel of several types. If you are looking for Kanchenjunga mountain view rooms, then do not go for the Deluxe rooms. Premier rooms and the suites have nice views of the snow peaks and the valley (it has to be a clear sunny day though). So do ask for a view room at the time of booking specifically if you are looking for one with great views of the mountains. The specially designed Honeymoon Suite is excellent and has its own private balcony with great views. 
Rooms have standard amenities of a 3-star hotel. Room sizes are comfortable (not big but not small either). Rooms have Flat TV with cable channels, direct dial phone, Wifi internet (at extra charge though), attached bath with modern toilet and geysers. Most of the rooms are wood paneled, with wooden ceiling and polished wooden floor. 
Premier Room, Hotel Sinclairs, Darjeeling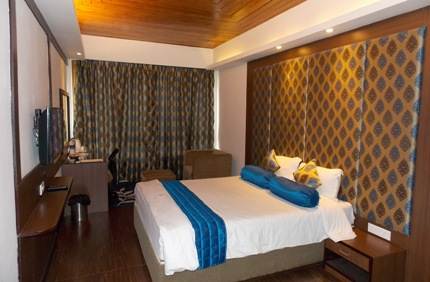 There is a nice open balcony at the end of the corridors at every floor upstairs. If your room doesn't have good mountain views, this where you can relax and enjoy the view. 
Common balcony at the end of corridor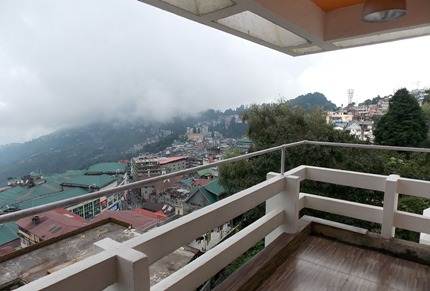 The hotel also has a nice gym with treadmill, cycles, rowers etc. You can also park your vehicle in the hotel premises. The hotel also has a 40ft x 25ft banquet hall in the ground floor which can be used for private function or conferencing. The hall has sound system, U-shaped table, lighting and other conferencing facilities. 
The service is friendly, but during high demand it can get quite slow. 
My Overall opinion about Hotel Sinclairs, Darjeeling
Rooms are well appointed and in line with what you expect out of hotels of such category. Bathrooms are also modern and very nicely maintained. 
The staff are cooperative and service usually is quite okay. 
The restaurant menu is not extensive and therefore of you are on a meal like AP which includes all meals, it can get a bit monotonous. However the quality of food and preparations are nice. 
While location of the hotel is convenient and within walking distance to the mall, but the gradient of the narrow road and the uphill walk involved to reach the hotel can be a concern for those who may not like to walk much. You may not always have a vehicle. And the narrow road itself is not well maintained. 
It's otherwise a very nice hotel for families and couples, and even for business visitors. 
Rates provided by booking.com 
Location and Contacts
18/1 Gandhi Road, Darjeeling 734101,West Bengal 
Phone: (0354) 2256431, 2256432, 2256948 
Related Articles
Visitors' Reviews/Comments
Share your experience.