Top Hotels in Mirik: Budget & Luxury
Find and book hotels in Mirik
Use the search box below to get a list of good hotels in Mirik of all types. I have reviewed several of those nice hotels of Mirik in the section that follows. Once you hit the search button in the box, you will find rates, amenities, guest reviews etc of such hotels in Mirik. You can then book a hotel at attractive low rates. This service is provided by world's no.1 online hotel booking site. You can also change the destination in the search box to find hotels in other locations. 
Mirik Hotel Reviews
Most of the good hotels in Mirik are in Krishnanagar area which is about 2 minutes walk from the lake towards south. There are few hotels on the lakeside as well. While Mirik has plenty of budget hotels, number of luxury hotels and that too good ones are very few and limited to mid priced 2-star hotels. 
You won't get any 4 or 5-star hotels in Mirik and that is because the tourist demands are not yet as high as in proper Darjeeling. One problem that you need to keep in mind while staying overnight at Mirik particularly if you need complete silence at nights to get your sleep... there are large number of street dogs these days that roam about at night and keep barking. So if you want to avoid such noise, then look for a backside room in a hotel and away from the street. 
If you go beyond the touristy hotel laden south Mirik and the super noisy and crowded Mirik market then the calm and lovelier north side of Mirik opens up to you. Here you will find plenty of homestays and lodges offering unsophisticated but interesting experiences. You can explore these places if the local culture interests you but most of them do not offer pre booking facilities… you need to get there to book a room. 
Hotel Jagjeet
(Category: Mid Range - 2 Star) 
This is by far the most popular hotel in Mirik. It is owned by a Punjabi Sardar's family and currently managed by Manjeet Singh. The hotel is located at Krishnanagar on the main road and only 2 minutes walk from the lake. In fact from some rooms in the back side of the old building you can see a part of the lake. There are plenty of shops, stationery and grocery stores all around to buy your essentials. There are also several restaurants, eateries and cafes around. 
Hotel Jagjeet, Mirik (Old Building on Right, New on Left)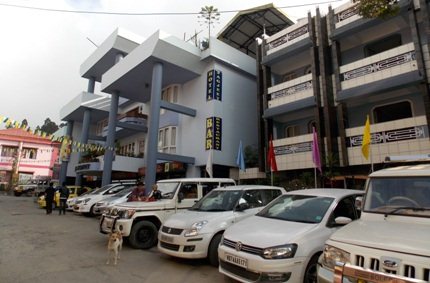 I have seen the hotel growing from its earlier years when there was only the old building (the one on the right) and the simple restaurant (open from the sides) on the left. But now it's a different story all together. While the rooms of the old buildings have been renovated and painted, a new building has come up on its left and above the restaurant which has modern and luxurious rooms and suites. 
There are 41 rooms in total of different types like double deluxe, super deluxe, four bedded, luxury rooms and maharaja suites. But one thing which is common to all is that all rooms are very well maintained and clean. Walls of the super deluxe rooms and the suites are all wood paneled. Having said that you should try to avoid deluxe rooms that are at the basement (not enough natural lights). 
A Suite Room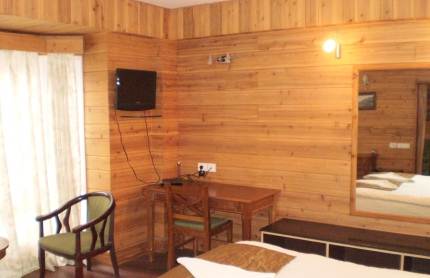 Bathrooms are nice and have western style toilets and geysers. Another good thing about the hotel is its generator back up... so no nightmares of power cuts. Rooms are all quite well furnished and color TV with cable channels, a sitting area with sofa, a cupboard with hangers, intercom phone etc. 
Bathroom - New Fittings 
The lounge area (at the old building where the reception desk is located) is quite nice an spacious. There are comfy sofas places on three sides where you can relax in the evenings and watch the large screen LED TV. Free Wi-Fi is available at the lounge. 
Staff are very friendly and helpful and so is the owner Manjeet. 
Double Deluxe Room 
The restaurant is the best in Mirik. It serves North Indian, South Indian and Chinese dishes. The food is quite good. There is also a well stocked bar here. I was surprised to see the breakfast they served which was included with the room rate. You can actually take any combination and quantity of cereals, fruit juices, tea/coffee, toast & eggs, south Indian dishes, parathas, chana kulcha etc. They don't limit it to a set breakfast. And on some days when the hotel is full or nearly full, they offer buffet breakfast. 
Restaurant, Hotel Jagjeet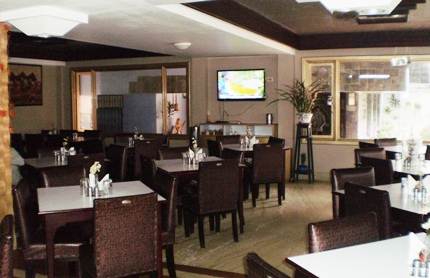 Ice creams are available. At one side of the restaurant is a well stocked stationery shop which belongs to the hotel. You can get all types of stuffs here including chocolates, biscuits, packaged snacks like potato chips, toiletries, lotions and lot more. This is usually manned by the senior owner, the father of Manjeet. And sharing with the restaurant is also a wine & spirit outlet which too is owned by the hotel. 
Other facilities include laundry services, parking in front, travel & tours etc. 
Contact Information 
Hotel Jagjeet, Krishnanagar, Mirik, Dist. Darjeeling, West Bengal, India 
Phone: +91-354-2243231 / 769 / 205 
Cell: +91-97758-01621 (Manager)  
Swiss Cottages
(Category: 3 Star) 
This is arguably the best property in Mirik which is located about 2kms from the Sumendu lake area and on a hill top. The property belongs to GTA (Gorkhaland Territorial Administration). There are 12 duplex cottages all built in traditional Swiss architecture and hence such a name for the property. 
Swiss Cottages, Mirik 
However, the property had turned dilapidated due to poor maintenance, it was shut down and kept under restoration for a long time. After many years, the property has been fully revamped, the floors, exteriors and interiors of the cottages have been fully repaired and restored. 
Now the property looks great again. It overlooks the Mirik lake and the township. From some of the cottages you get wonderful views of the lake down below. Each cottage is a duplex, the bedroom is upstairs and the room at the ground level has a living area along with a small dining table. There is also a restaurant in the premises with large dining space. The restaurant serves mainly Indian food. 
You can book a room in Swiss Cottage Mirik by visiting a GTA Tourism Office in India including in Darjeeling and Kolkata. Go through
Darjeeling Tourism Centers
to get address and contact info of GTA offices near you where you can call up for inquiry and booking.  
Queens Hill Hotel & Resort
(Category: 3 Star) 
This is a recent property owned and managed by Mr. Thakur. The nicely maintained hotel is located at an elevation and overlooking the lake with lots of greenery around. From the open terrace, the view of the lake, the surrounding hills, Dhupi forests and the township is wonderful. There are several well appointed rooms... Deluxe Rooms, Suites and there are White Rooms with all white finish including the floor, ceiling, walls and even much of the furnishings. 
Rooms are spacious, clean (many with wood panel finishing) and have LCD TVs. There is also free wi-fi in the lobby area. Best part of this hotel is its location which is away from the crowded township where most of the other hotels are located... the surroundings are calm and tranquil although the approach road up to the hotel requires proper maintenance. 
The hotel has in-house dining room. However breakfast spread (in CP plan) is quite short of what I would expect, in fact the food in general requires a lot of improvement. But the friendliness and ever helping attitude of the staff do compensate for such shortfall by a large margin. 
Overall it's a great hotel to stay for couple of nights. 
Rates provided by booking.com 
The Park Hotel
(Category: Budget) 
The best part of the hotel is its location, which is right by the side of the lake and therefore from the front rooms and the common balconies, you can really get great views of the lake and the lakeside garden. In fact one end of the arched footbridge over the lake is right in front of the hotel. And another good thing is that cars can come right up to the entrance of the hotel. 
A short flight of stairs leads to the small reception area which mostly remains unmanned. When a waiter spots you from the restaurant just next to it, he will waive at you and then come down to receive you. 
The Park Hotel, Mirik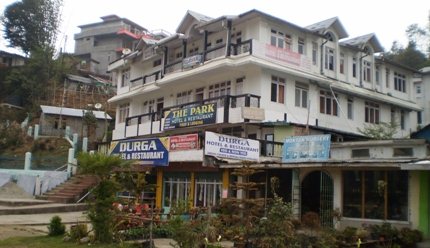 There are some 18 rooms in the hotel - Standard, Deluxe and Super Deluxe. And in each category there are double bedded and 4 bedded rooms. The 4 bedded rooms have two attached baths each. I stayed in Room 201 which is a double deluxe room in front and on the first floor, at the corner and having nice view of the lake through the window. The door of the room opens to a common balcony. Great view of the garden, the lake and the forest of dhupi trees beyond from the balcony. 
The rooms are smallish but okay. Lacks a bit of maintenance, particularly the toilets. Water was leaking from the flush. The top of the cistern had a thick layer of dust which was probably not cleaned for weeks. There is a geyser in the bathroom but water pressure can be an issue. The rooms have standard amenities including color TV with cable channels, a phone, cushioned chairs (although a bit dilapidated), table etc. 
Room no. 201 (Deluxe Double)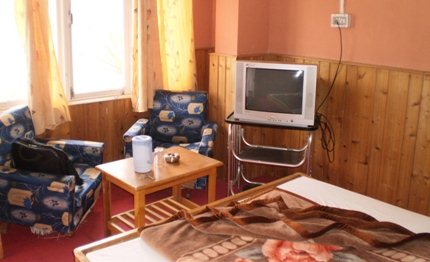 Room service is available from 7am until about 9pm. After which you won't usually find a service boy. Although during emergency the family members can help. The service is quite average although friendly. They engage local boys for room service who double up to serve at the in-house restaurant as well. There is wi-fi in the restaurant. 
First Floor Balcony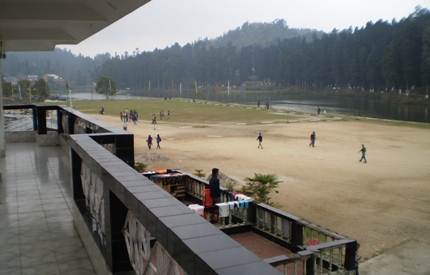 The in-house restaurant is downstairs at the ground floor. The restaurant serves Indian and Chinese. In breakfast you get toast omelet, aloo parathas (not sure why they make the potatoes inside reddish in color) etc.  
Food I must say is quite average. You won't like to eat all your meals here, so avoid combining meal plans along with room rate. Cold drinks, beverages and ice creams are available. Although the hotel does not have a bar license, I was told that the services boys will bring you bottles in rooms if you order (in fact they keep some in stock). 
Bathroom of room 201 
The Park Hotel is run by the Tamang family. I wish the owner Rajeev Tamang spent more time looking after the hotel. The property is in a prime location and it deserves to be much better maintained. During the few days I spent in this hotel, I could hardly see him. The hotel is mostly left to his wife to oversee who remains busy managing her kid. The owner also has other businesses which probably keeps him busy too. However as far as this hotel is concerned, a bit more cleanliness and professionalism can make this hotel a great one. I won't mind paying a bit more for that. 
Restaurant of Park Hotel, Mirik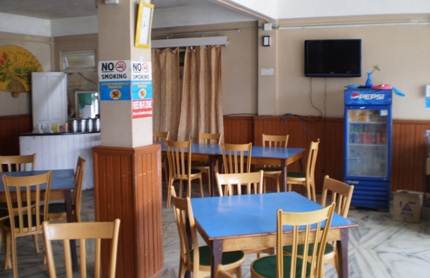 Contact Information 
The Park Hotel & Restaurant, Lakeside, Mirik, Dist. Darjeeling. 
Phone: +91-354-2243319 
Mobile: +91-98007-07039 
Hotel Ratnagiri
(Category: Low Budget) 
This is a small Tibetan family run low budget hotel located at Krishnanagar main road and less two minutes from the lake. There is no in-house restaurant and therefore no food is served. However they serve bed tea in the morning. There are plenty of restaurants and eateries around where you can take your meals including breakfast. 
Hotel Ratnagiri, Mirik 
Rooms are generally cozy, quite spacious and some are nicely wood paneled and therefore warm in winter. There are several categories of rooms - double bedded deluxe rooms, roof top wooden honeymoon suites, super deluxe rooms (4 bedded), family suite (can accommodate up to 6 persons) and wooden cottage.  
Try to take a honeymoon room at the top floor or a suite at the upper floor. These rooms have nice views of the lake. Windows are large and offer good sun light. There is a small garden at the backside of the hotel with umbrellas and chairs. This is where you can lounge for a while and have a cup of tea. Few of the rooms (particularly the suite) have views of both the lake and the garden. Some rooms have balconies. 
Hotel Ratnagiri, Reception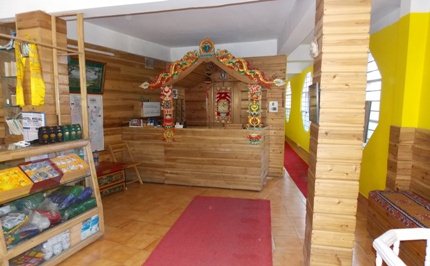 Rooms are clean and well furnished. They all have color TVs with cable channels etc. The attached bathrooms have geysers. Beds are comfortable. 
The owner Milan Bomzon is a nice person. He is usually available at the reception area in the ground floor. On one side of the reception there is a gift & souvenir store. You can buy packaged tea, curios, local pottery items like cups  etc. 
Contact Information 
Hotel Ratnagiri, Krishnanagar P.O. Mirik 734 214, Dist Darjeeling, W.B. 
Mobile: (+91)98320-10013; (+91)74073-28673 
Hotel Mhelung
(Category: Low Budget) 
This is a small budget hotel located in Krishnanagar area on the main road and less than a minute away from the lake. This is a lodging only hotel and no food is served. There are plenty of restaurants and eateries within stone's throw distance. 
Hotel Mhelung, Mirik 
It has few rooms which are simple yet quite nice. There are twin and double bed rooms in ground and upper floors. The rooms have wooden floors and half wood paneling on the walls. Windows are large and allow a lot of natural sunlight in the rooms. The attached toilets have geysers. There is color TV in the rooms with cable channels. The hotel has generator backup. There is lot of parking at the backside. 
A Double Bed Room in First Floor, Hotel Mhelung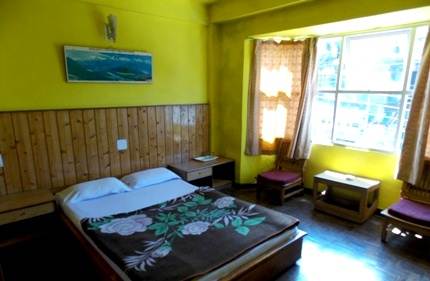 As you walk in through the main entrance door, a lady manager greets you. The reception is a small desk below the staircase. There is a lobby area next to the reception. Do not expect room service here. There is no service at nights. 
Contact Information 
Samendu Complex, Krishnanagar, Mirik, District Darjeeling: 734214 
Phone (Mobile): 97754 55904; 97335 63933 
Related Articles
Visitors' Reviews/Comments
Priyanka Chakraborty (July 2022) 
I want to book for one day at Swiss cottage, Mirik. How to book? date- 21 August. People- 4 
Raj (darjeeling-tourism.com) July 2022 
Depending on your location, you need to visit the nearest GTA Tourism Office (for example, Gorkha Bhavan in Salt Lake Kolkata) for booking Swiss Cottage in Mirik. There is no online booking system yet. 
Madhurima Basu (February 2022) 
Hi Raj, we are planning for Mirik tour, all girls tour. And we are looking for a Budget Hotel. Jagjeet hotel is very expensive now, mailed them. It will be around Rs. 3500+tax. Golden Sunview is our choice. Is it good for Two girls ? and is it a home stay or a Hotel ? 
Raj (darjeeling-tourism.com) February 2022 
Hi, Golden Sunview is like a budget guesthouse although projected as a homestay. It is not a hotel. The owner stays elsewhere and has kept a staff who manages everything. The location is away from the main town center and on the way to Bokar Monastery and requires an uphill walk. It's about a 15-minute walk from Mirik Lake. It's an average accommodation... you won't get much service here. Avoid the standard rooms on the ground floor... they have common toilets. 
After dark, the area can get quite lonely and you won't have anything to do other than remaining indoors. There is no proper cook here, so you may not get the kind of food you want, neither it is advisable to walk all the way to the main town area at nights for dinner. As solo girls, you will be better off staying in the main township area (i.e. Krinshnanagar locality where Hotel Jagjeet is located), but the hotel rates there will likely be more.  
Pradip Dutta (January 2018) 
Dear Mr Bhattacharya, Absolutely awesome information  and advice - your 'posts' are indeed a pleasure to read ! My wife and I, both in our mid-60s, were wondering if a 3 day stay at DGA-managed Tourist Lodge in Mirik towards end-May would be worth it. We'll be at Morgan House for 3 days, and wish to spend a few more days near - but not at - Darjeeling. Am also considering Hotel Jagjeet - but if you recommend TL, (cleanliness, hygienic food, convenience of approach and value for money), would go for it. Shall be grateful for your advice - and again, compliments on your splendid 'posts'. Best. 
Raj (darjeeling-tourism.com) January 2018 
Hello, there are pros & cons in both. While few of rooms in Mirik Tourist Lodge have nice view of the lake... it is certainly not as professionally managed as Jagjeet Hotel, the food is quite ordinary and walking up the steep ramp leading to the hotel may be tiring for some. However Jagjeet has no views and is in a relatively congested area. 
Pradip Dutta (January 2018) 
Many thanks . Just one more request - is there any other property in Mirik - or nearby - that you would recommend? Else we'll go for Jagjeet. Thanks again, and best regards. 
Raj (darjeeling-tourism.com) January 2018 
Jagjeet is the best hotel in Mirik when it comes to amenities. Park Hotel located right by the side of the lake has great views from its front deluxe rooms (2nd floor wood paneled rooms are better) and has its own restaurant (food is average though), but service is very ordinary (non-existent at nights) and maintenance is an issue. But it has the best location. 
Shakyasom Majumder (August 2016) 
Dear Sir, We family of 4 are planning to visit Mirik on October 11, 2016. I have heard about the Orange Country Retreat ( also called the Mirik Swiss Cottage ) but unable to find any website of that hotel. I will be highly obliged to your noble self if you kindly provide me any link or contact information so that I can make necessary arrangements. Regards.  
Raj (darjeeling-tourism.com) August 2016 
It has been lying closed (actually under renovation) for many years. My information is of course about 6 months old when I last visited the Swiss Cottage to have a chat with the caretaker. It was once under Orange County when I stayed there. Now it's under GTA, and hence in such a state.