Best Restaurants & Bars in Mirik
There are several nice restaurants  in Mirik While you can't expect fine dining options here, but some restaurants are good enough for most and also reasonable in prices. And most of the good restaurants are at the Krishnanagar area which is at the southern side of the lake. 
Jagjeet Restaurant
(Category: Mid Range) 
This is the best family restaurant in Mirik and the largest one. It is part of Jagjeet hotel and has a bar. It is located at Krishnanagar area and less than 2 minutes from the lake. The restaurant and the hotel is owned by a Punjabi Sardar's family who have been in Mirik since generations.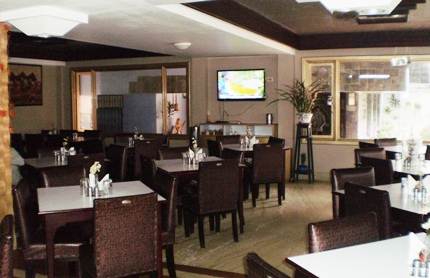 I have seen this restaurant and the hotel grow with time. Until early 2000, the restaurant was a simple one with a shaded top and windows on the sides. I remember thoroughly enjoying my food with a drink, cloud entering through the windows and the entire dining room getting dark & misty. What a sight! 
But with prosperity of the owners (and deservingly so), the restaurant now has large and darkish glass panes on the sides with modern furnishing including large LCD TVs on the walls. And a new wing of the hotel has been built on top of it. But even with all modernization, it continues to hold the charm and remains as the most popular restaurant in the town. And I must say that the menu items have increased significantly and the so did the quality of food and service. 
The restaurant pre-dominantly serves north Indian, tandoor and Chinese food during lunch and dinner. As I mentioned, the menu is quite extensive and you get almost all items in the cuisine that you may be aware of. And the prices are very reasonable. They also serve breakfast. In Breakfast other than toast, eggs, parathas, chana kulcha etc, some times you will get South Indian food like dosa, idli, uttapam etc. 
The bar is well stocked and quite reasonably priced. Ice creams area also available. 
Kolkata Hotel
(Category: Mid Range) 
As the name suggests, this restaurant targets Bengali tourists. It's located at Krishnanagar area at the southern end of the lake. Large boards with Bengali menu of fish, chicken, mutton and prawns are on prominent display to lure the Bengalis. And as you may expect of the emotional & food loving Bengalis, they do get attracted in large numbers to have their favorite food which they so dearly miss in the hills. 
But I wish the restaurant also attracted guests with better quality, food portions and service. Because I have not seen many guests coming out fully satisfied with any of the above. Despite other options, this restaurant somehow remains popular with Bengalis.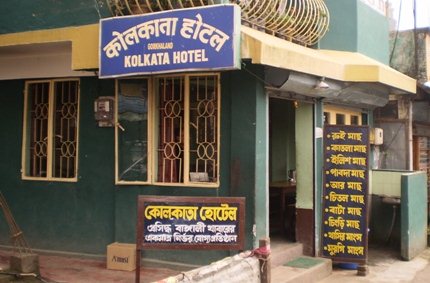 Some of you who visited Mirik in the earlier days would remember that there used to be couple of restaurants in Mirik that were named 'Boudi Hotel'. This restaurant was one such Boudi Hotel. Boudi (meaning bhabi or brother's wife) then was the mother of the present owner Surojit. She used to manage the kitchen then and cook herself. The theme of the restaurant those days was the same of attracting Bengalis, but the price I thought was much more reasonable and food better. The restaurant has been now taken over by her son, name changed and the kitchen now managed by his wife. 
The restaurant has been running on lease. The owner of the property is a local and stays in the upper floor. During low season, the restaurant often lacks adequate customers. This it seems puts a lot of price pressure on the family running the restaurant because they continue to pay the heavy lease when earning becomes very low. And it is one of the main reasons why they charge high rates in the menu and make up for such losses when the demand surges. 
You will find Surojit at the counter next to the entrance. Inside, the restaurant is small and has 6 or 7 small tables. They however join tables to accommodate larger groups. The menu includes different fish items, mutton, prawn, chicken etc. Most are frozen and stored in a fridge kept in the dining room. 
If you order for prawn, a boy will open the fridge, pick up the frozen prawns and take it to the kitchen. Vegetarian food is limited to what is served as part of any thali and quite limited. All items in the menu or that displayed on the board may not be available on a day.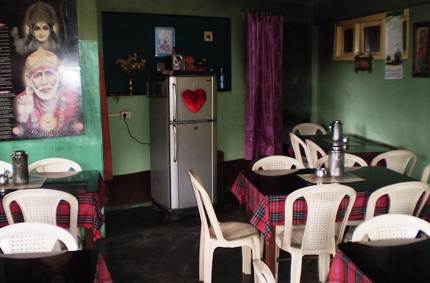 With a thali (like chicken, mutton, fish etc), rice and very small portions of vegetables and watery daal are also served. I was quite surprised to see that they have priced rice per every spoon of rice they serve. Overall the food is very average, quantity or portions small, and price quite high compared to its standard. It should have been typically a budget restaurant, but it is not. 
And the service needs a lot of improvement. I have heard in one occasion Surojit himself making shocking comments about some guests after they left, because they questioned him about the high price they had to pay for the kind of food they had, and it was clearly audible to all. 
Other Bengali Hotels
(Category: Budget) 
There are couple of other options if you are looking for Bengali food in Mirik. Right adjacent to Kolkata Hotel and to its left is Annapurna Hotel. The space inside is larger. Other than standard Bengali dishes, they also serve Nepali and North Indian dishes (both vegetarian and non-vegetarian). This is an owner run restaurant and therefore he does not have to inflate rates to make up for any lease outflow. And expectedly, the rates are comparatively reasonable. Food is okay as well.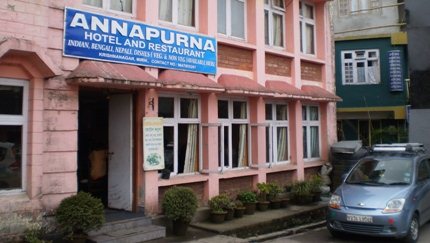 An original Boudi Hotel still exists in Mirik Bazaar (at its eastern end). This is a small hotel & restaurant. The restaurant serves Bengali food of different types. The food is quite okay although the space is very limited. 
Samden Restaurant
(Category: Budget) 
This is a Tibetan restaurant located on Krishnanagar area on the main road and about 1 minute walk from the lake. The owner Tsering is one of the nicest persons I have met in the town. Very polite and friendly, and so is his wife and daughter.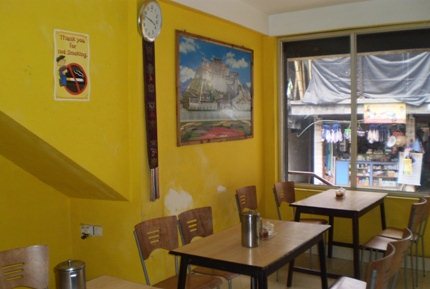 The restaurant serves Tibetan food including momos, thukpa, noodles, chilli chicken etc. Preparation is quite okay and the bright yellow interior gives a nice lively at the same time cozy feel. The service is good and price quite reasonable. 
Park Restaurant
(Category: Budget) 
The best part of this restaurant is its lakeside location. It's located on the eastern bank of the lake overlooking the lakeside garden and the lake itself. So as expectedly you will get nice views of the lake from some of its window side tables. 
The restaurant is owned and managed by the Tamang family, although most times Rajeev Tamang's wife can be seen at the counter with her kid. They serve breakfast, lunch and dinner. In breakfast you will get standard Indian stuff like aloo paratha, chana kulcha and even toast butter omelet. At lunch and dinner you get north Indian and Chinese food. The menu is limited and item varieties are therefore less.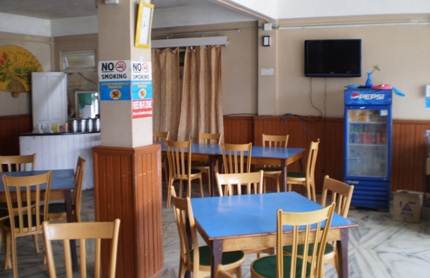 The taste is quite average and can get monotonous if you eat here several times. They should improve making the Chinese items particularly. Vegetarian food is limited. Quantity is okay but service is average. Tea, coffee and ice creams are also available. 
Related Articles
Visitors' Reviews/Comments
Paresh Roy (March 2023) 
I and with my 6 friends went to Kolkata Hotel on 07.03.2023 for lunch. Before serving our lunch the owner (male) was talking about his goodwill and proudly saying that other hotels at Mirik are of lower quality and no customers go to those hotels. But when we started our lunch, we felt that we entered a bogus hotel which we could not imagine. 
Manish Shah (January 2018) 
Hi Raj, Is there any pure vegetarian hotels in Mirik? 
Raj (darjeeling-tourism.com) January 2018 
Hi, while you will get vegetarian food, to my knowledge there is no pure vegetarian hotel or restaurant in Mirik.